Cricketing Trends on Social Media today
Here is how the cricketers spent their day on Twitter and Instagram today.
Updated - Nov 1, 2019 9:23 pm
301 Views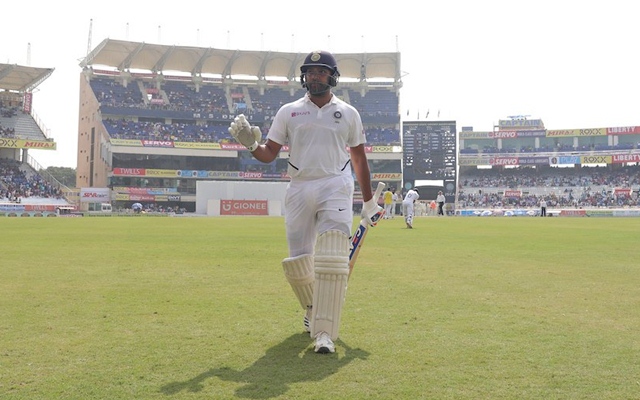 The cricketing trends on social media revolved around a number of events. Today, former Indian middle-order batsman VVS Laxman turned 45. He got wishes from every nook and corner of the world involving players like Kuldeep Yadav, Parthiv Patel, and many others.
Rohit Sharma shared a post on Twitter showing his excitement for the 1st T20I against Bangladesh which is scheduled to be played at Feroz Shah Cricket Ground in Delhi on the 3rd of November. Meanwhile, looking forward to the bad quality of air in the national capital region, Gautam Gambhir took a sly dig at Arvind Kejriwal, who is the chief minister of Delhi, and shared his opinion on social media.
Ahead of 1st T20I, Indian leg spinner, Yuzvendra Chahal shared a picture of him alongside his Indian teammates and also gave information to his fans about the upcoming episode of Chahal TV.
Moreover, Graeme Smith, the former skipper of South Africa shared a post in which he mentioned the name of former England cricketer, Michael Vaughen and showed his excitement for the Rugby final which will be played between South Africa and England on 2nd October at International Stadium Yokohama, Kanagawa Prefecture, Yokohama City.Also, Brett Lee shared a funny Boomerang on Twitter for his fans in which he is seen jumping in the air during his shooting.
1. Brian Lara wishes VVS Laxman on his special day
Pure class on and off the field 💪
Happy Birthday @VVSLaxman281 🎂🎊#happybirthday pic.twitter.com/rzjlTqcw4N

— Brian Lara (@BrianLara) November 1, 2019
2. Aaron Finch shows his support for Zaidees Rainbow foundation
It's to support @ZaideesRainbow https://t.co/eVV7fWT5PD

— Aaron Finch (@AaronFinch5) November 1, 2019
3. Kuldeep Yadav wishes VVS Laxman on his 45th birthday
Wishing you a very happy birthday @VVSLaxman281 Sir 🤗

— Kuldeep yadav (@imkuldeep18) November 1, 2019
4. Daren Sammy looks happy to be on the cover page of Liat airline
I've been flying with @liatairline for many years and I've always picked up an inflight magazine to read through or play sudoku and signed the page after. Now I'm honored to be on the cover of their latest issue. Be sure to have a read through when next … https://t.co/XFkRzKda5k pic.twitter.com/dPhaJqZwTM

— Daren Sammy (@darensammy88) November 1, 2019
5. Gautam Gambhir is not happy with AAP political party
क्या यही है…"AAP" की दिल्ली 😷 pic.twitter.com/qGgJsNI0Ty

— Gautam Gambhir (@GautamGambhir) November 1, 2019
6. Yuzvendra Chahal shares a picture alongside his Indian teammates
Craziness unleashed in the latest episode of Chahal TV – Coming Soon 😎😎 🇮🇳 #Brothers pic.twitter.com/bhmVj8S9aB

— Yuzvendra Chahal (@yuzi_chahal) November 1, 2019
7. Rohit Sharma excited for the first T20I against Bangladesh
Excited to be back in blues. Cannot wait to get it started #IndvsBan pic.twitter.com/ickyajDRor

— Rohit Sharma (@ImRo45) November 1, 2019
8. Yuvraj Singh shares picture of Halloween alongside Chris Gayle
Happy Halloween 🎃 everyone ! This time I got you kaka @henrygayle 👻😱 pic.twitter.com/hxMGIgpDRb

— yuvraj singh (@YUVSTRONG12) November 1, 2019
9. Parthiv Patel wishes VVS Laxman on his birthday
Many happy returns of the day Laxmanbhai…@VVSLaxman281

— parthiv patel (@parthiv9) November 1, 2019
10. Shreyas Iyer posts a picture 
Wonderful memories attached to this beautiful ground .. From playing our home games with @DelhiCapitals to making my T20I debut here on this very day, two years ago … this stadium will always have a special place in my heart. pic.twitter.com/8GN7Yuv3G6

— Shreyas Iyer (@ShreyasIyer15) November 1, 2019
11. Graeme Smith is excited about the Rugby World Cup final
So boys you ready for tomorrow? @MichaelVaughan @piersmorgan @KP24 #Springboks #WorldCupFinal #WorldCup2019 #ENGvSA pic.twitter.com/QYsoOaCeaI

— Graeme Smith (@GraemeSmith49) November 1, 2019
12. Gautam Gambhir takes a dig at Arvind Kejriwal
Delhi is choking & @ArvindKejriwal is busy doing press cons FYI Centre built Est Exp & Delhi has not deposited its share, CM should go out to see how many construction sites are covered, EDMC bought 52 super machines for 70 Cr to curb pollution & DDA did largest tree plantation

— Gautam Gambhir (@GautamGambhir) November 1, 2019
13. Brett Lee shares a Boomerang of him from a shoot
— Brett Lee (@BrettLee_58) November 1, 2019
14. Harmanpreet Kaur shares a video supporting Stre8bat and its technology
The few who do, are the envy of many who only watch." I am a doer & am very glad to associate with @Str8Bat I use this amazing technology to continuously enhance my performance. This is a must have kit essential for all batters. #YourGameYourData #str8bat #madeinindia #backofbat pic.twitter.com/Ehnj0JSU7N

— Harmanpreet Kaur (@ImHarmanpreet) November 1, 2019