Cricketing Trends on Social Media today
Here is how the cricketers spent their day on Twitter and Instagram today.
Updated - Mar 13, 2020 8:11 pm
180 Views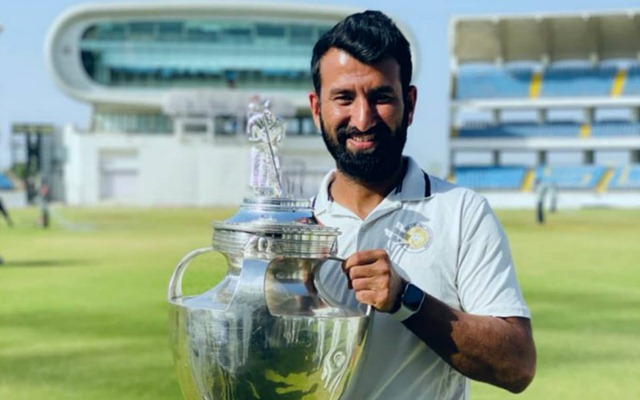 The fifth and final day of the Ranji Trophy 2019-20 final culminated with Saurashtra lifting the coveted trophy after 73 years. The Jaydev Unadkat-led side clinched the trophy on the basis of first inning's lead against Bengal. Following their historic win, the Twitterverse was in awe of Jaydev Unadkat and Co. as congratulatory wishes poured in for the whole team. Wasim Jaffer, Irfan Pathan and Pragyan Ojha also congratulated Saurashtra for clinching the trophy.
Meanwhile, the spread of Coronavirus has rocked all sporting events across the globe. Many bilateral series including much-awaited IPL 2020 has also been postponed. The start of the 13th edition of IPL has been delayed from 29 March to 15 April as a result of the coronavirus outbreak. The BCCI said the move was a 'precautionary measure' to regulate the widespread of Coronavirus.
The ongoing ODI series between India and South Africa has also been rescheduled and the Australia-New Zealand ODI series is also under the threat of postponement or cancellation. The Test series between Sri Lanka and England has also been cancelled and English players have also opted out of the ongoing PSL 2020.
Meanwhile, New Zealand were unable to hunt down a 259-run target as they succumbed to the bowling of Starc and Marsh. Both, Mitchell Marsh and Mitchell Starc scalped three wickets each to curb New Zealand's run-flow as the hosts claimed their second ODI win of the year.
1. RP Singh reacts to India-South Africa ODI series getting rescheduled
Better safe than sorry measure by @BCCI . Have never seen such a crisis where everyone is talking about the issue and cricket has taken the back seat. Hope to see the India-South Africa series sooner than later. But given the circumstances, a welcome measure. https://t.co/8jzogbDmWG

— R P Singh रुद्र प्रताप सिंह (@rpsingh) March 13, 2020
2. Rohan Gavaskar shares a 'gym' selfie
As a friend pointed out – this is the new gym/ elevator selfie !!@PranavRGandhi pic.twitter.com/zviNCMGJb5

— Rohan Gavaskar (@rohangava9) March 13, 2020
3. Sheldon Jackson joins an elite list
In the hall of fame😎 @Cricketracker https://t.co/X2qXJKoQBG

— Sheldon Jackson (@ShelJackson27) March 13, 2020
4. Wasim Jaffer lauds Saurashtra for their win
MoM in SF and final is stuff of dreams. Well done to Arpit Vasavda. Arpit's ton in 2nd inn in SF was one of the most important knocks this season. Heart goes out to Anustup Majumdar. He got 149* when Bengal were 60-6 in SF, bailed Bengal out multiple times this season #underrated pic.twitter.com/Nbg7YqS1qA

— Wasim Jaffer (@WasimJaffer14) March 13, 2020
5. Carlos Brathwaite departs PSL 2020
Thank you Pakistan and PSL V.
.
.
.
Thanks for the hospitality and opportunity, I felt extremely safe and I reall enjoyed my time on and off the field.
.
.
My leaving has absolutely nothing to do with not feeling… https://t.co/UDRLdScisB

— Carlos Brathwaite (@TridentSportsX) March 13, 2020
6. Ashwin heaps praise on Jaydev Unadkat and Cheteshwar Pujara
Unbelievable effort to win the Ranji trophy 🏆 for Saurashtra, I am well aware of the efforts taken by @cheteshwar1 and @JUnadkat through the year towards this success. To win Ranji trophy is not just a good campaign but a penance undertaken for months if not years.#RanjiTrophy

— Ashwin Ravichandran (@ashwinravi99) March 13, 2020
7. Dimuth Karunaratne reacts on Test series getting postponed
Team SL we're waiting for a good Test series v England in Galle & Colombo ! Unfortunate t'was not to be.
Hoping to see you Joe & Team England back in SL when all's well.
Stay safe Gents
Cheers

— 𝑫𝒊𝒎𝒖𝒕𝒉 𝑲𝒂𝒓𝒖𝒏𝒂𝒓𝒂𝒕𝒉𝒏𝒂 (@IamDimuth) March 13, 2020
8. VVS Laxman congratulates Saurashtra
Many congratulations to Saurashtra on winning their maiden Ranji Trophy Title. pic.twitter.com/O4pC0INrM3

— VVS Laxman (@VVSLaxman281) March 13, 2020
9. Mohammad Kaif congratulates Saurashtra for their maiden Ranji win
Congratulations Saurashtra on your maiden #RanjiTrophy title! Also kudos to @JUnadkat for a stellar run with the ball and inspired captaincy throughout the season. A much deserved win! pic.twitter.com/ZnOXaRARWo

— Mohammad Kaif (@MohammadKaif) March 13, 2020
10. Ajinkya Rahane plays indoor cricket
Overwhelming to see their passion and love for the game. Enjoyed playing indoor cricket with these kids at @CEATtyres! 😀 pic.twitter.com/4d3BmHoTLB

— Ajinkya Rahane (@ajinkyarahane88) March 13, 2020
11. Cheteshwar Pujara elated after Saurashtra's Ranji Trophy win
United we stand. 🌟 Keep it up team Saurashtra for an epic season and an outstanding finals! Champions..🏆🎉 #Ranji pic.twitter.com/U8J4Vao3GE

— cheteshwar pujara (@cheteshwar1) March 13, 2020
12. ECB releases statement about the postponement of Test series
ECB Statement: Test series in Sri Lanka postponed

— England and Wales Cricket Board (@ECB_cricket) March 13, 2020
13. RP Singh reacts to IPL getting postponed
जान है तो जहान है Sports is important but this is an extra ordinary time of our lives . Completely understand and appreciate @BCCI decision. Credit must be given to Brijesh Patel , @SGanguly99 and @JayShah for taking a considerate decision. #IPLYesOrNo #IPL2020 https://t.co/02DZFzX1am

— R P Singh रुद्र प्रताप सिंह (@rpsingh) March 13, 2020
14. Shai Hopes opines on Australia-New Zealand ODI
This Aus v NZ game looks like a middle net without the crowd 🤦🏽‍♂️

— Shai Hope (@shaidhope) March 13, 2020
15. Aakash Chopra supports the decision of postponing IPL 
Right decision…. https://t.co/OtvAHbx0Ah

— Aakash Chopra (@cricketaakash) March 13, 2020