Cricketing Trends on Social Media Today
Here's how the cricketers spent their day on social media platforms.
Updated - Aug 15, 2020 11:50 pm
70 Views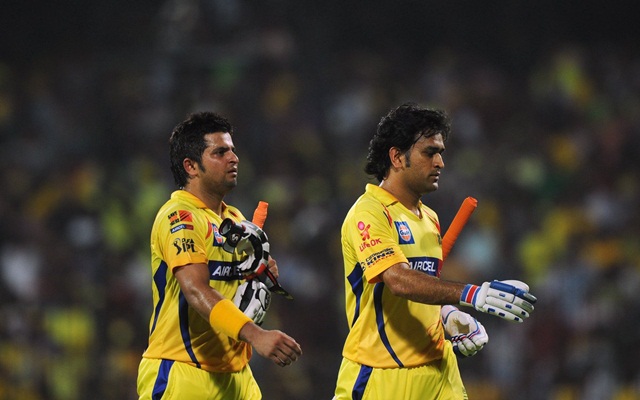 India stalwart MS Dhoni, on Saturday, stunned the cricket fraternity by announcing his international announcement. The veteran revealed his decision on Instagram as he shared a video of his cricketing journey. What followed by his CSK teammate Suresh Raina also announcing his international retirement. Twitter, as well as Instagram, was flooded after CSK skipper and vice-captain announcement their departure from international cricket.
Dhoni, regarded as one of the best skippers in the history of Indian cricket, from the sport for over a year. Amassing over 15,000 international runs and steering India to two World Cups and Champions Trophy, Dhoni's finishing skills and leadership were considered second to none.
Raina, an explosive left-handed batsman, was also regarded as one of the best fielders in the Indian squad. Many former and current players including wished luck to the duo for their future endeavours.
Dhoni and Raina currently involved in the CSK training camp ahead of IPL 2020. All eyes will be on Dhoni to lead CSK to their fourth IPL title in the much-awaited IPL 2020 in UAE. Dhoni, along with his CSK teammates, is slated to fly to the UAE on August 21 after finishing their training camp at MA Chidambaram stadium.
1. Mohammad Kaif wishes Suresh Raina on his retirement
Happy retirement to a man who never said no to challenges. Once chasing an improbable target on a tricky 4th day pitch, he even agreed to open with me vs TN. Always gave it his all on the field as a batsman, bowler & gun fielder. As we say in UP #Raina ka bhaukaal hi alag hai. pic.twitter.com/thRRboDNzr

— Mohammad Kaif (@MohammadKaif) August 15, 2020
2. Mohammed Shami wishes Suresh Raina a happy second innings
From sharing the dressing room with you, practicing with you in my backyard and having conversations over meals, I will miss all of that. Go well brother in your second innings #RainaRetires pic.twitter.com/vUeRjnRAPo

— Mohammad Shami (@MdShami11) August 15, 2020
3. Sandeep Sharma thanks MS Dhoni for the cricket memories
Thank you @msdhoni bhai for the amazing cricket memories. All the best for your future endeavours. pic.twitter.com/ZuXySxQIrC

— Sandeep sharma (@sandeep25a) August 15, 2020
4. Parthiv Patel lauds MS Dhoni for a fantastic career
Congratulations mahi..what a wonderful wonderful career!!!greatest ever wicketkeeper-batsman to have played for India…👏👏👏 https://t.co/RjFbVytL7z

— parthiv patel (@parthiv9) August 15, 2020
5. Mohammad Nabi pays tribute to MS Dhoni
MS Dhoni was Legendary Cricketer, an Incredible Captain, a known finisher and a humble human being. Thanks for the unforgettable memories, you will forever be in the heart of your friends and fans.@msdhoni pic.twitter.com/gBnnQSTfMM

— Mohammad Nabi (@MohammadNabi007) August 15, 2020
6. Rishabh Pant pays tribute to 'legend' MS Dhoni
A little boy had a dream of batting on the other end of the pitch with you. That little boy's dream came true 🤩 Learning from you and being close to you has been the highest privilege. India will always be proud of @msdhoni 🇮🇳 Enjoy the journey ahead Mahi bhai 🤗 Legend 🙌🏻 #7 pic.twitter.com/iGlrQEQJTG

— Rishabh Pant (@RishabhPant17) August 15, 2020
7. Sanju Samson thanks 'Mahi' for everything
It was not a career,,it was a proper SUPERSTAR movie with a HEROIC climax !!♥️👌👌

Thank you Mahi bhai for everything !!
Words truly can't describe this moment !#MSDhoni7 #DhoniRetires pic.twitter.com/yKTyt8lIqb

— Sanju Samson (@IamSanjuSamson) August 15, 2020
8. Washington Sundar congratulates Suresh Raina for having a top career
Congratulations on a Top Career Raina Bhai! Enjoyed playing alongside you and wish you the very best for your next innings! 👏🤗 @ImRaina pic.twitter.com/o0V52HVj9Q

— Washington Sundar (@Sundarwashi5) August 15, 2020
9. Yuzvendra Chahal wishes luck to 'Mahi bhai' for his second innings
Mahi bhai you have given me and billions of people memories that we can never forget. You're not just an Inspiration but you're an emotion felt and dealt by every audience of this game. It was an honour playing alongside you.
Thank you & all the best for your 2nd innings. pic.twitter.com/zlgqhdqapa

— Yuzvendra Chahal (@yuzi_chahal) August 15, 2020
10. Hassan Ali reacts to 'legend' MS Dhoni's retirement
Legend of the game and one of my favourite players to watch growing up

Happy retirement @msdhoni 🙏🏽

— Hassan Ali 🇵🇰 (@RealHa55an) August 15, 2020
11. Virat Kohli pens down a message for MS Dhoni
Every cricketer has to end his journey one day, but still when someone you've gotten to know so closely announces that decision, you feel the emotion much more. What you've done for the country will always remain in everyone's heart…… pic.twitter.com/0CuwjwGiiS

— Virat Kohli (@imVkohli) August 15, 2020
12. KL Rahul thanks MS Dhoni for his guidance and support
No words will ever be enough. Thank you Mahi bhai, for your patience, your guidance and constant support. You are and will always be an inspiration and the reason so many of us believed in our dreams. 7 forever. 🙏🏼♥️ pic.twitter.com/EzHb3jFViT

— K L Rahul (@klrahul11) August 15, 2020
13. Hardik Pandya pays tribute to MS Dhoni
There's only one #MSDhoni. Thank you my friend and elder brother for being the biggest inspiration in my career. Will miss playing with you in the blue jersey but am sure you will always be there for me and will keep guiding me 🙏🏾🇮🇳 #7 pic.twitter.com/Q3j9pbcOGy

— hardik pandya (@hardikpandya7) August 15, 2020
14. Ravi Shastri reminisces MS Dhoni's 2011 World Cup-winning six
Massive boots to fill. It's been a privilege and honour to be part of the dressing room and seeing you as a thoroughbred professional at work. Salute one of India's greatest cricketers. Second to none. Enjoy. God Bless MS DHONI 🙏🇮🇳 pic.twitter.com/n6CfDTvE9q

— Ravi Shastri (@RaviShastriOfc) August 15, 2020
15. S. Badrinath pays tribute to his former teammates– MS Dhoni and Suresh Raina
To all the partnerships we shared over the years, and wishing luck to all your future innings on and off the field , good luck brother 🙌🏼 #Raina pic.twitter.com/98L2PUNIm4

— S.Badrinath (@s_badrinath) August 15, 2020