Cricketing trends on social media today
Suresh Raina has posted an adorable video on Twitter on the occasion of his daughter's 5th birthday.
Updated - May 15, 2021 7:53 pm
215 Views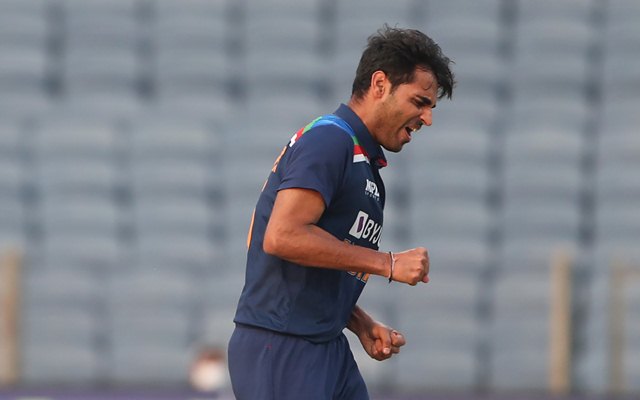 Follow us on Google News
The trends on social media in the cricketing world today revolved around a plethora of things. Indian pacer Bhuvneshwar Kumar has tweeted a strong message stating that people should not start writing their own assumptions regarding him not wanting to play Test cricket for India.
Kamran Akmal has posted an adorable picture with his family on the 2nd day of Eid. Former Pakistan cricketer and current Prime Minister of Pakistan, Imran Khan has urged everyone to follow all the Covid-19 SOPs and procedures.
Today also marks the 4th anniversary of the epic 320-run partnership that Deepti Sharma and Punam Raut stitched together against the Ireland Women's side. And, both Deepti Sharma as well as Punam Raut have offered their thoughts about their match-winning partnership on Twitter.
Today is also the 5th birthday of Suresh Raina's daughter Gracia Raina, and the CSK player has posted an adorable video on Twitter. Harbhajan Singh and Hemang Badani have also wished Suresh Raina's little daughter. And finally, Indian cricketer Shubman Gill has been vaccinated.
1. Harbhajan Singh wants people to stay special in their own little ways
You may not be perfect in many things, But many things cannot be perfect without you. Stay special in your own little ways.
Good Morning…
🙏🙏

— Harbhajan Turbanator (@harbhajan_singh) May 15, 2021
2. Kamran Akmal shares a picture of his family on the 2nd day of Eid
2nd day of Eid with family #EidAlFitr2021 #HappyEid pic.twitter.com/mkkv9PT2Dd

— Kamran Akmal (@KamiAkmal23) May 14, 2021
3. Pakistan Prime Minister Imran Khan urges everybody to follow all the Covid-19 SOPs
إِنَّا لِلَّٰهِ وَإِنَّا إِلَيْهِ رَاجِعُونَ
Today we lost a dedicated young PTI worker Zahid Mohmand to Covid 19. Zahid worked to organise our Party at grassroot level in Peshawar. My condolences & prayers go to his family. Everyone must follow pandemic SOPs & wear masks. pic.twitter.com/FA6xqXN2W3

— Imran Khan (@ImranKhanPTI) May 15, 2021
4. Deepti Sharma states that sport has taught her the importance of hard work and perseverance
One of the memorable moments from the year 2017 where I was a part of record making partnership of 320 runs with @raut_punam
Sports has taught me the importance of hardwork, perseverance, courage & team work.Looking forward to next series to play some good cricket#womenscricket pic.twitter.com/vKmYzF6gCs

— Deepti Sharma (@Deepti_Sharma06) May 15, 2021
5. Punam Raut shares her thoughts on the record-breaking partnership she had with Deepti Sharma
On this day in 2017, I was part of the record making partnership of 320 runs with @Deepti_Sharma06
I'm greatful that I have been able to play some great cricket ever since & will continue to do so.Thankyou everyone for all the lovely wishes & messages.Your support means
alot♥️🙏 pic.twitter.com/7hti8H2rGS

— Punam Raut (@raut_punam) May 15, 2021
6. Chaminda Vaas is proud to have played cricket
Dreams don't work unless you take action.This photo was taken when I was just a kid with a dream to play for my country and trying to do my utmost best and make it to SLC. And I'm proud to say that my hard worked payed off and I was proud to have been apart of this beautiful game pic.twitter.com/WLHDKk3bCo

— Chaminda Vaas (@chaminda_vaas) May 15, 2021
7. Suresh Raina wishes his daughter on her 5th birthday
My little pumpkin has turned five years old today. Wishing you a very happy birthday Gracia @graciaraina15. You have brighten up our world with so much joy, hopes & happiness. We wish you a life full possibilities, happiness & peace. #HappyBirthdayGracia pic.twitter.com/PHrIXd9xzH

— Suresh Raina🇮🇳 (@ImRaina) May 15, 2021
8. Ramesh Powar states that he has been assigned a new responsibility by the BCCI
#MUMBAI 🤗🤗 pic.twitter.com/dsg5wCocl2

— RAMESH POWAR (@imrameshpowar) May 15, 2021
9. Harbhajan Singh wishes Suresh Raina's daughter on her 5th birthday
Happy birthday 🎂 Gracia ❤️ https://t.co/LvLJ1Acjjf

— Harbhajan Turbanator (@harbhajan_singh) May 15, 2021
10. Bhuvneshwar Kumar tears into people who state that he does not want to play Test cricket
There have been articles about me not wanting to play Test cricket. Just to clarify, I have always prepared myself for all three formats irrespective of the team selection and will continue to do the same.
Suggestion – please don't write your assumptions based on "sources"!

— Bhuvneshwar Kumar (@BhuviOfficial) May 15, 2021
11. Indian cricketer Shubman Gill gets vaccinated
Get your superpowers upgraded as soon as you are able to💉.
Massive shoutout to all the doctors and frontline workers for putting in all the effort👩🏻‍🎤 pic.twitter.com/EOFohvaJ1C

— Shubman Gill (@RealShubmanGill) May 15, 2021
12. Gautam Gambhir states that he has provided 250 Oxygen concentrators to the people of Delhi
In the last 2 weeks, we have provided 250 concentrators to ppl across Delhi. Apart from the relatives, I wish to thank neighbours, friends & good samaritans who messaged, filled up our form & took machines for patients who were alone. Delhi stands on ur shoulders! 🙏🙏

— Gautam Gambhir (@GautamGambhir) May 15, 2021
13. Pragyan Ojha extends his wishes to the Indian Women's cricket team
Best wishes @M_Raj03 @ImHarmanpreet @imrameshpowar and the entire @BCCIWomen team for English summer! Really looking forward to the test match… 👍 @SGanguly99 @JayShah

— Pragyan Ojha (@pragyanojha) May 15, 2021
14. Hemang Badani wishes Suresh Raina's daughter on the occasion of her 5th birthday
@ImRaina Wishing the little one a very happy birthday. Lots of love from #chennai https://t.co/4S8XEODw08

— Stay Home – Stay Safe – Get Vaccinated 🙏 (@hemangkbadani) May 15, 2021
15. Former KKR cricketer Laxmi Ratan Shukla is involved in some workout
रुकना थमना थक जाना, ये कहाँ सीखा है हमने,
ज़िन्दगी जब तलक है, बस आगे बढ़ना सीखा है हमने

Movement is the only constant thing in our life, Keep Up The Good Work🤝 #dilse #workout pic.twitter.com/3kPUrHpSKx

— Laxmi Ratan Shukla (@Lshukla6) May 15, 2021
Follow us on Telegram