Cricketing trends on social media today
Today is a special day for cricketing icon Mahendra Singh Dhoni.
Updated - Apr 16, 2021 11:17 pm
185 Views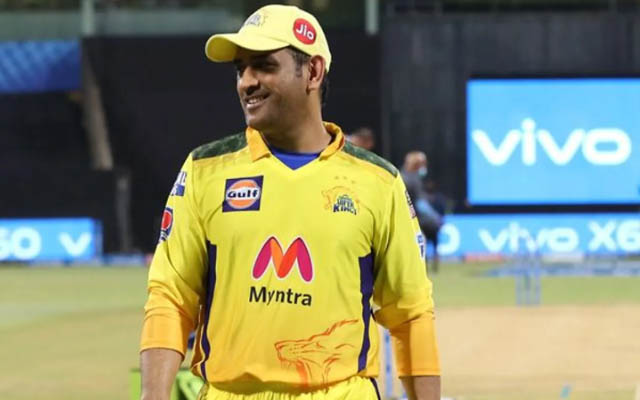 Today is a special day for cricketing icon Mahendra Singh Dhoni. Dhoni featured in his 200th match for the Chennai franchise today in the encounter against the Punjab Kings (PBKS) side. And, the likes of Subramaniam Badrinath and Shane Watson have lauded Dhoni for his incredible achievement.
Meanwhile, Suryakumar Yadav is prepping up for Mumbai Indians' (MI) next match against the Sunrisers Hyderabad (SRH) side on 17th April 2021. Also, Shivam Dube is extremely excited about Rajasthan Royals' victory over the Delhi Capitals side. And, Hemang Badani has revealed an interesting stat about MS Dhoni.
Deepak Chahar was the star performer for the CSK side with the ball and picked up 4 wickets in his quota of 4 overs against the Punjab side. And, Vinod Kambli and Subramaniam Badrinath have heaped praise on Chahar for his scintillating bowling display.
Mohammed Azharuddin is extremely impressed with Indian cricket's domestic structure. Also, Subramaniam Badrinath feels that MS Dhoni should walk into the middle after the 8th over irrespective of the match situation. Harmanpreet Kaur has tested negative for Covid-19. Bowling legend Harbhajan Singh has offered his thoughts on Covid-19, and Krunal Pandya is reminiscing the moments that he spent with the Mumbai Indians franchise. And finally, Ashok Dinda is back in the gym!
1. Hemang Badani impressed with CSK bowlers
Pin point accuracy from the #CSK bowlers. A performance that reminded us of @ChennaiIPL from their champion 🏆 days. What better day to do it than on Dhoni's 200th outing 👏 #PBKSvCSK

— Hemang Badani (@hemangkbadani) April 16, 2021
2. Vinod Kambi impressed with Deepak Chahar
What incredible bowling by @deepak_chahar9 tonight!

That ball where he bowled Mayank was the best ball of IPL for me! 🙌#PBSvCSK pic.twitter.com/0DxlLtbhsQ

— Vinod Kambli (@vinodkambli349) April 16, 2021
3. Subramaniam Badrinath lauds Deepak Chahar
Swing .. yes .. difficult … late swing ..unplayable #deepakchahar #CSKvsPBKS

— S.Badrinath (@s_badrinath) April 16, 2021
4. Michael Vaughan feels that Ravindra Jadeja is India's greatest fielder
India's greatest ever fielder .. @imjadeja .. #Fact

— Michael Vaughan (@MichaelVaughan) April 16, 2021
5. Subramaniam Badrinath pays tribute to MS Dhoni on the occasion of his 200th IPL match for CSK
200+ and counting 🙌🏼👏🏼 for #CSK #Legend #CSKvPBKS pic.twitter.com/3JHw0dJgWW

— S.Badrinath (@s_badrinath) April 16, 2021
6. Shane Watson feels that MS Dhoni is the heartbeat of CSK
Best of luck tonight MS for your 200th match for @ChennaiIPL . You are the heartbeat of the team and one of the greatest leaders in the game. 🦁 pic.twitter.com/bNFdVsRQ0G

— Shane Watson (@ShaneRWatson33) April 16, 2021
7. Suryakumar Kumar is 'focused'
【FOCUS】 pic.twitter.com/lR9szqXdMj

— Surya Kumar Yadav (@surya_14kumar) April 16, 2021
8. Shivam Dube elated after RR's victory against DC
Great teamwork … one game at a time … #IPL2021 #RajasthanRoyals #Hallabol pic.twitter.com/Uw7DWvswez

— Shivam Dube (@IamShivamDube) April 16, 2021
9. Hemang Badani wonders if MS Dhoni will show his magic today
Dhoni the batsman unbeaten since 2018 vs Punjab Kings. What do you guys think 🤔 Will he show his magic today ? #PBKSvCSK

— Hemang Badani (@hemangkbadani) April 16, 2021
10. Mohammed Azharuddin impressed with Chetan Sakariya and Avesh Khan
India's strong domestic cricket structure is on display. I am very impressed by the confidence that @AveshKhan and @Sakariya55 have shown in the IPL. Both possess sharp bowling skills and I see a great future for them. All the best boys !!

— Mohammed Azharuddin (@azharflicks) April 16, 2021
11. Subramaniam Badrinath wants MS Dhoni to bat up the order for CSK
Would love to see #MSD bat up the order, position doesn't matter as much as overs in #T20 cricket , in my books after 8th over he should be the One Walking in to the crease regardless of situation #CricitwithBadri #CSKvsPBKS

— S.Badrinath (@s_badrinath) April 16, 2021
12. Harmanpreet Kaur is feeling better after testing negative for Covid-19
Happy to inform you all that I have tested -ve & I'm feeling better. My only message to y'all is to take care & be extra careful. The virus is real & it's dangerous.Follow all the protocols set up by the authorities.Wishing strength to the ones who are in the middle of the fight.

— Harmanpreet Kaur (@ImHarmanpreet) April 16, 2021
13. Harbhajan Singh feels that everything is coming to an end
Everything coming to an END.. we are clueless..No one is to guide don't see any light.. it's getting dark.. people are dying.. someone care ? NO #COVIDEmergency #COVID19India #Covid

— Harbhajan Turbanator (@harbhajan_singh) April 16, 2021
14. Krishnappa Gowtham offers his thoughts on determination
Ur level of determination decides the level of success you get to #riseandgrind @ChennaiIPL @msdhoni #thala pic.twitter.com/A6GUOrXrNW

— Krishnappa Gowtham (@gowthamyadav88) April 16, 2021
15. Krunal Pandya is looking back at the time he has spent with the Mumbai Indians franchise
We were always @mipaltan fans but to realize a dream and play for the team we love is something we're always grateful for 🙏 I look back at the 5 magical years filled with beautiful memories that I'll always hold close to me 💙 pic.twitter.com/3iEkimGyJJ

— Krunal Pandya (@krunalpandya24) April 16, 2021
16. Ashoke Dinda is spending some time in the gym
Good to be back at the CAB gym this morning ✌🏼#training #workout #session #fitnessfirst #memories #happiness #positivevibes #EdenGardens pic.twitter.com/zgo9XxfwOn

— Ashoke Dinda (@dindaashoke) April 16, 2021