Cricketing Trends on Social Media today
Here is how the cricketers spent their day on Twitter and Instagram today.
Updated - Feb 18, 2020 8:01 pm
192 Views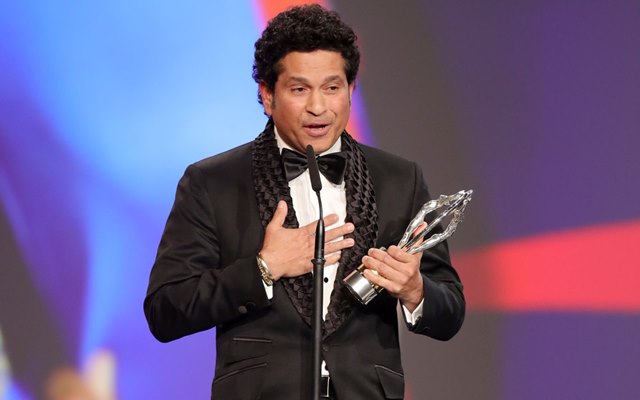 The cricketing trends on social media revolved around a number of events. Sachin Tendulkar, the former Indian cricketer received Laureus Sports Awards. Soon, the cricketing fraternity went busy wishing the former player on such a massive achievement.
Even Krunal Pandya and Rahul Chahar took to their official social media handle to congratulate Tendulkar in a heartwarming gesture. He was given this award for the lap of honour that Indian players gave to him after winning the 2011 World Cup.
Meanwhile, Temba Bavuma, the South African T20I opener looked quite optimistic after losing the series to England. He felt that they have learnt a lot from their defeat and will look to improve over the same going into the future.
Kumar Sangakkara says thanks to Waqar Younis for his heartwarming gesture on joining MCC cricket team during a tough time. On the other hand, Jasprit Bumrah and Shreyas Iyer share pictures enjoying in New Zealand in different places.
Colin Ingram shares his excitement for the upcoming edition of Pakistan Super League. He also shared a clip of the Islamabad United's new anthem. Shoaib Akhtar, the former Pakistan pacer spend his day with his other family and he shared his views over the same.
1. Shikhar Dhawan backs Women marathon
You are strong, fierce and full of fire. You are a WOMAN.
Celebrate this international women's day with some miles and your run. #GoRun on 8th of March at Gurugram Marathon. Celebrate womanhood, celebrate yourself!
A great initiative by @opsinghips @cmohry @mlkhattar

— Shikhar Dhawan (@SDhawan25) February 18, 2020
2. Krunal Pandya congratulates Sachin Tendulkar on winning the prestigious award
Congratulations @sachin_rt sir on winning a prestigious award 😊 That moment in 2011 was one that no Indian cricket fan will ever forget. Still get goosebumps thinking about it. pic.twitter.com/i8u5isOG8K

— Krunal Pandya (@krunalpandya24) February 18, 2020
3. Tabraiz Shamsi says the goal is to win maximum games
Excited to keep on learning and trying to do my best for the team and country every single time… there may be rough days along the road but the goal to keep on trying to win games for the team never changes 🙏 https://t.co/qFsibXEtzZ

— Tabraiz Shamsi (@shamsi90) February 18, 2020
4. Brian Lara briefs about the approaching carnival
Road march certainty!
Follow @brianlaraevents for all the info needed as we approach the last week of #carnival2020 and my events #BADFriday #MyJourneyhttps://t.co/bvGn2FqHhZ

— Brian Lara (@BrianLara) February 18, 2020
5. Mark Waugh looks unimpressed with club curators
I know clubs/curators have a reason behind rail movements but would it b possible to notify a few weeks in advance so trainers can place there horses accordingly. You pick out a race months in advance ie Newc sat only to find field sizes are restricted because of a 10m rail.

— Mark Waugh (@juniorwaugh349) February 18, 2020
6. Luke Wright thanks the fans of Sussex for showing their support
Thank you everyone who has bought a Blast pass. Your continued support is hugely appreciated by everyone at @SussexCCC. We hope to keep playing really exciting attacking cricket for you 👍👍 https://t.co/2XF7JUeSiR

— Luke Wright (@lukewright204) February 18, 2020
7. Steve Smith is overwhelmed by the experience of visiting to Pumla School 
Humbling experience visiting Pumla school for learners with special educational needs. Lovely people that didn't stop smiling and singing the whole time. Great day! @ Orlando West https://t.co/TeL9u0FpF6

— Steve Smith (@stevesmith49) February 18, 2020
8. Kumar Sangakkara is happy to be back  
Absolute pleasure legend @waqyounis99 so good to be back and thank you for the amazing welcome and hospitality

— Kumar Sangakkara (@KumarSanga2) February 18, 2020
9. Rahul Chahar congratulates Sachin Tendulkar on his achievement
A God for a nation. An inspiration worldwide.

Congratulations @sachin_rt sir for winning the #Laureus20  Sporting Moment 2000-2020 award! 🙌🏻#SachinTendulkar #Legend

— Rahul Chahar (@rdchahar1) February 18, 2020
10. Sanjay Manjrekar says Handmade Tale is like a timeless Test Match
This 'Handmaid's Tale' is like a timeless Test Match.

— Sanjay Manjrekar (@sanjaymanjrekar) February 18, 2020
11. Shoaib Akhtar spends his day with his other family
Sometimes the smallest of things bring the most joy, a day with my family on the ground!
Watch full video here: https://t.co/N8UOs55BsX pic.twitter.com/9V05dQ0P5M

— Shoaib Akhtar (@shoaib100mph) February 18, 2020
12. Temba Bavuma looks optimistic after losing T20I series to England
We live and we continue to learn 🇿🇦🏏 #ProteaFire pic.twitter.com/khCWmD3cbr

— Temba Bavuma (@tbavuma10) February 18, 2020
13. Jasprit Bumrah feels growing up is a trap
Don't grow up, it's a trap!😋 pic.twitter.com/sTLtkyCIXR

— Jasprit Bumrah (@Jaspritbumrah93) February 18, 2020
14. Shreyas Iyer shares a still from United Centre
Basketball royalty Michael Jordan 🐐 Was a great experience for me to visit his statue inside the United Center. LEGEND 🙌 pic.twitter.com/4G9u1LyRHo

— Shreyas Iyer (@ShreyasIyer15) February 18, 2020
15. Colin Ingram says the anthem of Islamabad United is out
The anthem is out #UnitedWeWin https://t.co/iVbOAhpFeD

— Colin Ingram (@CAIngram41) February 18, 2020