Cricketing Trends on Social Media Today
Here is what the cricketing community was talking about in the last 24 hours.
Updated - Sep 25, 2019 8:03 pm
172 Views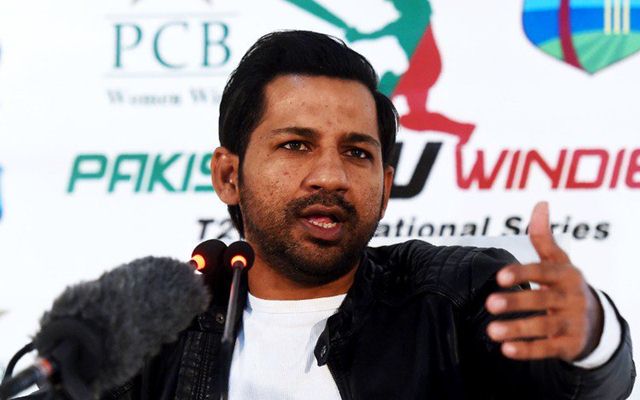 Pakistan will be hosting an ODI series for the first time since 2009 starting from Friday. Thus, there were quite a few cricketing trends that revolved around this topic. The likes of Wahab Riaz, Sarfaraz Ahmed, Babar Azam and Shadab Khan urged the fans to come out in large numbers to support them in Karachi. These cricketers wrote that this would be one of the biggest days of their lives and seemed quite excited.
In other trends, Sachin Tendulkar and Ravi Shastri congratulated Amitabh Bachchan after he was unanimously nominated for the Dada Saheb Phalke Award. Yuvraj Singh wished Bishan Singh Bedi on his birthday. Parthiv Patel shared a few pictures from his training session. Meanwhile, Indian pacer Jasprit Bumrah tweeted that he will make a strong comeback after the recent setback. He is ruled out of the series against South Africa due to a stress fracture.
1. Our small but conscious acts to save water can go a long way in conserving water for our future generations
Our small but conscious acts to save water can go a long way in conserving water for our future generations.

Let's all take a step forward together and remember that
जल है तो कल है!#JalShaktiAbhiyan. https://t.co/Zyd0D7kMZ7

— Sachin Tendulkar (@sachin_rt) September 25, 2019
2. Dhammika Prasad congratulated Dinesh Chandimal after the latter consented to join the Sri Lanka Army as a Commissioned Officer
Congratulations brother, it's great honor for u to represent Sri Lanka army as well. All the best. May god bless you. https://t.co/yVEcKjMtG0

— Dhammika Prasad (@imDhammika) September 25, 2019
3. Wahab Riaz urged all the fans in and around Karachi to come out and support the team in large numbers
I urge the people of Karachi and surrounding cities to come out in big numbers for the #PakvsSL series and show the world the real image of Pakistan and our people

Looking forward to seeing you all there pic.twitter.com/7GP2sfOSpQ

— Wahab Riaz (@WahabViki) September 25, 2019
4. Sachin Tendulkar wished Bishan Singh Bedi on his birthday
Many happy returns of the day @BishanBedi Paaji! Have a healthy and happy year ahead. pic.twitter.com/an1QtBR0E8

— Sachin Tendulkar (@sachin_rt) September 25, 2019
5. Shadab Khan tweeted that it will be an honour for him to play an ODI for the first time on home soil since 2009
It will be honour to represent my beloved Pakistan in an ODI for the first time on home soil. First ODI in Pakistan since 2009. Come support the team. I encourage everyone to join the pledge in helping ppl affected by the earthquake. We can all play our part. #PakistanZindabad

— Shadab Khan (@76Shadabkhan) September 25, 2019
6. History will be made on Friday when Pakistan will host its the first ODI series since January 2009
History will be made on Friday when Karachi will host the first ODI series since January 2009. I request all cricket fans to be part of history so that they can tell the next generation that they were at the National Stadium when an international series was played. pic.twitter.com/YYifMYswvj

— Sarfaraz Ahmed (@SarfarazA_54) September 25, 2019
7. Babar Azam wrote that Friday will be one of the biggest days when he will take the field as Pakistan's vice-captain for an ODI at home
Friday will be one of my biggest days when I will take the field as Pakistan vice-captain. I will want the entire country as well as the National Stadium crowd to make this a day to remember for me. #PAKvSL pic.twitter.com/YbhfvHIIga

— Babar Azam (@babarazam258) September 25, 2019
8. Starve your distractions, feed your focus
Starve your distractions, feed your focus 👀 #WednesdayWisdom pic.twitter.com/aUuazfB41q

— Manish Pandey (@im_manishpandey) September 25, 2019
9. Yuvraj Singh wished his teacher, mentor Bishan Singh Bedi a very Happy Birthday
Wishing the legendary left arm spinner , my teacher, my mentor a very happy birthday @BishanBedi

— yuvraj singh (@YUVSTRONG12) September 25, 2019
10. Parthiv Patel shared a few post-training session pictures with his fans
11. Sachin Tendulkar reminisced Amitabh Bachchan's famous dialogue and also congratulated him on the Dada Saheb Phalke Award
"Vijay Dinanath Chauhan, Poora Naam. Baap Ka Naam Dinanath Chauhan, Maa Ka Naam Suhasini Chauhan. Gaon Mandwa. Umar 36…" a line that gives me goosebumps even today!
May you continue to win hearts across the globe, Amit ji.

किरदार अनेक पर शहंशाह बस एक 🙏#DadaSahebPhalkeAward pic.twitter.com/pq9KFhejn4

— Sachin Tendulkar (@sachin_rt) September 25, 2019
12. Anil Kumble clicked a wonderful picture of a Pelican at the Ranganathittu Bird Santuary
Graceful descent as the Pelican spreads its wings to land smoothly. #RanganathittuBirdSanctuary #Karnataka. #WildlifeWednesday pic.twitter.com/KHpTgJ0spz

— Anil Kumble (@anilkumble1074) September 25, 2019
13. Jasprit Bumrah aims to make a stronger comeback after the recent setback
Injuries are part & parcel of the sport. Thank you for all your recovery wishes. My head is held high & I am aiming for a comeback that's stronger than the setback.🦁 pic.twitter.com/E0JG1COHrz

— Jasprit Bumrah (@Jaspritbumrah93) September 25, 2019
14. Ravi Shastri congratulated Amitabh Bachchan in his tweet
Heartiest congratulations to Mr @SrBachchan on being selected unanimously for #DadaSahabPhalke award. Truly a master in his profession and an artist par excellence! pic.twitter.com/kx3Foxffdc

— Ravi Shastri (@RaviShastriOfc) September 25, 2019
15. Pragyan Ojha hopes that Amitabh Bachchan will continue to entertain the fourth generation as well
Congratulations @SrBachchan sir. You have been a part of my granddad, dad and my life… And I am sure you will continue to be a part of my son's life as well. Godspeed! #DadaSahebPhalkeAward

— Pragyan Prayas Ojha (@pragyanojha) September 25, 2019