Cricketing trends on Social Media today
Here is what the cricketing fraternity was talking about on social media.
Updated - Jun 28, 2018 10:33 pm
923 Views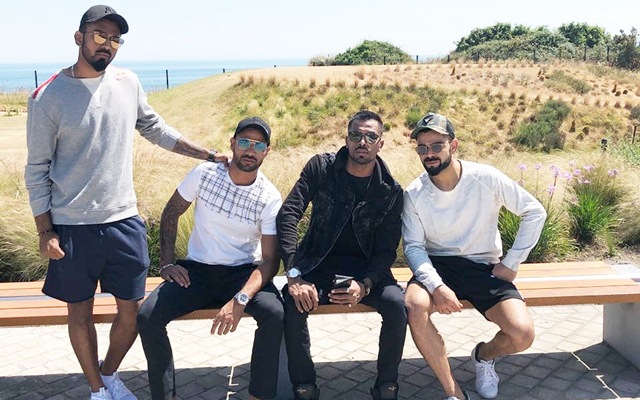 The cricketing trends on social media today revolved around the Indian cricket team, Ireland as well as the victorious England cricket team. India and England won their respective T20I matches against Ireland and Australia. While the first result was pretty much on expected lines, the Aussies couldn't change their fortunes with the change in format and went back home without a single win on the tour.
Indian players – the likes of Virat Kohli, KL Rahul, Jasprit Bumrah enjoyed the day off before they take the field again for the 2nd T20I. Suresh Raina and Hardik Pandya along with the team's trainer Mr Basu chose to hit the gym. Pakistan's Shahid Afridi and Australian cricketer Chris Lynn shared a message in public interest. Sachin Tendulkar took part in the fitness challenge proposed by the Sports Minister. All that and more in the cricketing trends of the day.
1. Suresh Raina shares three fitness tips to get fit this summer.
Thirty ways to shape up this summer- no1- eat less; no2: exercise more ,no:3 : what am I talking. Oops am hungry now – just chilling with my gym buddies ☝️👌@basu2013 @hardikpandya7 pic.twitter.com/6t4DnZGZqZ

— Suresh Raina (@ImRaina) June 28, 2018
2. Freddie Flintoff wearing fancy wrestling costume from the 90s.
3. Harbhajan Singh shared a life lesson with his fans.
नफरतों में क्या रखा हैं
मोहब्बत से जीना सीखो
क्योकि
ये दुनियाँ न तो हमारा घर हैं
और .
न ही आप का ठिकाना
याद रहे ! दूसरा मौका सिर्फ कहानियाँ देती हैं pic.twitter.com/kTrnhGMYA9

— Harbhajan Turbanator (@harbhajan_singh) June 28, 2018
4. Chris Jordan was excited after the English team's win in the one-off T20I against Australia last night.
5. Peter Chase, Ireland's star with the ball had an experience he cannot describe.
Thank you for all the kind messages. It's greatly appreciated. It was surreal seeing @MalahideCC like that let alone playing in the match. It was an incredible atmosphere and I can't wait to experience it all again tomorrow #IREvIND pic.twitter.com/9W1gvLATMg

— Peter Chase (@chase_pa) June 28, 2018
6. Sammy shared a throwback photo with his boy Darren Sammy Jr.
Issa ThrowBack with the birthday boy @darrensammyjr 13yrs today pic.twitter.com/0zyqWhI6lC

— Daren Sammy (@darensammy88) June 28, 2018
Family man Darren Sammy
Family…. pic.twitter.com/To7tcZaZbV

— Daren Sammy (@darensammy88) June 28, 2018
7. Yusuf Pathan and his love for animals, he has a Marmoset monkey in his hand.
This Marmoset monkey from the South African rainforest can fit into an adult human's hand. #marmoset #animallover #wildlife #monkey pic.twitter.com/Kz8qzJALuK

— Yusuf Pathan (@iamyusufpathan) June 28, 2018
8. Chris Lynn shares a Cancer awareness message.
Cancer does not discriminate, it can touch anyone, at anytime. This July I am taking a month off booze to raise funds to support those suffering & to assist in cancer research. Join my team and/or donate to 'SESSIONS' today to kick cancers ass #SESSIONS https://t.co/YQrjSFAgAa pic.twitter.com/8MZ97ty5GW

— Chris Lynn (@lynny50) June 28, 2018
9. A day out for Virat Kohli and the boys in Dublin after the first T20I.
Beautiful day in Sunny Dublin. 👌 pic.twitter.com/fAGkBtLfcm

— Virat Kohli (@imVkohli) June 28, 2018
10. Parnell is waiting to play football with his little boy and also suspects his second child might be on the way with the bump his wife has.
11. Viru Paaji's 'Satya Vachan'
100% Satyavachan pic.twitter.com/HQK086Hvxb

— Virender Sehwag (@virendersehwag) June 28, 2018
12. Jasprit Bumrah by the sea on his day off in Ireland.
A day off in Ireland!🏖 pic.twitter.com/IYKOi7kBY2

— Jasprit bumrah (@Jaspritbumrah93) June 28, 2018
13. Azhar Ali thanked his mate Babar Azam for visiting the summer camp he has organized.
Thank h so much @babarazam258 for visiting the summer camp this morning. Kids loved it…👍👍👍#AzharAlicricketsummercamp pic.twitter.com/AKR2RQskcH

— Azhar Ali (@AzharAli_) June 28, 2018
14. Sachin Tendulkar's contribution to the hun fit to India fit challenge.
I'm kitting up to go play the sport I love. Share a video of you playing the sport you love.

I nominate, @SandeshJhingan, @imsardarsingh8, @imVkohli, @M_Raj03, @srikidambi, @Pvsindhu1, @yesmrinmoy & @NavaniRajan.@PMOIndia #HumFitTohIndiaFit #KitUpChallenge #SportPLAYINGIndia pic.twitter.com/ZySVUBQq5e

— Sachin Tendulkar (@sachin_rt) June 28, 2018
15. Shahid Afridi tries to inspire people to live a life beyond just self and to contribute to a greater cause.
Living a life for oneself is very easy. Let's live for others. We have been blessed with countless bounties & its time to standup for our brothers & sisters in need. Let us become great by giving & caring for ALL
Give Love, give More &spread Hope for #Humanity 2gether #HopeNotOut pic.twitter.com/RhtyNju9h8

— Shahid Afridi (@SAfridiOfficial) June 28, 2018
He further added.
The purpose of my last tweet was to inspire others to perform acts of kindness. Today, share your videos or photos performing any such act of kindness, not to show off, but to inspire one another to do good. Add the hashtag #HopeNotOut & let's share a positive message with all!

— Shahid Afridi (@SAfridiOfficial) June 28, 2018
16. Anjum Chopra's meal with Ajay Jadeja and Sunil Gavaskar, all nice and light.
Keeping it nice and light- The meal @AjayJadeja and Mr.Gavaskar. pic.twitter.com/ez0zPMVRzu

— Anjum Chopra (@chopraanjum) June 28, 2018