Cricketing Trends on Social Media today
Here's how the fraternity spent its day on social media.
Updated - Oct 29, 2019 9:55 pm
9K Views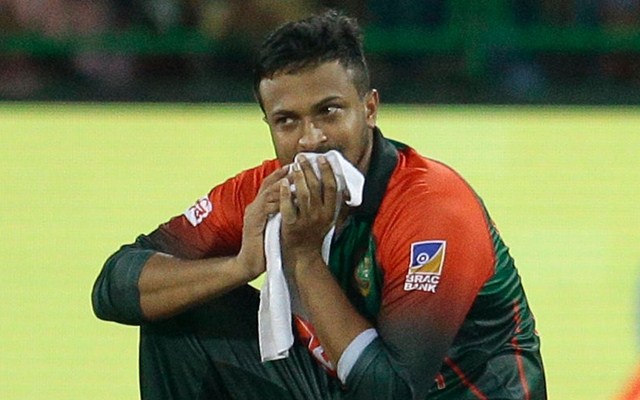 The cricketing trends on social media revolved around a number of events. Today, ICC banned Shakib Al Hasan for two years, after he accepted three charges of breaching the ICC Anti-Corruption Code. Cricket players like Aakash Chopra and Scott Styris came out on Twitter and shared their opinions over Shakib's ban.
Bangladesh Cricket Board gives their positive consent for playing the first Day-Night Test at Eden Gardens. Deep Dasgupta looked quite excited for the first-ever D/N match that India will play on their home soil. Meanwhile, Jasprit Bumrah, the Indian pacer hit the gym and posted a picture for his fans and also gave a hint that he will soon make his comeback on the cricket field after recovering from his back injury.
On the other hand, Punjab pacer Sandeep Sharma shared a video of his brilliant spell that he bowled against Haryana in Vijay Hazare Trophy for his fans. Indian cricket expert Aakash Chopra came out with his analysis over who should play between Shivam Dube and Sanju Samson against Bangladesh in the first T20I.
1. Shakib's ban should've been longer, feels Vaughan
No sympathy what's so ever for Shakib Al Hasan … Non what's so ever … In this era the players get briefed all the time about what they can & cant do and what that have to report straight away … 2 yrs isn't enough … Should have been longer …

— Michael Vaughan (@MichaelVaughan) October 29, 2019
2. Scott Styris posts a message for Shakib Al Hasan after he was handed ban by ICC
One year is suspended? Why? Bye bye for two years minimum

— Scott Styris (@scottbstyris) October 29, 2019
3. Aakash Chopra surprised with Shakib's ban
And here comes a thunderbolt….Shakib banned for TWO years. https://t.co/7YvcZkmIx8

— Aakash Chopra (@cricketaakash) October 29, 2019
4. Yusuf Pathan enjoyed the train journey
Absolutely loved my journey in Shatabdi Express from Mumbai to Baroda on @WesternRly. Would like to thank @SunshineRail for their amazing services and of course for proving the hygenic food. @RailMinIndia pic.twitter.com/ScljgWUgYa

— Yusuf Pathan (@iamyusufpathan) October 29, 2019
5. Ramiz Raja opines on Shakib's ban
So Shakib Al Hasan's ban has a lesson for all sports lovers and sportsmen: if you disregard the game and try to become bigger than the game by sidetracking the laid rules and protocols then be ready for a fantastic fall! Sad.

— Ramiz Raja (@iramizraja) October 29, 2019
6. Sheldon Cottrell replies to a fan in Hindi
And I hear the brothers give them gifts? And tnx – dhanyavaad – (shukriya to google translate too) https://t.co/HcCJ8ECPiH

— Sheldon Cotterell (@SaluteCotterell) October 29, 2019
7. Kaif reacts on D/N Test
Excited that India will play a day night test at Eden Gardens against Bangladesh. I think innovations are much needed to get crowds to watch Test matches and it is great to see India embrace this format of d/n Tests under Dada @SGanguly99 the BCCI president

— Mohammad Kaif (@MohammadKaif) October 29, 2019
8. Rahul Sharma wishes Harbhajan Singh and Geeta Basra on their anniversary
Happy marriage anniversary to big bro and bhabhi ji god bless u both ❤️😊🙏🙌 @harbhajan_singh @Geeta_Basra 😊 pic.twitter.com/eTzzmk8ChU

— Rahul Sharma (@ImRahulSharma3) October 29, 2019
9. Sandeep Sharma posts a video of him bowling a brilliant spell
7/19 – Vijay Hazare 2019-2020 against Haryana. #cricket #life #VijayHazareTrophy @BCCIdomestic @BCCI pic.twitter.com/g7U80TjPOc

— Sandeep sharma (@sandeep25a) October 29, 2019
10. Allan Donald wishes Namibia best of luck 
@CricketNamibia1 good luck today boys just one game away from qualifying for the @T20WorldCup next year in Australia. @albiemorkel @BruynjasDe

— Allan Donald (@AllanDonald33) October 29, 2019
11. Jasprit Bumrah posts a picture of him working out in the gym 
Coming soon! 💪🏼 pic.twitter.com/Nhrsusny1L

— Jasprit Bumrah (@Jaspritbumrah93) October 29, 2019
12. Sanju Samson posts a picture of him playing a shot during net practice
Practice time…..😃
Watch the ball,,hit the ball…!!
☺️🙏🏼#Stronger&stronger#cricket #firstlove #happy pic.twitter.com/PztUuuhNMV

— Sanju Samson (@IamSanjuSamson) October 29, 2019
13. Aakash Chopra gives his analysis 
Who should get a chance during the Bangladesh T20Is – Sanju Samson or Shivam Dube? And Rohit Sharma for permanent T20I captain? Your questions, my answers. It's time for #AapKiVani of course.
Tune in tomorrow when I'll answer more of your questions. Same time, same place! pic.twitter.com/KBfnhhSSqW

— Aakash Chopra (@cricketaakash) October 29, 2019
14. Sreesanth posts a video of heading towards the gym
#neverevergiveup #cricket #love #india #family #time #hardwork #life I'm gonna give my very very best to the game (The will to prepare to succeed) is all I have,.#HOPE pic.twitter.com/TBTBoMSLyQ

— Sreesanth (@sreesanth36) October 29, 2019
15. Harbhajan Singh posts a message on the tragic death of Sujith Wilson
மீள முடியா துயரம்!
என்னால எதும் செய்ய முடியல அப்பிடின்னு நெனச்சு அழுக வருது.போனது ஒரு உயிர் மட்டுமில்ல நம்ம ஒட்டுமொத்தப் பேரோட தன்னம்பிக்கை.இனியொரு உயிர் இந்த மாதிரி போகக் கூடாது.அவங்க அம்மா அப்பாக்கு யார் ஆறுதல் சொல்லுவாங்க.என் மனதில் என்றும் நீ நிற்பாய் மகனே #Sujith #RIPSujith pic.twitter.com/pC341a72qK

— Harbhajan Turbanator (@harbhajan_singh) October 29, 2019