Cricketing trends in Twitter today
Updated - Nov 23, 2016 5:31 pm
23 Views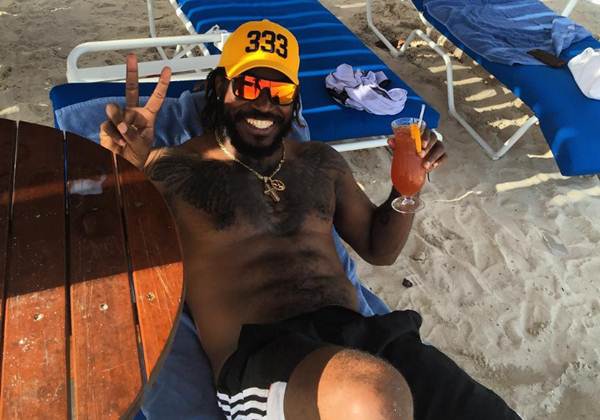 Cricketers around the world had a happening day and were quite happy to share the bits of their lives with their followers on Twitter. Chris Gayle was in his usual mood and chilling out with some drinks. The Universe Boss surely knows how to keep stress away from his life.
The Indian team took a day off and enjoyed lunch right up in the valley. Ravichandran Ashwin shared a nice snap while head coach Anil Kumble also did the same but captured the beauty in a bit more interesting manner. The pros of being an avid photographer always helps.
David Miller was testing his eyes and warming up his brain with an online Test while Australian opener Aaron Finch spent his day playing golf. Mitchell Starc was excited to the Australian women's team winning the ICC Championship. Shahid Afridi was happy to be back to his homeland. A few cricketers continued to express their discontent over ICC's decision to fine Faf du Plessis for ball tampering. Graeme Swann and Russel Arnold, especially, were still unconvinced.
Likewise, there were many other cricketers who were busy on social media today. Catch all the tweets below.
1.The Beautiful Adelaide Oval !!! 
Just posted a photo https://t.co/Cp8uBoPxh9

— Mitchell Johnson (@MitchJohnson398) November 23, 2016
2. No more funny. Let's drink responsibly!
I wonder why such initiative wasn't taken before, check this CEAT breath analyzer video and you will feel the same!!https://t.co/1s6JB1cy5Z

— ajinkyarahane88 (@ajinkyarahane88) November 23, 2016
3. Aaron Finch's day out at the golf course 
Had a brilliant morning playing in the @WorldCupGolf pro/am with @RooKnox!! What a cracking bloke!! pic.twitter.com/RPpl97f4xd

— Aaron Finch (@AaronFinch5) November 23, 2016
4. David Miller starts this day with EYEgym
To start the day off with @EyeGym_Science and #gameready. Taking eyes to a new level. pic.twitter.com/zY77ys3crA

— David Miller (@DavidMillerSA12) November 23, 2016
5.Enjoying lunch right up in the valley 
Right up the valley!!? https://t.co/xlEuenZJSW

— Ashwin Ravichandran (@ashwinravi99) November 23, 2016
6. Right at the money!
ICC need to stop being jobsworths. Perhaps concentrate on improving test crowds rather than concentrate on this nonsense https://t.co/tDLSS3qLat

— Graeme Swann (@Swannyg66) November 23, 2016
7. More news on the lollygate
More #Lollygate https://t.co/bgTWchQWDg

— Russel Arnold (@RusselArnold69) November 23, 2016
8.Shahid Afridi back to his homeland
Nothing like home land#kar pic.twitter.com/FLbp33AuVg

— Shahid Afridi (@SAfridiOfficial) November 23, 2016
9. Just chilling
— Chris Gayle (@henrygayle) November 23, 2016
10. VVS Laxman happy to see promising cricketing talents 
Congrats All Saints for winning the VVS Cup-under 14 school tournament? Player & best bowler of the tournament was P.Shiva &P Durga Balaji? pic.twitter.com/q8EKDVRDVI

— VVS Laxman (@VVSLaxman281) November 23, 2016
11. Dean Jones all excited about the upcoming game
Bucket list: when you have a chance, go to an Adelaide Test match. It's awesome, on the ground and out the back! Just a great Test to enjoy!

— Dean Jones (@ProfDeano) November 23, 2016
12. Mitchell Starc congratulates the Australian Women's team on winning the ICC Women's Championship
Congratulations to the @southernstars , winners of the first ICC women's Championship.. Well… https://t.co/UJFXC3neXO

— Mitch Starc (@mstarc56) November 23, 2016
13. Believe in the almighty
Only Allah is Almighty!!! pic.twitter.com/yzKz2czxTd

— Kamran Akmal (@KamiAkmal23) November 23, 2016
14. Head coach having lunch in the valleys
Lunch with the support team! #dayoff @coach_rsridhar @NJA21 #sanjay Bangar @BCCI pic.twitter.com/JKbomHm7Jm

— Anil Kumble (@anilkumble1074) November 23, 2016
15. Michael Vaughan love his company 
Even the Dog checked out the shot …. !!! #INDIA #chandigarh. .. The 'don't thin it ' chirp is… https://t.co/a55r4mJOdx

— Michael Vaughan (@MichaelVaughan) November 23, 2016
16. Parthiv Patel expresses his gratitude
Thank you very much everyone for ur wishes…this couldn't have come at a better time..will give my best..#happytobeback#india#test

— parthiv patel (@parthiv9) November 23, 2016