CricTracker Exclusive- Mashrafe Mortaza is a living legend, my one and only idol: Jahanara Alam
She also spoke on Shafali Verma's stupendous potential and how the ICC can popularise the women's game even more.
Updated - Jul 1, 2020 10:55 am
1.2K Views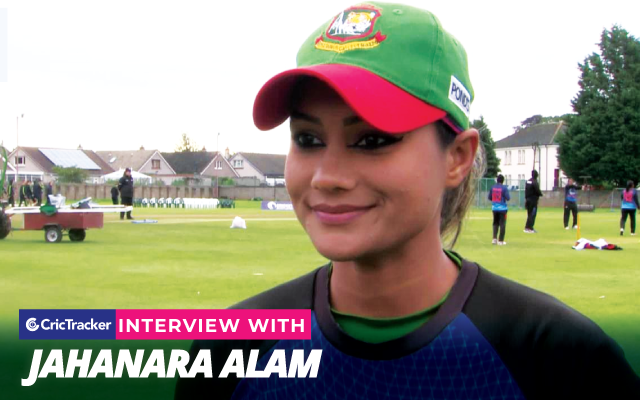 The Bangladesh men's team has taken rapid strides, having also played the knockouts of world tournaments. But, on the contrary, the women's team is yet to show enough consistency, though they won the 2018 Asia Cup. However, along their way, they have produced cricketers, who have gone on to garner laurels and appreciation from across the globe, one of them in Jahanara Alam.
She wasn't a cricket enthusiast, but destiny had other plans for her. The 27-year-old is one of the very reasons why the Tigresses have locked horns efficiently with some of the more experienced sides in the circuit. Having picked 88 wickets, she has arguably been the best fast bowler of her team. After making her debut at the age of 18, she has, undoubtedly, made a name for herself.
Last year, Jahanara was also a part of Velocity in the Women's T20 Challenge in India where she played under Mithali Raj's leadership. Currently, in the coronavirus pandemic, she has been spending time, cooking some delicacies and also focussing on staying fit. During this while, CricTracker decided to catch up with the pacer from Khulna, which also happens to be the birthplace of Shakib Al Hasan.
Here are some excerpts from Jahanara Alam's interview:
Tell us about how you grew up in cricket and the support you got from your father and other family members in your career:
Cricket happened at the age of nine. At that time, I used to play handball and volleyball for my school, Pioneer Girls High School in Khulna, which was also popular for sports. I was in the sixth standard back then. From my residence to school, it took around 40 to 50 minutes by Rickshaw. Unlike other girls, who wore Salwar Kameez, I used to go to school in my sports attire.
Opposite of my school, Late Sheikh Salauddin, the former coach of the Khulna Division, lived. He used to follow me in my sportswear for quite some days. He once asked me if I wanted to play cricket and I agreed instantly. I found cricket tough to play and there wasn't much broadcasting of the sport either. It was around 2006-07 when Bangladesh played a lot of Test cricket.
I didn't follow the game and couldn't understand the rules and regulations. But when I was told that the country would be having its own women's team, I didn't back out. I had the belief that my parents wouldn't have any problems with me playing cricket. My father only told me to return home before the evening Azaan and not do anything that would bring shame to the family.
I failed miserably in my trials. I floundered in every department. After practising with the team for a month, I became a fast bowler as I used to be very fit from my childhood. After about one or two months, I became the leading wicket-taker in a seven-team tournament, picking 13 wickets.
Immediately, I got a call-up to the national camp. Unluckily, I couldn't get into the national team back in 2007. But in my first match against Hong Kong, I picked up a hat-trick in an unofficial ODI in Mirpur, coming to bowl in the 47th over. And then the journey for Bangladesh began.
Earlier you said that your father had to face objections from others with you pursuing a career in cricket. Your thoughts:
People around my locality also told him that I should continue with my studies and then get married. They were against me playing cricket, being a girl. My father defended me saying that I wasn't doing any wrong and he supported me. In the current society, supporting each other is very crucial. Not only girls, but even boys have had to sacrifice their passion for sports to continue studying.
For me it was a blessing that my father didn't discourage me ever. When I was young, there wasn't much talks, it started after I took up the game. When I got the hat-trick, there was a lot of buzz around. My picture was there in the first page of the newspaper and from then onwards, people's perception started changing. They called me the pride of Khulna, the pride of Bangladesh.
Who's your role model in cricket and what are the things you learned from him/her?
I don't have a role model of that sorts. Even after I starting playing cricket, I couldn't follow the sports much for the first two years. I came across Brett Lee after one of my coaches showed me some videos on YouTube. He asked to follow his bowling action to generate more pace and swing.
From there, I started identifying players. So, from every nation, I followed two to three cricketers. But, not from the intention of following, I liked Mashrafe (Mortaza) bhaiya. He is a living legend and is my one and only idol. I like every aspect of him, but it's not that I want to do everything like him.
In the 2018 Asia Cup final, you scored the winning runs off the only ball you faced. Bangladesh lost two wickets in a row and there was a possibility of all three results. What was going through your mind when you were about to face Harmanpreet Kaur?
I have been asked many times if I was worried to face a big player like Harman. Actually, the entire Asia Cup was a confidence booster for us, especially after we beat India in the first match. In the final, we went in with a nothing-to-lose mindset and thought that what we get would be a bonus. I always try to stay aplomb and don't fear anyone. Rather I prefer to take action as per the situation.
At times, I was sent up the order to play the big shots. That day I went in since I could run fast and had Rumana (Ahmed) as my partner. And after Sanjida (Islam) got out, I was asked to support Rumana. So, after I went in I told my partner to call when there's a chance to run. When Rumana was dismissed after a four and a single, I came on strike and we needed two runs off the final ball.
Salma (Khatun) Apu came in after me. Before that, the staff told me to get bat on ball. Generally, in those situations, it's tough to connect, especially for the tail-enders and I was one of them. I was determined to finish the work and fulfill my responsibilities and I thought that I could do it.
Luck also favoured me to some extent. I asked Salma to be ready for running two and planned to complete the second run with a dive without any risk. I gathered my thoughts within a handful of seconds. When Harman came to bowl, I stopped her and tried to disturb her rhythm somewhat.
Since Sanjida got out, playing a big shot and Harman was bowling at the middle stump, I wanted to play a chip as per the merit of the ball. Luckily, I got the ball around the middle and leg stump and I completed two runs. I was very much relieved after being able to win the game for my team.
While playing for the Velocity in the Women's T20 Challenge final, you erupted after castling Sophie Devine and Natalie Sciver and so did the crowd in Jaipur. Tell us about the experience:  
It was amazing. I couldn't even imagine that it would end in such a great way for me and out of the two wickets, one of them would become the 'Ball of the WIPL'. I never faced Devine and Sciver before, didn't have the privilege of playing alongside them. I used the reverse swing to good effect, using the wind, after the ball got old. I was appreciated by my teammates for the efforts I put in.
I enjoyed every bit of my journey in the tournament. I only regret, conceding a few runs in my last over while bowling to Harman. Had I not given those many runs we could well have been the champions. Next time when I get a chance, I would be looking to keep a calm head and perform better. In India, I have a lot of fans and well-wishers. Hence, I didn't feel like being on alien grounds.
In the West Indies, people are also fond of me. When I went for the 2018 T20 World Cup, I bumped into a few priests of a church at a shop and they asked if they could hug me. On asking the reason, they said that they were impressed of my performance against the home team and hence aspired to meet me. It was an incredible experience. Unconditional love has been a big inspiration for me.
*Jahanara Alam's delivery to Sophie Devine became the ball of the 2019 WIPL. 
Anju Jain, Bangladesh's head coach, once said that you are always the first one to put your hands up for any challenge. Keeping the same in mind, do you aspire to be the Bangladesh captain again?
Captaincy is something else. I was lucky enough to lead Bangladesh for some time, including the 2016 T20 World Cup. I was privileged to be appointed as the skipper of the national team. It's something to decide for the Bangladesh Cricket Board (BCB). Whether I get back captaincy or not completely depends on the board if they find me capable enough to shoulder the responsibility.
But as per me, one can also complete their tasks, being a team member as well. I try to keep Shakib (Al Hasan) bhai's journey at the back of my mind. He is the best all-rounder and he has achieved a lot of things without being a captain. He has also collected praises from all around the world.
And the way he has performed and taken Bangladesh to a whole new level is commendable. A number of countries weren't aware of our cricket but now they identity us through Shakib. My target is to give my best as a player and focus on how much I can contribute to my team's success.
In the last T20 World Cup, you started with a four-wicket haul in a warm-up match against Pakistan. But in the main round, you couldn't get a wicket. Was there anything that was bothering you?
Even I don't know what was happening. After starting with that match-winning spell I completely went off the radar. I think it's a part and parcel of the game. When I look at Harman, who's one of India's best and also did well in the tri-nation series in Australia, she didn't have a great tournament.
Even Jemimah (Rodrigues) had her troubles and Smriti Mandhana couldn't get a lot of runs either. I believe India went to the final on the backs of Shafali Verma and Poonam Yadav's performances. Had India gotten off to a poor start, it would have been very tough for them to reach the final.
You could also see a number of players from the West Indies like (Stafanie) Taylor, (Deandra) Dottin and Hayley Matthews  not doing well to that extent. For me, I did well in the 2014, 2016 and 2018 T20 World Cup, and my performances caught the eyes though my team couldn't really do well.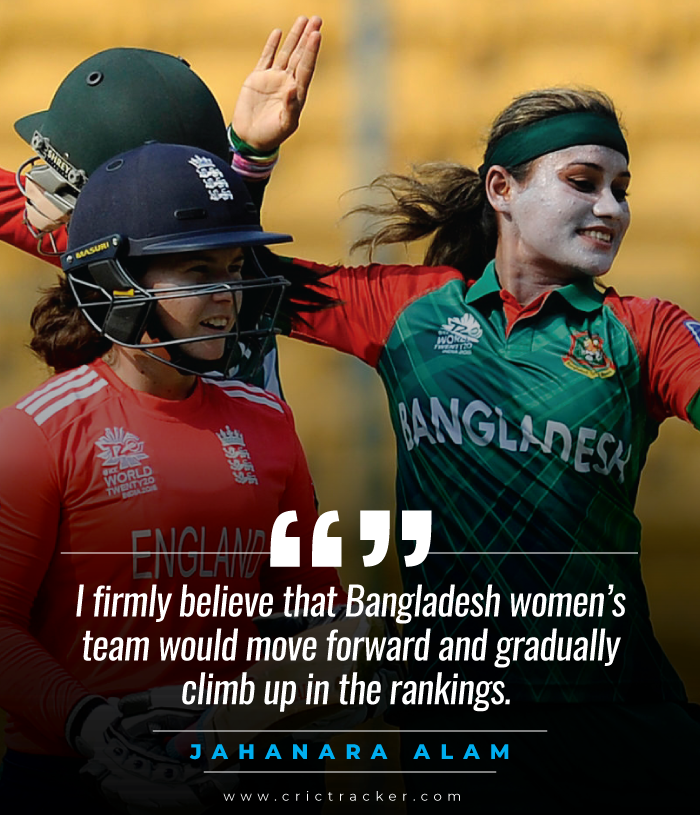 Playing alongside Shafali Verma in the Velocity, did you believe that she could perform for India as well in the future?  
I didn't think of this as she was a newcomer. She scored well in one of the games (34 off 31 against the Trailblazers). I had a chance to bowl to her in the practice sessions and even though, we (Bangladesh) knew her shortcomings, we didn't play enough against her. We were also aware of her strong points. Even in the team meetings (during 2020 T20 WC), we planned about how to stop her.
In the match, she hit me for a six over the sweeper cover. Had the wind not helped her, I would have taken her wicket. I wasn't lucky as I could easily have picked up a couple of wickets that day. When I saw her in the Velocity, I didn't feel that she could play in the WC as an opener.
She has improved a whole lot; she has become fitter than before and she has developed her power-hitting as well. If Shafali could play in the same matter even in the future, she would score loads and loads of runs at the international level.
*In the WC match against Bangladesh, Shafali scored 39 off 17 balls with two fours and four sixes. 
Since Bangladesh women's team was granted ODI status in 2011, they have played only 38 ODIs and 75 T20Is. Do you think an increase in exposure can help the team grow faster in the international arena?
Recently, I heard in the news that our coaching staff said that we couldn't take pressure at the big stage. I felt that a little bad as they have been seeing us for a long time. I was a little upset by the comments since we beat a big team like India to win the Asia Cup, Pakistan is a big team as well. For me it's not about handling pressure, it's about lack of playing experience with the major teams.
In November 2019, we played against Pakistan and lost the T20 series 0-3, but levelled the ODI series 1-1. We understood their week points and hence, performed well against them in the T20 WC. If we played against the likes of Australia, New Zealand and India, then we wouldn't have looked back.
Even if we would have lost a few matches, we could have won a couple of games. But we are stranded at the same place for the last eight and half years, ranked number nine. However, I firmly believe that we would move forward and gradually climb up in the rankings.
Women's cricket has increased in fandom over the last few years. What changes do you think should the ICC bring about to popularise the game more?  
Earlier, the men's and women's team played the T20 World Cups simultaneously. But this time, it was different and the women's WC had a lot of fan-following. The ICC has succeeded in their plans of hosting our tournament separately.
And the ICC should also telecast the matches of the teams in the top 10 rankings. If not broadcasting, they can also promote the game through highlights on YouTube. In this way, they could popularise the game even more.
In the COVID-19 pandemic, you served 50 families in Dhaka. While it's worth applauding, how difficult was it for you to work single-handedly? And would you like to give a message to the people in Bangladesh and around the world?
It was a bit difficult as I didn't have the manpower. I only tried to help to the best of my abilities. In our Islam religion, there's a saying that if we help with the right hand, our left hand shouldn't know about it. Therefore, I try to maintain this and help people with an open heart. I served in an area where a number of people, including the daily-wage earners, live and I couldn't help all of them.
One of my close ones had asked me to share some of the photos, which she took silently, in my official pages. That person felt that being a public figure what I did was worth inspiring and even if 10 people come forward to help the needy, it will be a great thing. So, I made those pictures public. A grocer helped me in packaging since I wasn't in a position to go to the market.
The grocer wanted to do things all by himself. But I realised that by doing so, if he catches the virus then I won't be able to forgive myself. And when I delivered the food packets to them, they smiled at me, which gave a lot of satisfaction. In Bangladesh, the second phase of lockdown has begun.
In my hometown, Khulna, going out of home has been cut off, though there's some chances in Dhaka. I urge people to not step out of their residences, barring any emergency. I also request people to help the underprivileged and make sure that they don't spend days without food.
India and Bangladesh combined women's XI across formats:  
Smriti Mandhana, Shafali Verma, Nigar Sultana Joty, Jemimah Rodrigues, Harmanpreet Kaur, Rumana Ahmed, Shikha Pandey, Jahanara Alam, Salma Khatun, Poonam Yadav, Nahida Akter.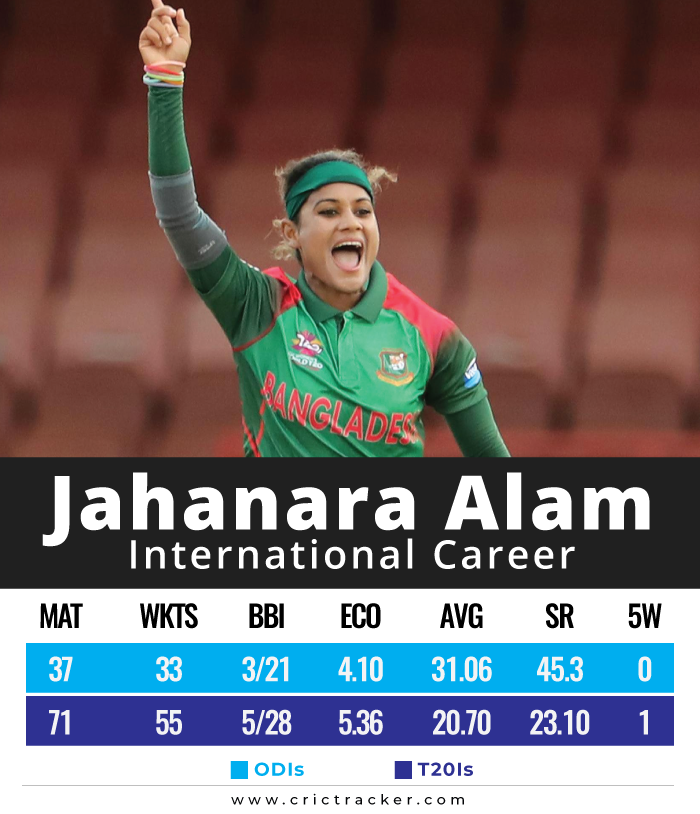 The profession, you would have gone for if you weren't a cricketer:
My close ones say that I could have been a master chef since they feel that my cooking skills are out of this world. Some even told me to open a restaurant. I never thought this way as I didn't get any chance to ponder on this. But now I believe that I could have been a good housewife.
Your favourite dish:
Any kind of meat Biriyani be it, chicken or mutton, plain rice and any kind of egg preparations, curry or fried.
The cricket match you would want to change the result of:
The match against Pakistan in the 2014 South Asian Games in Incheon, South Korea. We missed out on gold and I was at the non-striker's end. That's the game I would wish to save.   
Your favourite holiday destination:   
I like the European nations as I have gone there while playing. I'm fond of sea beaches very much, we have Cox Bazar in Bangladesh.
Fab-Four of bowlers and batters in women's cricket:
Fab-four bowlers: Jahanara Alam, Poonam Yadav, Ellyse Perry and Amelia Kerr/Dane van Niekerk
Fab-five batswomen: Smriti Mandhana, Chamari Athapaththu, Ellyse Perry and Lizelle Lee
Follow us on Google News