CricTracker Exclusive – Rishabh Pant is the best keeper-batsman currently in India: Naman Ojha
Having made his first-class debut in 2001, Ojha was one of the players who made an early impression in the Indian Premier League.
Updated - Feb 27, 2021 2:08 pm
1.2K Views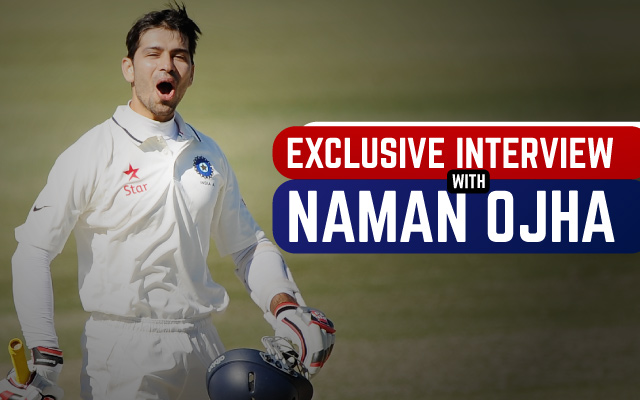 146 first-class matches, 9753 runs at an average of 41.67, 22 centuries, 55 half-centuries, 417 catches and 54 stumpings. On the surface level, these numbers are extraordinary for any one man to hold onto. These are the numbers of a wicketkeeper-batsman. In modern-day cricket, where we have international keepers struggling to average more than 35, these numbers may seem insane. However, if you break this man's record, you will only have one Test cap to his name. 56 runs in two innings, four catches and one stumping.
The person who has been mentioned above is Naman Ojha. The 37-year-old player from Madhya Pradesh retired recently after being an honest servant of the game for close to two decades. He is one of the few players who has played in four international matches only, played at least one in each of the formats. Having had an amazing career, Ojha caught up with CricTracker for an exclusive chat revolving around his career.
Having made his first-class debut in 2001, Ojha was one of the players who made an early impression in the Indian Premier League. He was picked up by the defending champions Rajasthan Royals ahead of the IPL 2009 and played some impressive knocks with the bat. It was after this year till about 2017, which Naman recalled as the best spell in his career.
My best years of cricket were between 2010 and 2017: Naman Ojha
"Starting from 2009 or 2010 until 2017, I had a great time with the bat. I had some good performances in the IPL as well. Those five to six years were really good. The problem started post-2017 or 2018 when I started to get more injured. I had a side strain and a fracture which kind of happened at the wrong time. But I believe as a professional, these kinds of injuries are manageable," Ojha said during a telephonic conversation with CricTracker.
Talking about the highest points in his career, Naman shared his experience of making his Test debut. After having an incredible couple of seasons in first-class cricket, Ojha's Test debut came in 2015 in a series decider against Sri Lanka in Colombo. After not being picked in the squad originally, he was called up as a replacement keeper after Wriddhiman Saha suffered an injury.
"I had a good debut. I scored some crucial 56 runs, especially the second innings knock was important. Had I not hung in there, things could have been a little tricky. I also took all the dismissals which came my way. I had a good outing. Unfortunately, I didn't get to play another match," Naman said.
Upon saying that he might not have got the feeling of making his Test debut as he was rushed into it, he said, "aur kitna wait karta? 15 saal runs banaye tab jaake mauka aya (for how long should I have waited? It took me 15 years of first-class runs to get one opportunity.)
Having made his debut in 2000, Ojha was an instant hit with the selectors. He was picked up for some India A tours and was one of the keepers in the country who took the field for that side regularly. It is only unfortunate that India A matches are not televised or considered as important, even though these matches play an important role in shaping a players' career.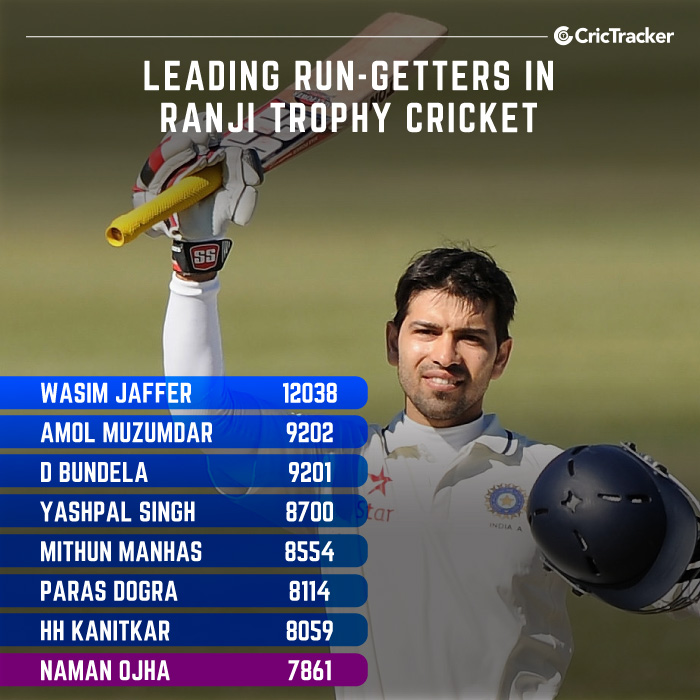 Heavy runs in first-class cricket, but no luck with the national team
In the 2013-14 season, India A had travelled to Australia and played two unofficial Tests. Future stars like KL Rahul, Jasprit Bumrah, Karun Nair were in the squad along with some really experienced players like Robbin Uthappa, Manoj Tiwary and Ambati Rayudu. In three innings in that Test series, Ojha scored 430 runs, including three scores of 100 plus, including a double hundred. He was dismissed only once during that series. To top that, he was the highest run-getter in Ranji Trophy 2013-14 with 835 runs. But, MS Dhoni was still around the team, which didn't allow him to make an entry to the side.
But, even after MS Dhoni's retirement, there was rather a conscious choice made by the selectors to go for Wriddhiman Saha as the first-choice keeper. Ojha's wicketkeeping skills had been doubted by the selectors. Something which he revealed, "Sometimes, it was my batting which was a concern and sometimes it was my wicketkeeping. I would work on one thing and the other would be seen as an issue. This kept on going for some time."
With Virat Kohli's Test team, post-MS Dhoni's retirement, doing quite well in Tests, Ojha felt away from the limelight. Coming from Madhya Pradesh, he had been scoring heavily in first-class cricket, but Saha's skills with the gloves kept Ojha on the sidelines. "I was only picked for that one Test. I made runs in all the first-class cricket that I played. But, unfortunately, I didn't get it through to the Test team. I wanted to play for India and win matches. I should have got one opportunity to play an entire series, but that didn't happen," 37-year-old said.
Ojha further went on to praise BCCI's work at the domestic level. "I would like to thank the board for all the support which they have given me and other players at the domestic level. Even this year, after the pandemic, they had two tournaments, which has at least made sure that domestic players don't suffer. Plus, they have created the IPL, which gives opportunities to young players. I don't think I would have played so much cricket if it hadn't been for the IPL. When you play cricket, you need financial security to focus on your cricket. That is something which BCCI has made sure," Ojha said.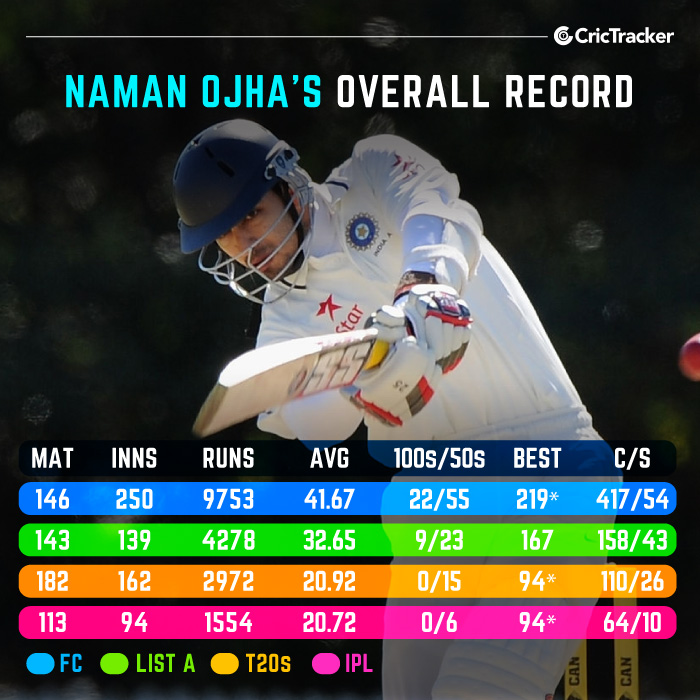 The first sight of MS Dhoni and learnings from Sachin Tendulkar
The Madhya Pradesh player also talked about the time when MS Dhoni was selected over him and other keepers after an A tour of Kenya. "Nahi, uss waqt unka hi selection hona chahiye tha (Dhoni should've been selected that time). He played some really good knocks on that tour. Dhamaka kar diya tha unhone (He put up a spectacle). I didn't get to play but saw him from the sidelines and thought he is truly good."
From one great to another, Naman Ojha revealed that Sachin Tendulkar had the biggest influence on his career. "I used to watch him from the sidelines and tried to learn from him. He used to practise at Shivaji Park and we would watch him. He would come early and that was one lesson we got from him that you have to come early and start your practise no matter what. His work ethic was solid. People used to say that the Master has been batting since 6 or 7 in the morning."
Praises for Pant and wishes for Madhya Pradesh teammates
As a wicketkeeper, Ojha had a few words of praise for Rishabh Pant. His tone while talking about Pant seemed like a professional who had confidence in the youngster.
"Rishabh proved himself in the IPL that he is the best batsman among keepers in the country. His keeping was not tested but he is learning now. He has got a few knocks with the bat which will give him confidence. He has got the confidence of the team management and the captain, which is important. He will learn and eventually become good. It takes time for some players. He might perform well always behind the stumps, but he is only human and will get better. When I came I wasn't too good either, I worked hard on my keeping and batting. And when you play for long, you get certain tips from here and there and you can improve," Ojha said.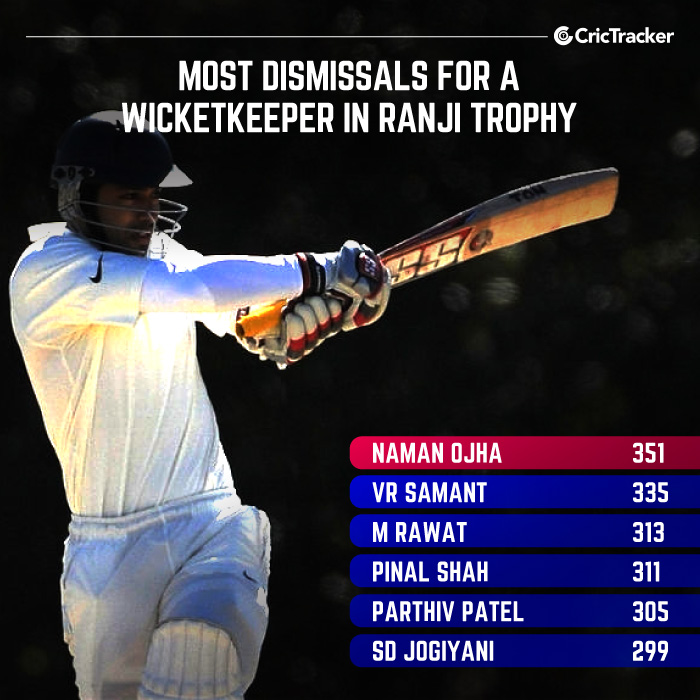 The veteran also shed his views of Venkatesh Iyer and Rajat Patidar, two Madhya Pradesh players who were picked in the IPL. "This will be their first year, so I don't want them to play with pressure. They are really good and talented and have done well, that is why they were picked. People should not burden them too much. I will just wish them luck. I am sure they will do well. We have some good players in Madhya Pradesh."
Looking back at his favourite innings, Ojha revealed that there are a few knocks that will always stay close to his heart. "One would be the knock of 68 I played for Rajasthan in 2009 IPL and then I would say that 79 I scored for SRH in 2014. I think the 38 I scored in my first Test was also quite crucial given the situation in the game. So, these three would be my favourite knocks," the man with 31 centuries in domestic cricket said.
When asked about the future plans, Naman Ojha didn't reveal anything clearly but hinted at opting for commentary in the near future. "Yeh sahi hai, broadcasting hi karenge hum (I will do broadcasting only)."