CricTracker Exclusive – Winning the World Cup was the best gift we could've given to Sachin Tendulkar: Yusuf Pathan
Yusuf also feels that anyone can break his record of the fastest century by an Indian in the IPL.
Updated - Feb 27, 2021 5:20 pm
355 Views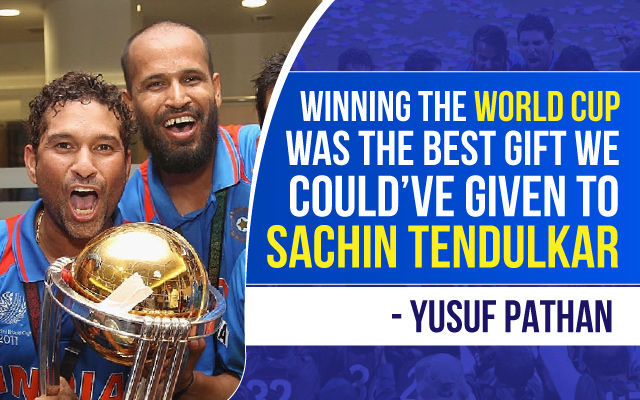 While cricket is a game of numbers and the players are usually judged by the numbers they acquire on the field, there are some players who should not be judged by the same parameter. One such player is Yusuf Pathan, the hard-hitting batsman and a handy off-spinner, who brought down curtains on his illustrious cricket career on Friday (February 26).
Yusuf was the sort of impact player who are usually the last piece in a jigsaw for a team. Who can forget his performance in the IPL over the years especially in the inaugural edition when he led underdogs Rajasthan Royals' historic march to the title? 435 runs with four fifties at a strike-rate of 179 was his return with the bat in IPL 2008 as Rajasthan Royals won the inaugural edition.
In that same edition, he had also scored the-then fastest fifty in IPL with his 21-ball effort against Deccan Chargers. In the following year, Yusuf scored the then-fastest century in IPL, reaching the milestone off just 37 balls against Mumbai Indians. Yusuf went on to win two more IPL titles with Kolkata Knight Riders during his glorious career.
Just like in the IPL, Yusuf also made a big impression in international cricket and helped India win two World Cups (2007 T20 World Cup, 2011 50-over World Cup). The right-handed batsman had become the darling of the nation when he smashed Mohammad Asif for a six in the very first over of the 2007 T20 World Cup final which was also his debut international match.
Yusuf's international career did not last long but it was enough for him to enthrall the fans. His 29-ball fifty against England in Indore, an unbeaten 96-ball 123-run knock against New Zealand that helped India chase down 316 in Bengaluru, the 105-run knock against South Africa at Centurion that helped India recover from 119 for 8 and reach 234 while chasing 251 are just some of his knocks that are still fresh in every cricket fan's mind.
As Yusuf brought down curtains on his career, he opened up to CricTracker about his journey, the experience of playing under several captains, winning the World Cup, future plans, and more.
Here are the excerpts: 
We know you love playing cricket and have done that since childhood. How tough was it to take the decision to retire?
It is an emotional moment for me and everyone. But I am happy with my decision. My whole family is with me, my brother Irfan Pathan has supported me. I am also happy with what I have achieved in my career. I won two World Cups for my country, played IPL for 12-13 years, and won three trophies. Yes, it was tough to come to a decision, but this is the time to end this chapter of my life and there's a lot to look forward to in the future.
When you were told that you will make your international debut in T20 World Cup final against Pakistan, what was your reaction? How did you handle the pressure of playing in the final?
I actually got to know very late that I will be playing. So there was no time to think and in a way, it was good, but yes, I got nervous. But I got all the support from my teammates, from Irfan, my opening partner Gautam Gambhir. So I was settled by the time I reached the crease to bat.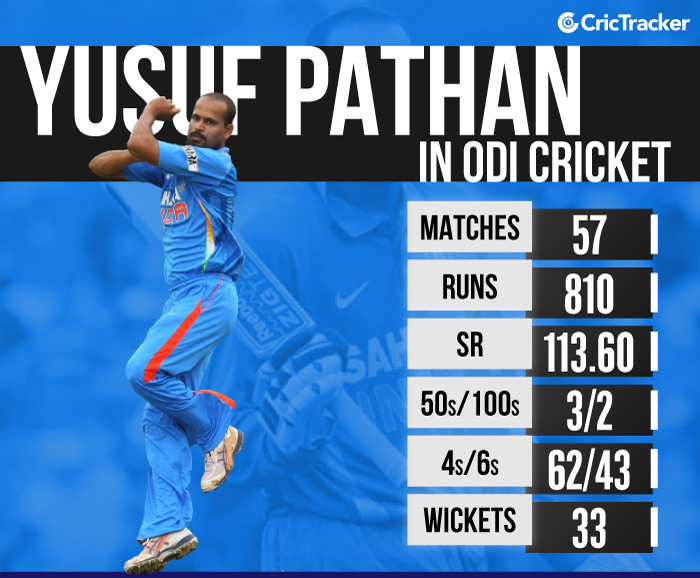 You are the only cricketer to make an international debut in a World Cup final. And you hit a six to Mohammad Asif in the very first over. What was going on in your mind at that moment?
I wasn't thinking much, but that shot took a lot of pressure off me. I was relieved after getting off the mark and then that six gave me a lot of confidence.
Are you aware that you have the second-highest strike-rate (113.60) in ODIs among Indians? What do you want to say about that?
Oh really? I wasn't aware of this (laughs). These things never go off from the record books and I am happy that fans will always remember me with my achievements.
You and Irfan played together for India and since childhood. What is your best memory with him on the field?
There are lots of memories. We have played a lot together since childhood. Be it playing for the U16 team, the U19 team, Baroda, in Duleep Trophy, Devdhar Trophy, for India, playing with Irfan was special. I can't pick one or two memories, there are a lot of them. But if I have to pick one, then the best memory is my debut game (World T20 Final 2007) when Irfan was my senior and he gave his best performance in the match and most importantly, India won.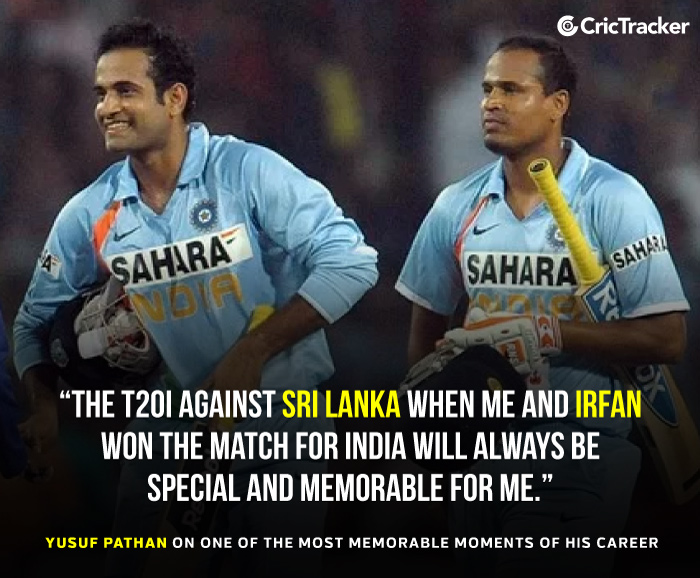 You and Irfan both still play together like you used to play in childhood?
Yes. We still do net practice together whenever we get time and we will continue to do it as long as we are playing cricket. It is always fun to play with Irfan and we learn from each other a lot as well.
Love and respect @iamyusufpathan https://t.co/ygHj1WAUxj #yusufpathanretires pic.twitter.com/FK1Q9tL9oc

— Irfan Pathan (@IrfanPathan) February 26, 2021
You have played so many special knocks throughout your career. Be it, 37-ball ton in IPL, double-hundred in Duleep Trophy final, 68-ball century in an ODI, and many more. Which one is close to your heart more and why?
For a batsman, his first 50 or 100 is always special and the knock becomes more special when the team wins. I still remember the T20I which me and Irfan won for India, that will be forever special for me.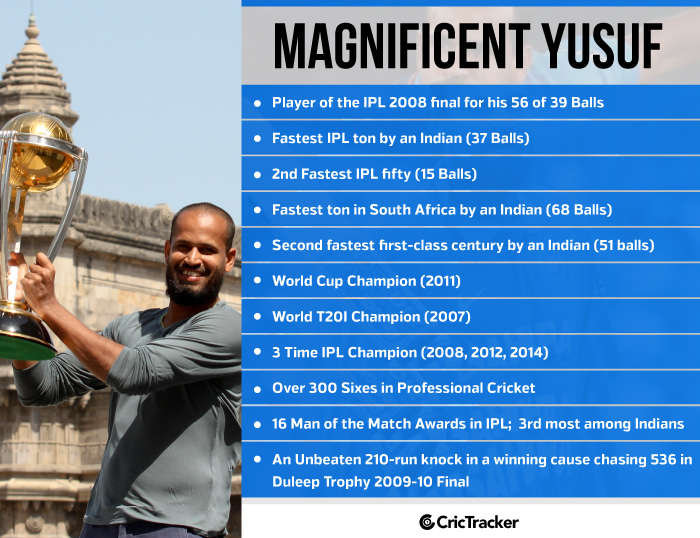 You have played under captains like Shane Warne, MS Dhoni, Gautam Gambhir, your first captain was Jacob Martin. According to you, who utilised your all-round skills better?
Obviously, Shane Warne and Gautam Gambhir utilized it really well. My first captain Jacob Martin always backed me when I had just started playing at the top level. Even playing under MS Dhoni was special as he also backed me, rather all supported me and backed my skills.
You have hit more than 300 sixes in your career which is an incredible achievement. What do you want to say about your special ability to hit sixes?
I won't say anything about this right now because there are many more to come. I will be playing more in the near future and I am looking forward to adding to the tally of sixes. But yes, I feel happy knowing I did something good.
Apart from being a brilliant batsman, you were a very good spinner as well. Do you think, being an all-rounder, you were underused as a bowler? Would you have loved to bowl more?
It all depends on your captain on how he wants to use you. Whenever I got the ball in my hands, I tried to give my 100% for my team. But then as I said, it all depends on how your captain and management want to utilize you. I don't have any such regrets of not bowling more or not batting at any specific number. I am happy.
We saw you lifting Sachin Tendulkar on your shoulders after winning the 2011 World Cup? How close were you to him? Any special moment you still remember related to him?
Sachin Tendulkar has given a lot to Indian Cricket. For many players, including me, it was the first World Cup but Sachin had already been part of many. We couldn't have given a better gift to him other than this World Cup win. We played as a team and became champions. Winning the World Cup was a special moment. I can't stop talking about Sachin Tendulkar.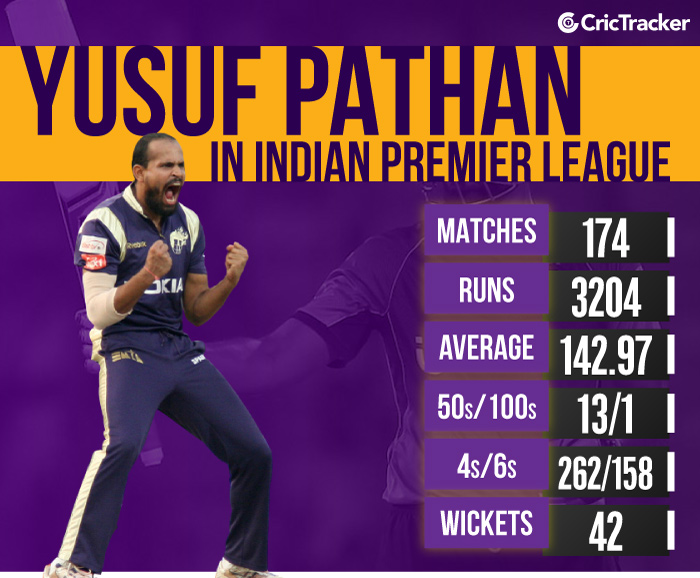 You hold the record of being the fastest Indian to score a century in the IPL. Which Indian you think would break or has the ability to break your record?
Nowadays, pitches are very much conducive to batting in IPL. So I feel any opening batsman can break. The likes of Prithvi Shaw, Rohit Sharma, KL Rahul, or any other player if it's his day, can break this record. Records are meant to be broken.
Gautam Gambhir praised you as a true match-winner in his latest tweet. What is your best memory with him on or off the field?
A gem of a person & a true match winner. It was my privilege to play for both India & KKR with you. Take a bow @iamyusufpathan! Lots of love! pic.twitter.com/Kd0Hym8N7t

— Gautam Gambhir (@GautamGambhir) February 26, 2021
Obviously, I have shared amazing memories with Gambhir. He always backed me and showed faith in me. When I made my first hundred for India, he was my captain. When I hit the fastest fifty in IPL, Gambhir was again captain. I achieved and learned a lot playing under him. There are a lot of memories playing with him.
What are your future plans now? Apart from Road Safety World Series, are you planning to play in any foreign T20 leagues?
Yes, why not? I would love to contribute to such leagues. There is a lot of cricket going on. Whenever I get a chance to play in any T10 or T20 League, I will definitely be available. I would love to entertain my fans in India and abroad as well.