CricTracker to live stream ICC Academy Summer Cup starting from August 20
All games of the ICC Academy Summer Cup will take place at the Tolerance Oval in Abu Dhabi.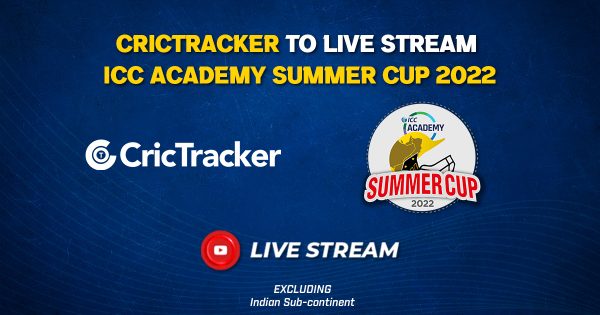 The ICC Academy Summer Cup is all set to get underway from August 20 and a total of 23 games will be played. Ten teams will take part in the tournament with Dubai Dare Devils, Dubai Gymkhana, Future Mattress, Pindi Boys Defenders CC and Valley Boyz placed in Group A pool while Interglobe Marine, Karwan CC, Mid-East Metals, Seven Districts and The Vision Shipping will form the Group B pool.
Each team will play four games against their group members and the top two teams from each group will make it to the semi-finals and finals subsequently. The final is set to be played on September 13 and all games will take place at the Tolerance Oval in Abu Dhabi.
CricTracker's Youtube Channel will live stream the tournament worldwide excluding the Indian Subcontinent. The excluded country list for live streaming includes Afghanistan, Bangladesh, Bhutan, India, Maldives, Nepal, Pakistan, and Sri Lanka.
It has to be noted that the headquarters of ICC have been placed in Dubai, UAE and it has 108 members, which included 12 full member nations and 96 associates. The board has also planned for a maiden edition of the ILT20 league which has attracted a lot of interest around the globe and is set to collide with the dates of another new league CSA league.
Group A – Dubai Gymkhana, Valley Boyz, Dubai Dare Devils, Pindi Voys Defenders CC, Future Mattress
Group B – TVSL, Seven Districts, Mideast Metals, IGM, Karwan CC
Here's the schedule for the ICC Academy Summer Cup
August 20, 2022 – Match 1: Pindi Voys Defenders CC vs Future Mattress
August 21, 2022 – Match 2: Seven Districts vs IGM
August 22, 2022 – Match 3: Dubai Dare Devils vs Pindi Voys Defenders CC
August 23, 2022 – Match 4: Seven Districts vs Mideast Metals
August 24, 2022 – Match 5: TVSL vs IGM
August 25, 2022 – Match 6: Valley Boyz vs Dubai Dare Devils
August 26, 2022 – Match 7: Mideast Metals vs IGM
August 27, 2022 – Match 8: Dubai Gymkhana vs Valley Boyz
August 29, 2022 – Match 9: Dubai Gymkhana vs Pindi Voys Defenders CC
August 30, 2022 – Match 10: Valley Boyz vs Future Mattress
August 31, 2022 – Match 11: TVSL vs Seven Districts
September 1, 2022 – Match 12: Valley Boyz vs Pindi Voys Defenders CC
September 2, 2022 – Match 13: Dubai Gymkhana vs Future Mattress
September 3, 2022 – Match 14: Dubai Dare Devils vs Future Mattress
September 4, 2022 – Match 15: TVSL vs Mideast Metals
September 5, 2022 – Match 16: Dubai Gymkhana vs Dubai Daredevils
September 6, 2022 – Match 17: TVSL vs Karwan CC
September 7, 2022 – Match 18: Seven Districts vs Karwan CC
September 8, 2022 – Match 19: Mideast Metals vs Karwan CC
September 9, 2022 – Match 20: IGM vs Karwan CC
September 10, 2022 – Semi-final 1
September 12, 2022 – Semi-final 2
September 13, 2022 – Final