CSA seeks interim agreement with South Africa players
The agreement is expected to be signed between the CSA and the South African Cricketers' Association (SACA).
Updated - Apr 19, 2018 9:12 pm
417 Views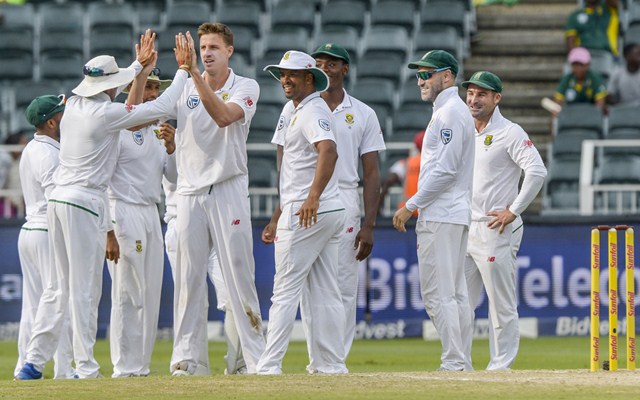 South African cricket has been on the brink of turmoil for the past few days with a disagreement brimming between the cricketers and Cricket South Africa (CSA) regarding the new Memorandum of Understanding (MoU). Owing to the inability of reaching common grounds, the CSA is currently looking to sign an interim agreement while an MoU is finalised. The agreement is expected to be signed between the CSA and the South African Cricketers' Association (SACA).
With the ugly conflict over remuneration policy in Australian Cricket that took place a few months back still fresh in the mind of the cricketing fraternity, it's quite natural that the CSA is looking to reach on a peaceful agreement and keep the relationship with the cricketers untarnished. The current MoU expires on April 30, 2018, and there has been no agreement on the contract extension as of yet.
CSA stresses on "no fundamental change" in relationship with SACA
As reported by Sportstar, negotiations over the new MoU are still on between the CSA and SACA. Only a few months back, the bitter tiff between Cricket Australia (CA) and Australian Cricketers' Association (ACA) regarding payment issues had made headlines, when there had been a logjam in reaching a consensus, threatening the existence of the national team. The CSA will be looking to avoid that sort of a mistake and will be eager to sign an interim agreement to facilitate the drafting of a new MoU.
Speaking on the matter, acting CSA chief executive, Thabang Moroe said, "While we will be seeking to clarify our relationship with SACA, I would like to stress that there will be no fundamental change in the underlying relationships between CSA and SACA. It is rather the intention to restructure these relationships that cover the employer/employee relationship, the collective bargaining relationship and the commercial relationship so that all of these relationships are regulated under separate agreements."
Adding to his thoughts, Moroe elaborated on Cricket South Africa's plans for the interim period. "In the interim, while the new MoU is being negotiated, CSA gives an irrevocable undertaking that an interim agreement is being proposed to allay any anxiety on the part of our cricketers concerning their futures. In conclusion, I would like to thank the SACA senior executives for the good spirit in which negotiations have been conducted to date and I am confident that this matter will be brought to finality within a reasonable time frame," he concluded.
[interaction id="5ad5ea508b5a295970718ed8″]