CSA wants Ottis Gibson to win them the World Cup
South African team has been successful in limited-overs as well as Test cricket under Gibson.
Updated - Jan 17, 2019 6:51 pm
274 Views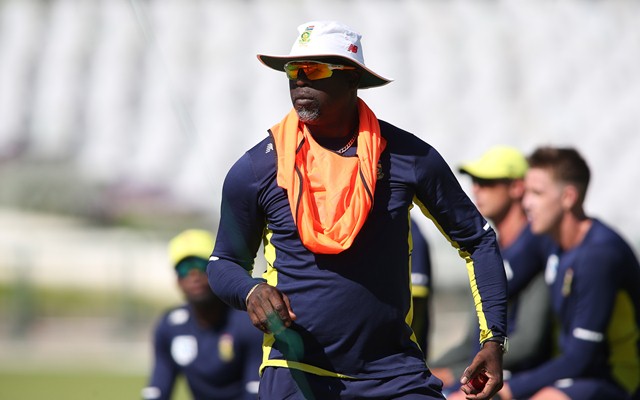 Former Windies pacer Ottis Gibson was the bowling coach of the England cricket team in 2017. Cricket South Africa saw his potential and offered him the job as the head coach of the South Africa cricket team. Gibson's tenure has been very successful as Proteas have lost just one Test series and one ODI series under his mentorship. He has also overseen wins against the likes of India, Pakistan, and Australia in the Test format.
He has been effective in the ODIs too, as South Africa beaten Bangladesh, Sri Lanka, and Australia. While CSA is happy with the performance of the team, they are expecting much more from them in the future. The board's CEO Thabang Moroe has revealed that according to Gibson's contract, he needs to win the World Cup with South Africa in 2019.
"When the board hired Ottis' it was purely to win the World Cup. As it stands, his contracts state he has to win the World Cup''" Moroe told South Africa's TimesLive. "I've been happy with what he has done with the Proteas. With him being a bowler' and a strong bowling coach' the work that he has done with our bowling unit has shown." Moroe further added
Board is happy with Ottis Gibson
CSA CEO pointed that South Africa has won most of the matches played under the mentorship of Ottis Gibson. He gave credit for the success to the strong bowling unit and revealed that he is regularly getting calls which are advising the board to reconsider the contract given to the former Windies pacer. CSA CEO argued that he is not in a position to force either party to accept his decision.
"We have won most' if not all our matches, because of a strong bowling unit. I have had a few phone calls encouraging me to speak to the board to see if they haven't changed their mind. I will do as asked and see what the board has to say. As things stand, we haven't sat at the board and I haven't spoken to anybody. I can't force a decision down Ottis's throat or the board's throat," he added.