'Cummins robbed' – Twitter wanted Pat Cummins to win Allan Border Medal instead of David Warner
A Twitter user advised Cricket Australia to overhaul the voting system and called the decision "disgraceful".
Updated - Feb 11, 2020 12:48 pm
590 Views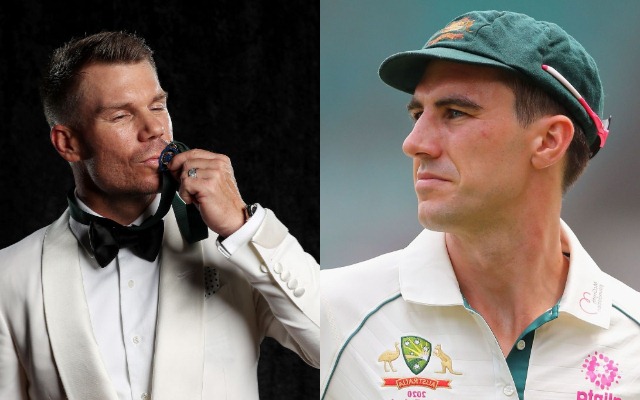 Not long ago did David Warner was seeing a life of vilification. Post his ban along with Steve Smith for the ill-famous Sandpapergate scandal in South Africa, the dashing southpaw found himself to be a matter of both ridicule and sympathy. Warner, however, waited for his opportunity and returned with a bang during the ICC World Cup in England last year. His form deserted him during the Ashes following the showpiece event but was back when he took on Sri Lanka and Pakistan at home last summer.
The 33-year-old was picked as the man of the series against Sri Lanka in the T20Is and Pakistan in Tests because of devastating batting. On Monday, the cricketer was conferred the Allan Border Medal (after 2016 and 2017) but with the accolades, the move has also witnessed a controversy.
Pace bowler Pat Cummins did not receive the award despite having a great 2019 and named as the ICC Test Cricketer of the Year because of his consistent show across all three formats. Cummins, also the No.1 bowler in Tests at the moment, got 185 votes in the poll but fell nine short of Warner's 194 and eight off Smith's 193. Opinions of teammates, match officials and media people are taken into consideration during the count.
Cummins was the winner of the medal which was first given in 2000, last year. However, it is the batsmen who have dominated the list of the medal-winners. Before Cummins, Mitchell Johnson was the last winner of the medal in 2014. The other two bowlers are Glenn McGrath and Brett Lee.
Warner himself admitted that he was shocked to be the recipient of the award particularly after the disastrous Ashes he had last year. Smith, on the other hand, had a phenomenal Ashes but yet fell short by a point. Warner managed just 95 runs in 10 innings in five Tests against England with the highest score of 61.
The Twitterati was in no mood to spare the decision. While some said Cummins was "robbed", most of the viewers agreed over the point that Warner didn't deserve the award after the ordinary Ashes he had. One also advised Cricket Australia to overhaul the voting system and called the decision "disgraceful".
Here are some of the reactions that the Twitterati came up against Warner winning the Allan Border Medal:
Patty Cummins when they called out David Warner for the Allen Border medal instead of him…. #AusCricketAwards pic.twitter.com/bNpfDZ4snA

— Martin Thompson (@M_Thomoo) February 11, 2020
Cummins robbed.

Wow.

Had a great summer in Aus but how is this even possible when he was a spectator in the Ashes? https://t.co/V0g4293aQL

— JAKE BUCKLEY 🇦🇺 (@TheMasterBucks) February 10, 2020
Allan Border Medalist – David Warner? 🤨🤨
For real?
Should have been Cummins or Smith.

— Vibhuti🇦🇺🦘 (@Vibhuti_R14) February 10, 2020
David Warner has won the Allan Border medal for scoring the least runs ever by an Australian opener in a 10 innings Ashes series pic.twitter.com/SEAkrpuGbq

— Dennis Border Medal (@DennisCricket_) February 10, 2020
Yeah not my choice Warner! Cummins a mile above anyone else!

— Rontastic®️ (@Ron_Boll) February 10, 2020
Overhaul your voting system @CricketAus Many, many people are unhappy about the result tonight. Pat Cummins was robbed. Disgraceful decision. #AusCricketAwards

— Sami Dowd (@samidowd) February 10, 2020
Warner winning AB medal ahead of Cummins or Smith? Do the Ashes not count?

— Ian McCullough (@IanMac08) February 10, 2020
Dave Warner… sorry what? 😳 who did Pat Cummins upset? #AllanBorderMedal

— Kat (@katjhammo) February 10, 2020
Warner could barely put bat on ball in last year's Ashes in England. Should've given it to Cummins. https://t.co/SKWtNiCT3y

— Andre Huisamen (@andrehuisamen) February 11, 2020
Allan Border Medal Award to David Warner Means Pat Cummins Robbed, Surely He Was the More Deserving One to be Honest !#AusCricketAwards

— Mani 🇵🇰 (@ManiTweets14) February 10, 2020