Dale Steyn names his favourite cricketer and opens up about his bunny
Steyn also talked about Pakistan food and people of the country.
Updated - Mar 18, 2020 7:26 pm
5.2K Views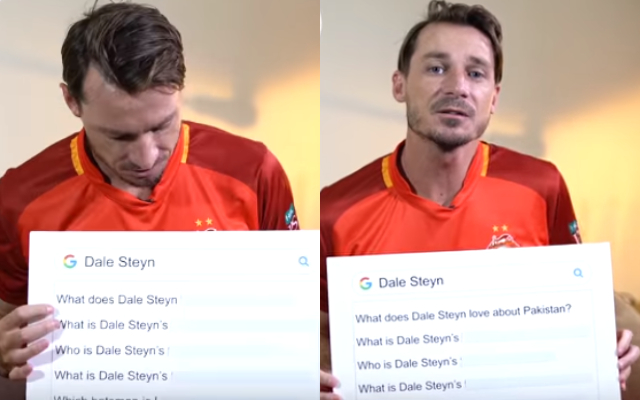 Cricketers seldom have a light-hearted conversation in public where they speak their hearts out. But when they do, it helps the fans get a look into what their mind has in store and what their favourite cricketers think about the sport they love. Featuring in one such video was Dale Steyn, who gave answers to questions, which every fan of his would have wanted to know.
Steyn has been a part of the South African pace attack for quite some time now. Even though age has crept upon him, but he still continues to dominate the batsmen the way he used to in his early days. He was a part of the Pakistan Super League recently, playing for Islamabad United and gave glimpses of what he is still capable of doing with the ball in hand.
Answering Google Autocomplete questions in a video released by Tetra Pak Pakistan, he gave the viewers, an insight into his views about Pakistan, his fitness mantra among the many other things related to his life. First up, talking about the things he loved in Pakistan, he told that he loves being back to the country. He loves how people flock to the grounds in big numbers to see them play. And, he also praised the food that is served to him in the country.
Dale Steyn's favourite cricketer?
Speaking about his health and fitness mantra he said that all he aims is to keep himself fit and healthy and also consume packaged milk. Answering the much-anticipated question of who was his favourite cricketer, he named AB de Villiers. He said, "He [AB de Villiers] is just an incredible batter and he is also a good friend."
Continuing with the questionnaire, he moved on to tell about his favourite memory in all his years of playing cricket. He told that South Africa's first Test win in Australia is what stands out the most. The South Africans had won matches in Perth and Melbourne and had gone on to win the series eventually.
Finally naming his bunny wicket, he jokingly mentioned his neighbour, whom he had supposedly dismissed a billion times in backyard cricket. But, coming to the point, he named Mohammad Hafeez, as the one whom he found it easy to get hold of in the field.
Watch the video here:
Dale Steyn Google Autocomplete Interview

What makes Dale Steyn such an amazing bowler and why is he talking about bunnies 🐰? 🤔Watch the Google Autocomplete Interview with Dale Steyn to find out more!#TetraPak #IslamabadUnited #NutritionPartner #UnitedforGrowth

Geplaatst door Tetra Pak Pakistan op Maandag 16 maart 2020