David Warner gives an interesting answer when asked to compare Virat Kohli and Steve Smith
Smith and Kohli have been constantly fighting for the number one slot in ICC's Test batting rankings.
Updated - Jun 22, 2020 4:26 pm
1.6K Views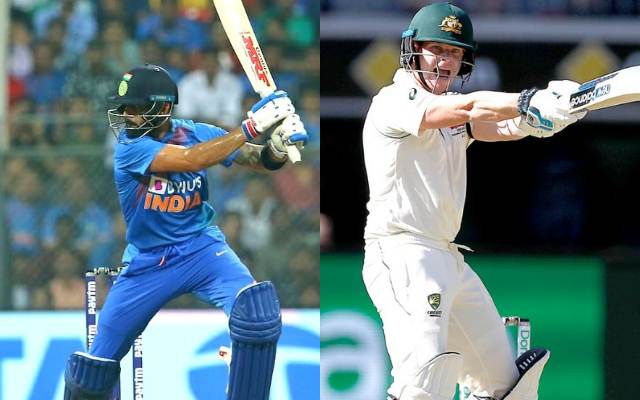 Over the last few months, comparisons surrounding Indian skipper Virat Kohli and Steve Smith have been doing the rounds. Even as talks about Virat are about his prowess in all the three formats, Australia's Smith has ruled the roost in Test cricket. The duo is set to come fact to face when India tour Australia later this year for a bilateral series.
A number of people has been asked to point the differences between the two. David Warner, Smith's Australian teammate, also had to face similar questions. However, instead of answering the question, Warner dodged it and turned up with an intriguing reply.
We don't look at individual battles: David Warner
The southpaw said that more than individuals, it's about the contest between the two teams. He mentioned that the Aussies need to make a thorough research before they lock horns with Kohli's India. Last time around, India won the Test series 2-1 after victories in Adelaide and Melbourne. Their only defeat came at the Perth Stadium.
"In comparison with him [Kohli] and Smith, they are obviously two of the best batters in the world across all three formats. It is going to be a great battle between them if that's what people are anticipating," Warner was quoted as saying on India Today show Inspiration.
"For us, it's about Australia vs India, we don't look at individual battles. If it's individual, it's bowler vs batter. At the end of the day, we have to do our research well. We know our line and lengths to bowl in Australia. Use our conditions right. Hopefully, the contest is great between bat and ball and great spirit of cricket battle as well," he stated.
As far as  Steve Smith and Kohli is concerned, they have exchanged the number one Test ranking quite a few times in the last one year. When Smith was away due to the ball-tampering scandal in March 2018, Kohli went to the top spot.
But Smith made his comeback in the 2019 Ashes against England where he became the leading run-scorer by a country mile. On the back of the knocks, he also got back the top position. Earlier this year, Smith also scored an ODI century against India in Bengaluru.