Deepika Padukone reveals her first look as Romi Dev from Ranveer Singh starrer '83 film
Deepika Padukone took to her Instagram handle and shared a still alongside her reel and real-life husband Ranveer Singh.
Updated - Feb 19, 2020 12:07 pm
598 Views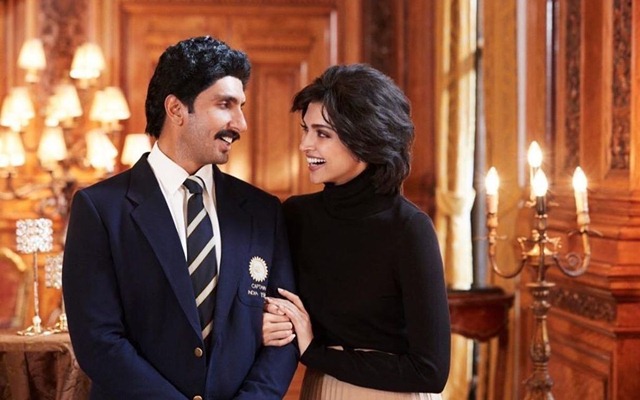 Kapil Dev, the former Indian skipper played a pivotal role in Team India lifting their first-ever World Cup back in 1983 and it was a big achievement for anyone associated with the Indian cricket team at that time. Now, Kabir Khan, the popular Bollywood director is reeling out the story of that mega-event victory in front of the audience where Ranveer Singh is slated to play the role of Kapil Dev whereas Deepika Padukone will be playing the role of his wife Romi Dev.
Kabir Khan is one of the established directors in the Bollywood industry, who has given several blockbusters like Sultan and Bajrangi Bhaijaan. India winning the 1983 World Cup was no less than a miracle. And as we know, there is a trend going on the industry of churning out autobiographies and motivational movies. Hence, there cannot be a better plot than making a movie around the 1983 World Cup triumph.
Deepika Padukone shares a still on her Instagram
Deepika Padukone took to her Instagram handle and shared a still alongside her reel and real-life husband Ranveer Singh (Kapil Dev in the movie) passing smiles to each other. She also captioned it saying–
"To be able to play a small part in a film that captures one of the most iconic moments in sporting history has been an absolute honour. I've seen very closely the role a wife plays in the success of her husband's professional and personal aspirations in my mother and 83 for me in many ways is an ode to every woman who puts her husband's dream before her own…#thisis83."
Later on, Ranveer Singh also shared a snap from his official Instagram account with a caption, "The Wind Beneath my Wings. The Heart of the Hurricane. @deepikapadukone."
Earlier, Kabir Khan had also praised Deepika for her work in the movie '83 saying that he always knew that the Bollywood Diva is a phenomenal actress and she was the perfect pick for the role of Romi Dev in the movie alongside her real-life hubby Ranveer Singh.
"I have always thought of Deepika as a phenomenal actress and when I was thinking of casting for Romi Dev's role, I could only think of Her. Romi has disarmingly charming and positive energy and Deepika has captured that with perfection. Her easy chemistry with Ranveer will also greatly help in portraying the relationship that Kapil Dev and Romi share. I'm delighted that Deepika has been such an integral part of our journey for 83," Kabir Khan said as quoted by Indian Express.
Watch: Irfan Pathan's interview post his retirement