'Desperate times, desperate measures' – Twitter reacts as Hardik Pandya resumes bowling after 16 months
The situation was so desperate that Hardik Pandya had to bowl and he did well.
Updated - Nov 29, 2020 12:59 pm
15.4K Views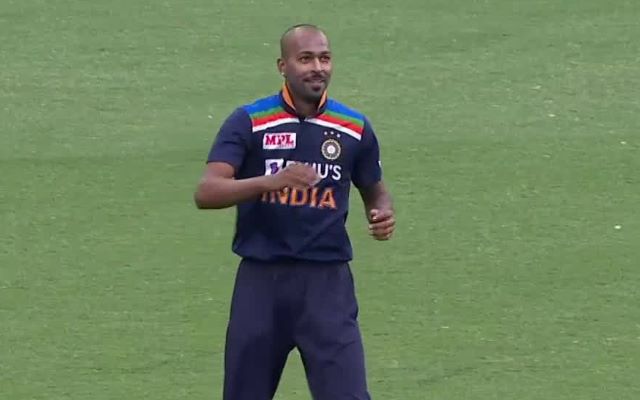 At a time when the Indian fans were having a tough time seeing their team being taken to cleaners by Australia in the ongoing second ODI, Hardik Pandya's decision to resume his bowling must have cheered them up. The all-rounder finally resumed his bowling in the match at the Sydney Cricket Ground (SCG) on Sunday.
He was not bowling because of his back issue. He had missed the better part of the second half of 2019 due to a back injury and had to undergo a surgery. Hardik Pandya returned to action in high-profile cricket during IPL 2020 but did not bowl at all for Mumbai Indians. The pacer did not bowl in the first ODI against Australia either despite India being in desperate need of a sixth bowling option.
He, however, made his mark with the bat and scored 90 although India lost the game by 66 runs. Following the game, he had stated that he was not willing to rush his return to bowling and run the risk of exhausting himself. Hardik Pandya stated that he has his eyes set on the upcoming T20 World Cups as he said he was looking at long-term goals.
"It is a process. I am looking at a long-term goal where I want to be 100% of my bowling capacity for the most important games. The World Cups are coming. More crucial series are coming. I am thinking as a long-term plan, not short-term where I exhaust myself and maybe have something else [injury] which is not there. I can't tell you exactly when I am going to bowl but the process is going on," he had said after the first ODI.
Fans react as Hardik Pandya resumes bowling
Just a couple of days after saying that he was not sure about resumption of his bowling, Hardik Pandya took the ball for the sake of the team. With India's main bowlers being taken to the cleaners by Australia, Virat Kohli was desperately looking at other options. He gave one over to opener Mayank Agarwal before Pandya decided to take the ball, leaving the Indian fans in the stands delighted.
Interestingly, he did extremely well compared to the other bowlers and returned with the figures of 1/24 in his four overs. He picked the crucial wicket of Steve Smith as well, however, clearly didn't look fully fit to bowl at full tilt. Hardik Pandya resuming his bowling is drawing huge reactions on the social media too.
Most of the fans were pleasantly surprised to see the all-rounder rolling his arms while some were also apprehensive that he might end up getting injured again.
Here are some of the reactions:
Switch on your TV sets. Hardik Pandya is bowling!

🇦🇺 – 230/2 (35)#OneFamily #MumbaiIndians #AUSvIND

— Mumbai Indians (@mipaltan) November 29, 2020
Hardik Pandya bowling for the first time in 16 months. pic.twitter.com/EN7SSdeB3e

— Mufaddal Vohra (@mufaddal_vohra) November 29, 2020
Helpless Kholi making injured Hardik Pandya bowl. pic.twitter.com/yCYOBher8O

— dimaagkoshot 🏳️‍🌈 he/her she/him laura/lasun (@dimaagkoshot) November 29, 2020
Hardik Pandya is finally bowling.

— Mufaddal Vohra (@mufaddal_vohra) November 29, 2020
Finally, Hardik pandya with the ball.!! #INDvAUS pic.twitter.com/LVWSVyj2za

— CricketMAN2 (@man4_cricket) November 29, 2020
Podra vediya. Hardik Pandya is here to bowl for the first time in many months.

Desperate times. Desperate measures.

— Siddarth Srinivas (@sidhuwrites) November 29, 2020
Hardik Pandya is finally bowling
Good for Mumbai Indians as well before next IPL. #AUSvsIND

— R A T N I S H (@LoyalSachinFan) November 29, 2020
'I am working on my bowling. I am going to come in when the time is right'

-Pandya previously

And he gets to bowl today, right time or desperate time?

— Shrutika Gaekwad (@Shrutika_05_) November 29, 2020
Pandya Comes to bowling 🥺#AUSvIND

— Mumbai Indians TN FC (@MIFansClubTN) November 29, 2020
Two overs is the maxumum amount of overs the Indian team management had said Hardik Pandya is fit enough to bowl in an innings for this tour. Looks ok so far #AUSvIND @cricbuzz

— Bharat Sundaresan (@beastieboy07) November 29, 2020
Hardik Pandya first time in this series pic.twitter.com/3dlTsY1Qqv

— Cricker.com.au (@Cricketcoau) November 29, 2020
Pandya bowling better lengths than brainless saini 🙂

— Anvesh NTR (@Tarakforlife) November 29, 2020
#pandya #AUSvsIND #HardikPandya
In the end, Hardik Pandya was needed in Team India – pic.twitter.com/8R3Dtjw7h9

— Ritesh More (@RiteshM59490979) November 29, 2020
Half fit Hardik Pandya can bowl decent overs than our frontline bowlers.

— Sagar S N( 🏆LFC♥️💪⚽😎) (@nithesh_sagar) November 29, 2020
injured pandya bowling better than the rest of the line up just goes to show that the bowling unit was all over the place

— sacchit mittal (@MittalSacchit) November 29, 2020