MS Dhoni loses cool during India vs Sri Lanka 1st T20I
The incident happened during the partnership between Dhoni and Pandey in the first innings.
Updated - Dec 21, 2017 12:04 am
1.5K Views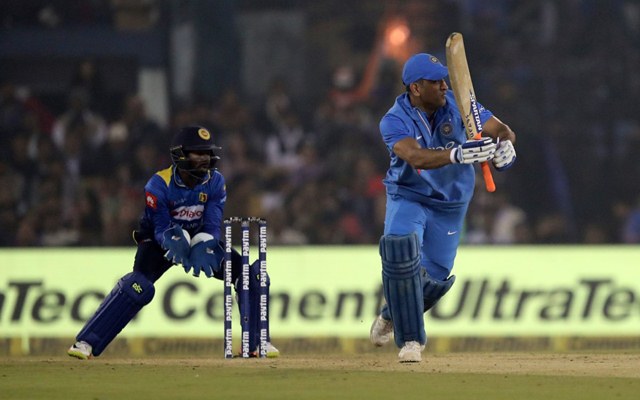 MS Dhoni losing his cool is a rare sight, however, it happened today during India vs Sri Lanka T20I game in Cuttack. Dhoni was spotted getting frustrated for a few seconds during the 17th over of India's innings when Manish Pandey was distracted by a cameraman standing right in front of the sightscreen. Dhoni got annoyed and at one point, began taking a few steps towards the sightscreen before the cameraman ran a few metres away, as reported by Cricbuzz.
Dhoni and Pandey were involved in a 68-run 4th wicket partnership pushing the Indian total to 180. Dhoni scored a 22-ball 39 while Pandey contributed with 32 runs in 18 balls. The twinned Dhoni-Pandey partnership towards the end of the Indian innings sunk Sri Lanka, giving India plenty of runs to defend. In the end, it proved to be too much for the visitors as wrist-spin twins, Yuzvendra Chahal and Kuldeep Yadav sunk the Lankan ship entirely by scalping 6 wickets together, guiding India to a 93-run victory.
Positivity for Cuttack
What also brought positivity apart from the victory for fans in Orissa was their transition from being seen as a last-choice venue to one that deserves more games. Cuttack as a venue earned a bad reputation for an unfortunate incident that took place two years ago when the only T20I played here on October 5, 2015, India collapsed for 92 to lose to South Africa.
However, the good reception of Indian fans and fans thronging in thousands to the stadium very early on Wednesday (December 20), has probably changed the opinion. At 5:30, 90 minutes before the game, the stadium was completely jam-packed which vindicated the BCCI's decision to give more games to the smaller venues.
The Odisha Cricket Association had also allowed free entry to some of the galleries opposite India's practice nets. The response was overwhelming as the galleries were all packed.