MS Dhoni's improper engagement with Endorsements.
Updated - Jun 24, 2014 3:03 pm
83 Views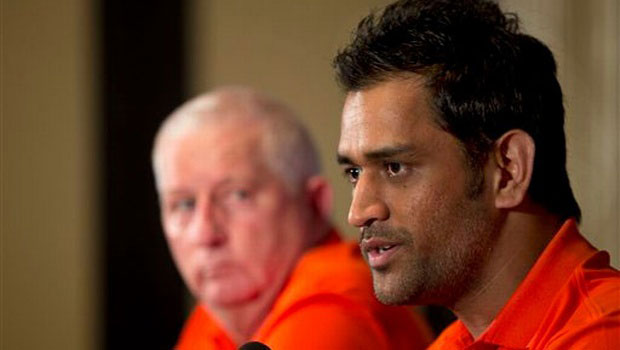 Follow us on Telegram
Mahendra Singh Dhoni, the Indian captain has been known for calm nature on the field with his great decisions. But there is another field where he hasn't taken some proper decisions which led him to see the face of Legal issues and blames from Critics and some independent Associations. It is Endorsements field where most of his income is based on.
Deal with UB Group:
It all started after the 2011 World Cup due to his tying up with UB group, a Liquor brand in the starting of the year, with PMK (Pattali Makkal Katchi) organisation of Tamil Nadu protested him against his decision.
They admitted that a youth icon must not support the alcohol brands. In these cases he must take Cricketing Legend, Sachin Tendulkar as example who rejected the offer of the same company, even of a better rate as he didn't want to encourage alcohol. The protests were held outside M.A Chidambaram Stadium, Chennai during an IPL match on the fourth season.
Controversy with Harbhajan Singh:
The next incident was over the same brand but this time he face trouble due to a plea over him by Team mate. It was Harbhajan Singh whose family asked to remove the advertisement Dhoni featured, which was like mocking Harbhajan.
As no one responded over the issue, the family went to court for the judgement. The issue was due to Harbhajan featuring the opposite brand, Royal Stag Mega Cricket brand's advertisement where the advertisement for has a tagline "Make it Large" in which he says about making his father's ball bearing company large.
The commercial featuring Dhoni for McDowell's No. 1 Platinum Soda (UB Group) shows a Harbhajan look-alike person being slapped by his father for making the huge ball bearings itself, with the character asking himself about that, "Have I made it large?"
In the end the issue was settled with the owner of the group, Vijay Mallya reacting properly and removing the advertisement.
McDowell's Advertisements featuring ICC tourney finals' incidences:
Later he continued to feature in McDowell's No. 1 Platinum Soda's advertisements which created him some problems. He done ads over his unique decisions; giving Joginder Sharma the last over in WT20 Final, Coming up the order in 2011 WC Final and giving a most important over to Ishant Sharma in CT13 Final which proved to be Trophy winning things.
But usage of these things done to the national as a part of the Team captain, he allow the endorsement to use them in promotion things. Some critics and Cricket fans didn't like the behaviour to making those things in an endorsement that too of alcohol. However, this wasn't a big issue as these just ended with comments but not in form of protests and legal issues.
Arrest Warrant for been animated as God on a magazine front page:
And the latest of all is receiving that too after been in a tour for been featuring as Hindu God "Vishnu" carrying all his endorsements made for cover page of "Business Today" in April 2013 edition tagging him "God of Big Brands".
This made the sentiments of Hindus hurt. Adding more badly to it, shoe was in one of his hands. This led to filing cases against MS Dhoni in various cities in India.
Almost near to 15 months of that happen, a Court in Anantapur region of Andhra Pradesh issued arrest warrant against the Indian Captain and to be presented on July 16th where the next day he need to play the second test match of the England Tour.
The reason for the warrant was not responding or not giving proper information to the court despite of sending summons three times.
It is believed that the photo in which he was featured was own edited by the magazine. But it is quite funny that he hasn't responded to that even his picture was used without his permission.
It will become weirder to a person who challenged a media channel in court for nearly Rs.100 Crores as they telecast over Dhoni's involvement in IPL fixing which was done almost by every channel.
Still it is not decided how far the issue will be going but it will a tough month for Dhoni and a suspense for Indian Team fans.
A final word on behalf of all Indian supporters is doing Endorsements is never a bad thing but doing things those are not good for society and which hurts people is the wrong thing and if Dhoni avoids them in future he can avoid the legal problems from Judicial Courts.
Follow us on Google News