'Did a bomb explode on his face' – Racist jokes about Chris Gayle leave guests in splits in The Kapil Sharma Show
The era of distasteful racist jokes seems far from gone.
Updated - Jan 23, 2022 5:22 pm
4.2K Views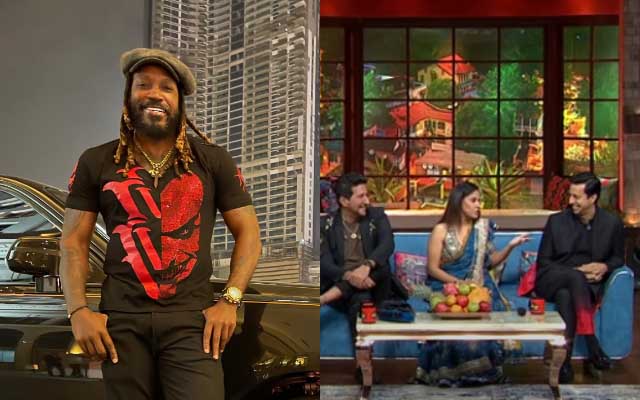 Follow us on Telegram
The killing of George Floyd in 2020 certainly brought the issue of racism in light. Several members of the cricket fraternity also came forward and talked about the injustice faced by black people over the years. One of them was veteran West Indies batter Chris Gayle, who also showcased solidarity towards the 'Black Lives Matter' campaign. Now, eradication of racism from the society is certainly necessary.
However, the era of distasteful racist jokes seems far from gone. A recently-uploaded video from The Kapil Sharma Show shows Salim Merchant, Sulaiman Merchant, Sunidhi Chauhan and Salman Ali laughing while host Kapil Sharma reads out some racist jokes on Chris Gayle. Now, Gayle is one of the most popular overseas cricketers in India thanks to his blitzes in the Indian Premier League (IPL).
However, the singers and composers, who were guests in the show, couldn't help themselves but laugh after hearing the racist comments from social media users. Even permanent guest and veteran actor Archana Puran Singh was also left in splits. For the unversed, there's a segment in the show where Kapil reads out comments made on the celebrity's social media posts.
Distasteful jokes made on Chris Gayle
Showcasing a picture where Sulaiman was posing alongside Gayle, Kapil read out a fan comment in Hindi. "Sulaiman sir, one can recognise you but did a bomb explode on Salim's face," read the comment, referring to the cricketer's complexion. Now, this wasn't the only controversial joke.
Kapil read out another fan's response that had informed the first person that Sulaiman is posing alongside Chris Gayle who "woh ache ache bowlers ko dho daalta hai (slams even the best of bowlers)". To this, another person commented on Chris' skin: 'Toh khud ka mooh kyun nahi dhota (why doesn't he wash his face then)?'. Another comment suggested that Chris' probably 'lives near a beach' as he's 'tanned'.
It must be noted that Gayle, who has previously appeared on The Kapil Sharma Show, had revealed that he has faced racism in his career. "Racism is not only in football, it's in cricket too. Even within teams as a black man, I get the end of the stick. Black and powerful. Black and proud," he posted on Instagram in solidarity with the Black Lives Matter movement.
Follow us on Google News