'Don't want to go in details, but whatever said was very unpleasant and riled me up' – Jasprit Bumrah on Lord's spat with James Anderson
Bumrah stated that he did not hear what was said for he was that tired, but on learning about it later, he was "really riled up"
Updated - Sep 4, 2021 5:25 pm
5.5K Views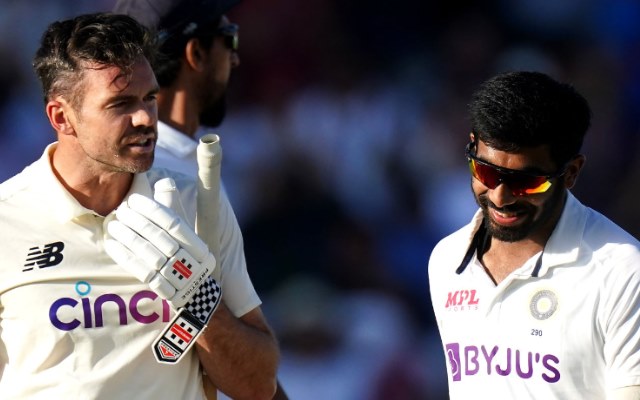 Follow us on Telegram
Tempers flared multiple times during India and England's second Test at Lord's, which saw many instances of players taking a verbal go at each other. It all started with an incessant bouncer barrage that Indian pacer Jasprit Bumrah had launched against England's veteran James Anderson towards the fag end of Day 3. Later, a frustrated Anderson was seen mouthing a few words as the teams went off the field.
Bumrah was meted similar treatment in return by Mark Wood when it was India's turn to bat, which was when he was also involved in a heated altercation involving wicketkeeper Jos Buttler and the pacer Wood.
Opening up regarding the same, Bumrah, in a recent chat with Dinesh Karthik on Sky Sports, revealed that he would prefer not going into the details of the incident, but whatever was said was "really not pleasant".
Notably, Anderson had confessed later in an interaction that he felt Bumrah was "not trying to get him out" and that he never felt that way in his entire career. Bumrah revealed, however, that it was never the team's plan to hurt any player physically.
When I heard what was said, I got really riled up: Jasprit Bumrah
"I don't want to go into the details. But when we play the sport, it's never our intention to really hurt the batsman or try to aim to hit the batsman. It was a tactic to get the lower order out because when we go to Australia or South Africa, this is what happens. That's what was to it. But as soon as the day got over, some words were exchanged which were not really pleasant so we were not happy about it."
Bumrah further iterated that he did not hear what was said for he was that tired, but on learning about it later, he was "really riled up".
"I did not hear at that time because I was really tired (chuckles) but all my teammates heard and usually I am a person who doesn't go looking for a fight or get riled up when needled. But when I heard what was said, I got really riled up."
"Then it was like, if something comes up [ahead in the game] I won't really back down and give it back ten times. Everyone was really charged up and ready for a fight, to go really hard but [also keeping in mind] to not lose shape and remember that we are here to do a job, not just talk and make an impact. We wanted to use the fire to our advantage and make a result out of it that eventually happened," he added.
Follow us on Google News