'Don't you think you should have equal amount of respect for me and us?' – Anushka Sharma slams Sunil Gavaskar for his alleged comment on her and Virat Kohli
After Harsha Bhogle and Manjrekar, Gavaskar's commentary has come under the scanner now.
Updated - Sep 25, 2020 1:56 pm
134.2K Views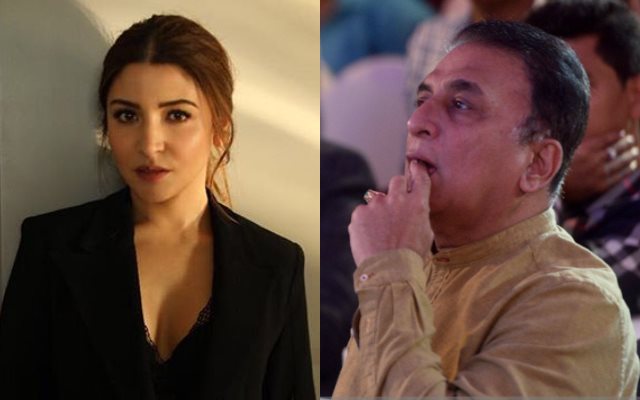 Follow us on Telegram
The Indian Premier League (IPL) and controversies go hand in hand, definitely! A few days ago, an umpiring error had cost the Kings XI Punjab (KXIP) the match and this time around, the controversy is related to the commentary which is again not new in the Indian cricket. The likes of Harsha Bhogle and Sanjay Manjrekar have faced the flak for their commentary before and this time, Sunil Gavaskar is under the scanner.
It all happened when Virat Kohli was batting in the third over of the RCB's innings on Thursday against KXIP. While talking about the batting practice, Sunil Gavaskar stated that Kohli has faced only Anushka Sharma's bowling during the lockdown and that is not enough at all. However, the statement was misquoted on social media and it went viral on Twitter.
The fans slammed the 71-year-old for alleged derogatory statement and he has been trending on social media since the match ended. "Lockdown tha to sirf Anushka ki bowling ki practice ki unhone, wo video dekhi hai (reference to aforementioned video), usse to kuch nahi hona hai." This was Sunil Gavaskar's exact statement on air while commentating in Hindi which roughly translates to – During the lockdown he practised only Anushka's bowling, I had seen in a video. But that is not going to be enough.
When will I stop getting dragged into cricket, says Anushka Sharma
However, Anushka Sharma has taken his comments to the heart it seems and has slammed the former cricketer for dragging her name into cricket. Interestingly, Anushka claimed that she heard Gavaskar's commentary during the match and was hurt. It is still not known if she is disappointed for being dragged into cricket related statement or the derogatory meaning which wrongly has gone viral on social media.
She took to Instagram to express her disappointment and asked Sunil Gavaskar the reason for dragging her name while commenting on her husband Virat Kohli's performance. "That, Mr Gavaskar, your message is distasteful is a fact but I would love for you to explain why you thought of making such a sweeping statement on a wife accusing her for her husband's game?
"I am sure over the years you have respected the private lives of every cricketer while commentating on the game. Don't you think you should have equal amount of respect for me and us? I am sure you can have many other words and sentences in your mind to use to comment on my husband's performance from last night or are your words only relevant if you use my name in the process?
"It's 2020 and things still don;'t change for me. When will I stop getting dragged into cricket and stop being used to pass sweeping statements? Respected Mr Gavaskar, you are alegend whose names stands tall in this gentleman's game. Just wanted to tell you what I felt when I heard you say this," Anushka Sharma wrote in her Instagram story.
Here's her Insta story: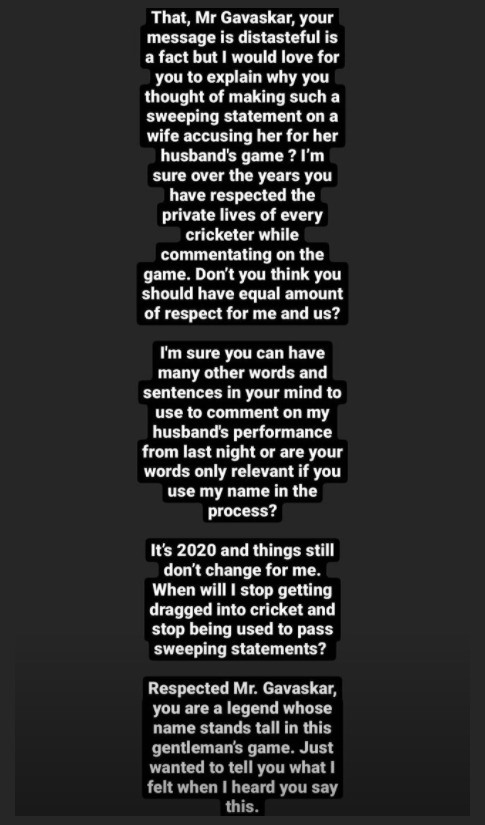 While Sunil Gavaskar might not have any intention of dragging Anushka Sharma into cricket, the fact that the actress has commented on it and his alleged statement has gone viral on social media has turned this into a controversy. Gavaskar might have to come out and clarify his stand now and it will also be interesting to see what his response will be.
Here's what Sunil Gavaskar said.
— Cow Corner (@CowCorner9) September 25, 2020
Follow us on Google News