Dr. YSR Reddy stadium conducts puja for calamity free match
Updated - Nov 17, 2016 7:03 am
62 Views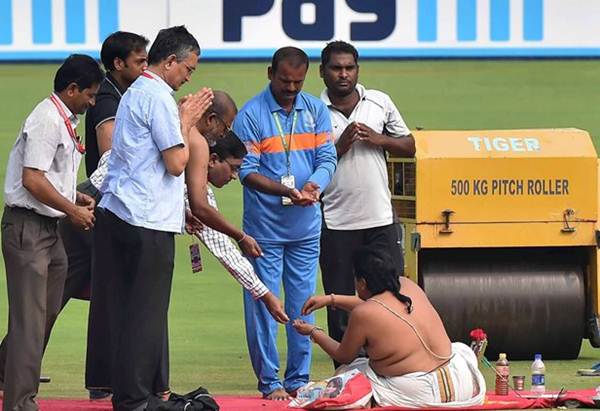 Follow us on Google News
After witnessing the first test match being played at Rajkot, India got its 24th Test center when the Dr.YSR Reddy ACA-VDCA stadium hosted the India-England Test match starting today. The local organizers left no stone unturned to ensure smooth functioning of the inaugural match.
Apart from making sure all the arrangement were in place, the authorities also performed a puja, close to the pitch in the presence of key Andhra cricket officials and chairman of national selection panel MSK Prasad. Indian team's coach Anil Kumble also seen also a part of the ritual.
"The prayers were for an incident free and calamity-free Test," said a top official of the Andhra Cricket Association (ACA). "We're not praying for a favorable result."
Virat Kohli saw nothing wrong with the exercise of celestial propitiation. "So? Good thing, performing the puja is a good thing. I don't know why," the India captain said.
With increasing lack of interest visible among the public, whose disinterest was heightened by the demonetization move, the organizers had reasons to be concerned about the fate of the Test, though. Just about half a dozen people, most of them Englishmen, were seen lined up outside the ticket counter and that was not a good omen for the game. The ticket sales have been poor for the Test that is happening for the first time in the city.
If this religious activity on a sporting venue was not enough, organizers raised eyebrows by also building a temporary helipad on a practice ground. This apparently was for the arrival of Andhra chief minister Chandra Babu Naidu for the inauguration of the Test.
Kohli, meanwhile, welcomed the Union government's demonetization move although he claimed that he too was affected by it. "I was actually going to pay my hotel bills in Rajkot and I was taking out the old money and I forgot that it isn't of any use anymore.
I could have actually signed on it and given it to people, they are that useless now," said Kohli during the pre-match press conference. "For me, it is the greatest move I have seen in the history of Indian politics by far, hands down. I have been so impressed by it, it's unbelievable what's happening," the India captain commented.
Follow us on Telegram