Watch: Dwayne Bravo wants to be MS Dhoni for a day
What hurts more? A golden duck or being hit on the 'balls'?
Updated - May 9, 2017 4:56 pm
2.2K Views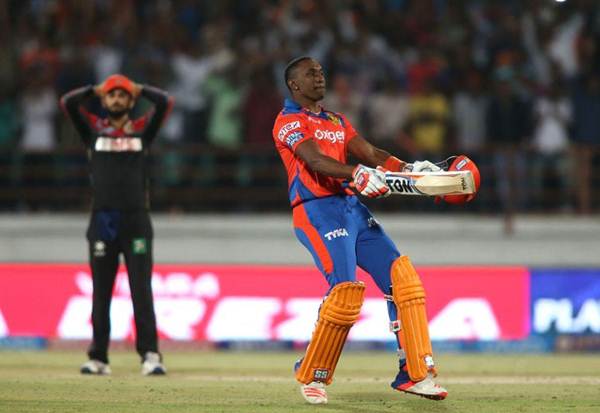 West Indies all-rounder Dwayne Bravo has been one of the most colorful characters of the cricket world. He is renowned for his free-flowing and casual lifestyle. Well, truth be told, the players from the West Indies team have always been such fun-filled characters. Recently, Bravo had a rapid fire round with VJ Anusha where he came up with some hilarious answers.
The very first question that was asked to Bravo was to talk about one myth people have about him. The all-rounder, who was with the Gujarat Lions in this season of the IPL, noted that he does not drink alcohol. However, people often feel he is someone who boozes a lot. The next question that was fired in at Bravo had an obvious answer coming as the reply.
He was asked to choose hi favorite dance move and Bravo took very little time to come up with the answer – 'the champion dance'. Dwayne Bravo had released his solo track with the same title last year and the dance move had become a trademark celebration for the West Indies team in the ICC World T20 2016 last year.
Bravo also said that he ever had to get one superpower, then he would it to be the premonitions. He wishes to know about the things that will occur in the future in advance. Bravo has a huge fan following. And hence, the next question was about the craziest thing a fan ever did to him. The all-rounder answered that a fan had once barged in the middle of the shoot and asked him to talk to his mother.
The next question was a very tricky one. What hurts more? A golden duck or being hit on the 'balls'? Both Anusha and Dwayne Bravo burst into laughter after Bravo answered with the second option. The last question grabbed the most attention though. When asked to choose a player he would want to be for a day, Bravo chose former Indian skipper MS Dhoni. He remarked, "Captain Cool".
The West Indies all-rounder shared the video on his social media handle. He added a caption that read, "When @VJAnusha stumped me with her rapid fire bouncers!!"