ENG v IND: The Adil Rashid conundrum
Adil Rashid continues his quest for England in the white strips and the red ball.
Updated - Jul 30, 2018 11:17 am
67 Views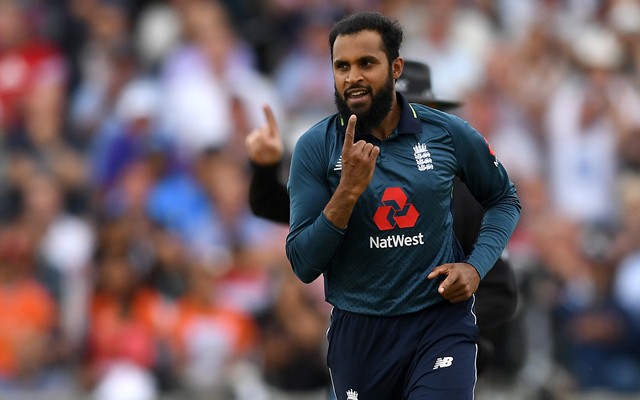 Follow us on Google News
County cricket has been caught up in the eye of a storm for the last few days in the aftermath of the controversial inclusion of Adil Rashid into the England test side for the upcoming series against India. Be it a cricket expert or a layman watching the game, everybody seems to have developed an opinion as to whether or not Rashid should've been allotted a test slot without having played red-ball cricket for his county side, Yorkshire.
Although the national selector for the England team, Ed Smith has come with a statement to defend the England Cricket Board (ECB)'s decision of drafting in Rashid, the things aren't as simple as they seem. The scales of pros and cons amounting from the decision are pretty much in balance and hence, need to be assessed with a great deal of scrutiny to draw a conclusion on the matter.
The crux of the matter
Talented right-arm leg-break bowler, Adil Rashid has self-admittedly been a part of the Yorkshire County club from a tender age of 10 years. It was his very contribution for two back to back seasons that propelled Yorkshire to consecutive county championship titles and was instrumental in gaining him the much-deserved recognition from the national side. Since his test debut in 2015, Rashid has played 10 tests for England where he's bagged 38 scalps, including a five-wicket haul against Pakistan in his first outing in the whites.
However, since then Rashid has been seen less and less with the red ball in his possession. Instead, the 30-year old has been found to be more comfortable in white-ball cricket and the same is apparent from his figures of 113 wickets in 73 ODIs. Earlier this year, as reported by Sportstar Live, Rashid went on to say, "At this moment in time in my career, I just feel that white-ball cricket is where I am best, enjoying it most and where I feel I can develop and offer a lot more." As a result, it didn't come as a surprise when Adil Rashid negotiated a deal with Yorkshire that enabled him to opt out of red-ball cricket and concentrate more on the limited overs formats.
What did come as a surprise was when, in spite of pointedly choosing to not participate in Yorkshire's four-day games, Rashid was named in the squad for England's test series against India. This decision, quite understandably, created a stir in Yorkshire's management, who held nothing back as Mark Arthur, Chief Executive of the club stated, "We're very surprised that England have called Adil up after not playing red ball cricket this season. Neither has he expressed a desire to do so. I hope that England know what they're doing to Adil, and the county game."
What the ECB did right
Since there are obviously two sides of the coin, let's take a look at the positives first. With this decision of allowing Rashid to play for the national team in spite of not being a part of the Yorkshire's efforts has, most importantly, given the player a breathing space. While the reasons for Rashid being seemingly uncomfortable with the concept of paying the four-day games for Yorkshire are still cloudy, one plausible reason could simply be a change in his zone of cricket.
Just like Ravichandran Ashwin and Alastair Cook are known exclusively playing in the longest format of the game because that's where they're the most fluent, Rashid's consideration in the national side after nearly two years of being overlooked for the likes of Liam Dawson and Mason Crane, is a glimmer of hope for players who are looking to take independent decisions about their careers, without having to buckle under the pressure of their respective cricketing boards and having to compromise on their sporting ability just for the sake of it.
As Adil Rashid rightly recognized himself, "It wasn't any easy decision to make but it's something I felt I had to do. If I was to go back to playing red ball early in the season, a bit inside me would have said 'I'm just playing because I have to' but I had to make that decision and say 'no, I can't just go through the motions'. If I do just go through the motions, firstly I'd be letting the team down and I'd also be letting myself down because I wouldn't be giving 100 per cent."
Can it backfire?
However, there definitely remains a grimmer flip side to this issue. The question remains: how much is too much? Although Smith has repeatedly insisted on complete agreement on the art of English captain Joe Root, head coach Trevor Bayliss and the other management counterparts on the decision of including Rashid into the team, the decision seems to have been taken without much thought being given to its possible repercussions.
Imagine this: you're told that you no longer have to excel in the domestic circuit to get your dues in the form of a national jersey. Would you still play it? Or would you opt out and rather train yourself at a private camp? Not only does this decision of ECB put an unnecessary question mark on the gravity commanded by county cricket but also is alarming in the message it conveys to the younger crop of players who aspire to play for England in the future.
What the England team management needs to do right now is to have a clear and unambiguous conversation with the county clubs, more so with Yorkshire and decide on the future course of actions, while solving the existing crisis. The souring of relations between the two pillars of English cricket needs to be sorted as soon as possible, to prevent any irreparable damage to the spirit of the game, especially to a format as revered all over the globe as county cricket.
Stay updated on 'today's cricket news' with CricTracker.com.
Follow us on Telegram