ENG vs NZ: Stuart Broad faces risk of ban after showing dissent at umpire's decision
A player charged with four demerit points within 24 months is penalized with a ban of one international game.
Updated - Jun 12, 2021 2:19 pm
950 Views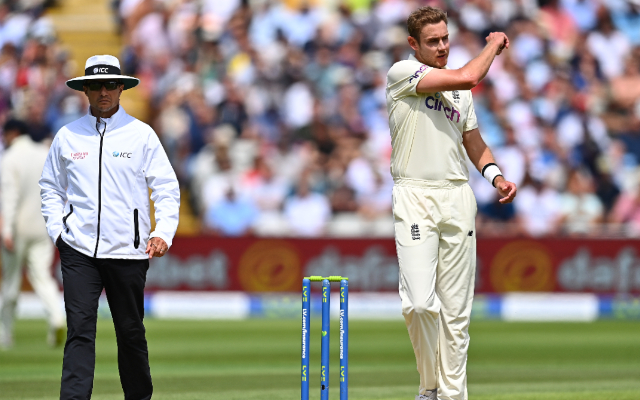 Follow us on Telegram
Cricket's soft signal problems have indeed given the umpires and players a hard time in the recent past. As per the laws currently in force, the on-field umpires are required to provide a soft signal even in a state of doubt before they take assistance from the third umpire, who can overturn the ground umpire's call only on having sufficient conclusive evidence.
In another recent incident of the soft signal creating an uproar, Stuart Broad, the England pacer, was left fuming after being denied a wicket of New Zealand's Devon Conway, who had edged a ball to Zak Crawley at third slip on Day 2 of the Edgbaston Test between England and New Zealand.
While Crawley, it seemed, had snaffled the catch cleanly on the first instance, on-field umpires Richard Illingworth and Richard Kettleborough took the call upstairs to Michael Gough, with the soft signal 'not out'. Replays from different angles were found inconclusive by the third umpire, who went ahead with the on-field umpire's call of not out. Notably, Conway went onto score a solid 80, when he was only at 22 at the time of England's appeal.
A visibly frustrated Broad protested and signalled that Crawley's fingers were completely under the ball, which might have some repercussions for the pacer. The ICC Cricket Code of Conduct ("the Code" hereafter) lays down, under Article 2, the Code of Conduct Offences.
Do Broad's action qualify as a breach of ICC's code of conduct?
Article 2.1.3 of the Code penalizes the showing of dissent at an umpire's decision during an international match.
Article 2.1.3 includes: 
(a) excessive, obvious disappointment with an Umpire's decision;
(b) an obvious delay in resuming play or leaving the wicket;
(c) shaking the head;
(d) pointing or looking at the inside edge when given out lbw;
(e) pointing to the pad or rubbing the shoulder when caught behind;
(f) snatching the cap from the Umpire;
(g) requesting a referral to the TV Umpire (other than in the context of a legitimate request for a referral as may be permitted in such International Match); and
(h) arguing or entering into a prolonged discussion with the Umpire about his decision.
Given that even a shake of a head is offensive enough to attract a penalty under the Code, Broad's actions might as well land him in trouble. That said, what qualifies as "excessive" is not defined and leaves room for interpretation. Although, Broad's action qualify as an "obvious disappointment" nonetheless.
What are the penalties for those guilty of offending the ICC Code of Conduct and will Broad be suspended?
The offences are categorized as Level 1, Level 2, Level 3 and Level 4 offence. Showing dissent to umpire qualifies as either a Level 1 or Level 2 offence under the Code, which can attract a fine of 50 to 100 per cent of the match fee and/or ban for a Test or two ODIs. In addition, a Level 1 or 2 offence can lead to the handing of up to two demerit points. A player charged with four demerit points within 24 months is penalized with a ban of one international game.
Notably, Broad was handed one demerit point as a penalty for use of an inappropriate word at Yasir Shah during England's Test series against Pakistan in August 2020. Earlier, in January 2020, Broad approached Faf du Plessis and used inappropriate language caught by the stump mic, leading to a demerit point. (Both occasions qualified as Level 1 offence).
Therefore, Broad stands with two demerit points in the last 24 months and as many away from the suspension cap of four. However, the likeliest penalty for the Conway episode will be a single point, taking his tally to three in the 24-month duration.
Follow us on Google News