23 Facts about Aakash Chopra- An astute cricketing brain
Updated - Sep 19, 2015 11:58 am
281 Views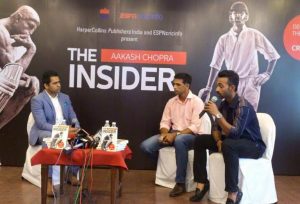 23 Facts about Aakash Chopra- An astute cricketing brain: You want to take the shine off the leather, then call Aakash Chopra. There was a time in Indian domestic cricket when Chopra emerged as a pioneer. A technically solid batsman with a gifted temperament, Aakash was one hell of a gritty batter who belonged to the old school of cricket where batting is based on patience and only patience. Chopra could bat for long hours with unabated levels of concentration much to the demise of the bowlers. His solidity and temperament was ever so visible in whatever little international cricket he played.
Those who have seen him closely find it hard to believe that he didn't end his international career as one of the best openers in the country but certainly that was the case. But yet that doesn't take anything away from what he achieved in his career.
Today on his 38th  birthday we list 23 Facts about Aakash Chopra- An astute cricketing brain:
1. Birth:
Aakash was born on 19 September, 1977 in Agra, Uttar Pradesh.
2. U19 debut:
He made his U19 Test & U19 50 overs debuts against Sri Lanka in Sri Lanka during 1997 along with Ajit Agarkar.
3. Debuted along legends:
Rangana Hearth & Kumar Sanga made their respective debuts at same U19 match. Aakash batted for 4 and half hours and scored 53 in 156 balls for India U19 against Sri Lanka U19 at Matara.
4. Success for India A:
He scored 537 runs in 13 innings at an average of 41.3 and stood as the 2nd highest run getter for India A after Gambhir (617 runs).
5. Domestic Debut:
Chopra made his List-A debut for Delhi in 1996/97 while his debut in First-Class cricket came in 1997/98.
6. Dream maiden season in Ranji Trophy:
In 1997/98 Ranji Trophy season, he accumulated 422 runs at an average of 70.33 with two centuries. Aakash impressed everyone and was soon rewarded with selection for North Zone in his very first year which is a remarkable thing indeed. He featured in one Duleep Trophy match and was able to notch up half-centuries in both the innings which further enhanced his reputation in domestic circuit.
7. Slump in form:
After he scored 554 runs at an impressive average of around 70 in his first season, he was expected to crack up bigger things in the 1998/99 season but unfortunately he endured a horrifying run with the bat. Chopra could only score 119 runs in 5 matches at a below par average of 19.50 and didn't cross the 50 run mark even once.
8. Strong comeback in 2000/01 season:
Aakash Chopra made a strong statement in 2000/01 domestic season. He amassed 915 runs at an average of 70.38 with 4 centuries and same number of half-centuries. In 2000/01 Ranji season, he scored 617 runs at 68.55, which included two centuries and an enterprising knock of 222 runs.
9. Vijay Hazare trophy:
He played for Noth Zone in Deodhar Trophy 2002 and scored 231 in 4 matches at an average of 77 and was the 2nd highest run scorer after VR Mane (232 runs).
10. International Debut:
After impressive performances in domestic cricket he made his Test debut in 2003 against New Zealand in the 2-match Test series at home. In his debut match he scored 42 and 31 runs respectively and got out to Daniel Vettori in both the innings.
11. Memorable Test match:
The 2nd Test match at Mohali against New Zealand in 2003 proved to be the most productive outing of his international career. In that match, the classical right-hander scored 60 and 52 runs respectively. These two half-centuries are the only time in his international career that he crossed the 50 run mark.
12. Solution to India's opening conundrum:
At a time when India was struggling for a solid opening pair in Test cricket, Chopra emerged as the perfect-foil to Virender Sehwag. Though he didn't cross the 50 run-mark against the Aussies in 2004 but yet he was part of some prolific opening partnerships with Sehwag. He was credited for seeing off the new ball and making things merrier for the middle-order batsmen.
13. Exceptional short-leg fielder:
Aakash was renowned as an extraordinary close in fielder and in his career held on to some spectacular catches at short-leg. He even drew comparisons with the legendary Eknath Solkar who is regarded as one of the best fielders of the position in cricket.
14. Poor Form:
After his dismal show against the Australian's in 2004 home series, he was dropped from the side and then he never got the national call-up again. The India v Australia Nagpur Test in 2004 proved to be his last international match. In his last Test he could manage only 10 runs.
15. Deodhar trophy:
Chopra scored 425 runs in 7 innings with an average of 60.71 for Delhi in Vijay Hazare Trophy in 2008 and was 3rd top scorer after Virat Kohli (534) and S Badrinath (429).
16. International career in numbers:
He played 10 Test matches for India and scored 437 runs at an average of 23 with two 50s. His stats definitely don't define the part he played in India's success during his Test career as he combined with Sehwag in many hundred run stands and took the shine off the leather by accommodating the crease for long hours.
17. IPL Stint:
The Agra born batter represented Kolkata Knight Riders (KKR) in the first two seasons of the Indian Premiere League (IPL) in 2008 and 2009 respectively. In IPL 4, he was signed by the Rajasthan Royals (RR).
18. Glorious Stint with Rajasthan:
After playing for Delhi throughout his career, Aakash had joined Rajasthan as a guest player in Ranji Plate division. In 2010/11 and 2011/12, Rajasthan won the Ranji Trophy and became the first Plate division team to do so. Chopra played crucial role in the team's triumphs.
19. Domestic career in numbers:
The former Indian opener has featured in 162 First Class matches and has accumulated 10,839 runs at an average of 45.35 with 29 centuries and 53 fifties. He has scored 6483 runs in Ranji Trophy. In 65 List A matches, he has scored 2,415 runs at an average of 44.72 with 7 centuries and 17 half-centuries. While in 21 T20 matches he has scored 334 runs.
20. Astute Cricketing brain:
Very few players in India have that level of profound insight as this man. Akash has also written columns for Hindustan Times and EspnCricinfo. The standout feature about them is the very way in which he analyses each and every aspect of the game. His deep knowledge of the game and his grip over writing columns have made him a popular name among readers.
21. Author of two critically acclaimed books:
Aakash has been renowned for his deep insight in the game which he expressed in his two acclaimed books namely; Beyond the Blues: A First-Class Season Like No Other (based on 2007-08) and Out of the Blue: Rajasthan's Road to the Ranji Trophy. These two books are among the best cricket books written by an Indian cricketer. Suresh Menon of Cricinfo even went on to say that it was "the best book written by an Indian Test cricketer". He recently published another book titled 'The Insider'.
22. Contributions in Rahul Dravid and Sachin Tendulkar's Book:
Articles by him also featured in the book Rahul Dravid: Timeless Steel as well in the book 'Sachin Tendulkar: The man cricket loved back'.
23. Analyst:
At present, Aakash is working as an analyst/commentator on the Star Sports network, commentating and analyzing cricket matches.