Faf du Plessis in favour of scrapping the toss in Test cricket
The South African skipper believes that the toss gives the home team an unfair advantage.
Updated - Jul 15, 2018 12:02 pm
397 Views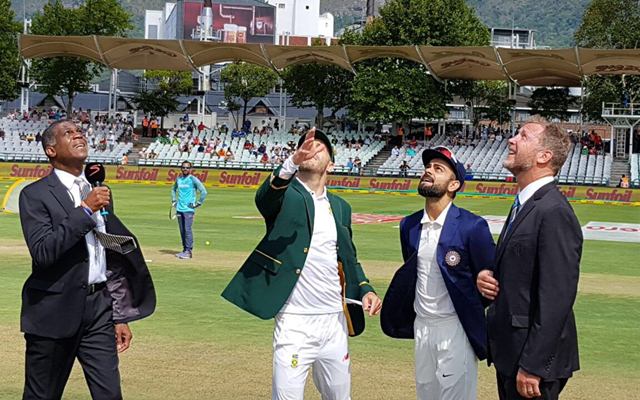 Follow us on Google News
South Africa was dealt a hammering in the first Test at Galle and skipper Faf du Plessis has come out once again and lamented the toss that is used as gospel truth to ensure who bats and fields first. The 34-year old has stated that he isn't the biggest fan of tosses and would like to see the flip of a coin gone from Tests.
Many have come forward with theories and proposals to make Test cricket a level-playing field. There have been those who suggest splitting the innings into a limited number of overs while there have been others who have suggested the new-ball introduction earlier. However, Faf du Plessis is clear that the toss is certainly something he would like to se gone. "I'm a big fan of taking away the toss."
'Games have finished a lot sooner than they used to'
The South African skipper also raised a concern that some of the matches have concluded earlier than they have used to.
"I think even in South Africa you'll still prepare the conditions the way you prepare them now, but you just make sure that you bring some balance." In home conditions teams will still win the majority of the games, but you still do even it out a little," du Plessis said. "I think over the last two or three years away-records have definitely gone down, and games are finishing a lot sooner than they used to."
"When I started playing test cricket, 400s and 500s were happening quite regularly," du Plessis said. "So I'm not just speaking about subcontinent conditions. In South Africa games hardly reach the end of day four anymore. I think that's one of the ways you can make sure that balance is a little better."
Stay updated on 'today's cricket news' with CricTracker.com.
Follow us on Telegram