Fans lash out at Aakash Chopra for his tweet on Pakistan-Zimbabwe series
Aakash Chopra proposed a different evaluation system for runs score and wickets taken against a weak side.
Updated - Jul 22, 2018 8:20 pm
4.3K Views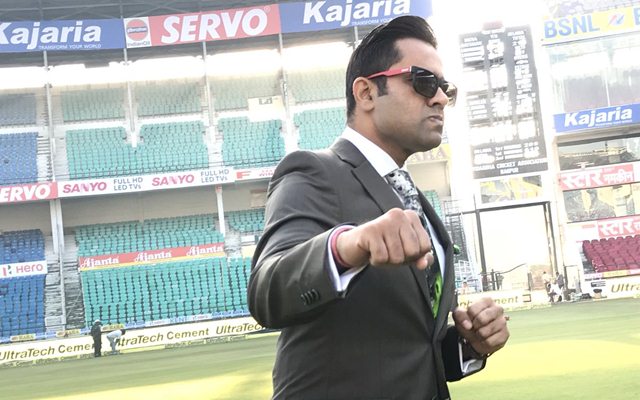 Follow us on Telegram
Former Indian cricketer Aakash Chopra is one of the top cricket analysts of the modern day cricket. The former cricketer has been frequently been heard in the commentary box in the recent times giving his insights on the game. Also, he ensures that he stays connected with the fans on the social media. He keeps on sharing updates on any major event that takes place in the cricketing world.
Currently, team Pakistan is in Zimbabwe where they are demolishing the hosts big time. Certainly, the way they have dominated the Zimbabwean side speaks volumes about the brand of cricket they are playing. Many might bat for the hosts saying they have a second string side on the field. However, it will only be unfair to take any credit away from the Men in Green for their stellar show.
After team Pakistan posted a mammoth total of 364/4 in the final ODI of the tour, Aakash Chopra looked a little concerned about the plight of cricket in Zimbabwe. He took to micro blogging site Twitter to express his concerns about the same. In his tweet, he remarked that the runs scored against a weak opposition should be evaluated on different terms as against the runs scored against a top side.
Well, his tweet did not go down well with the fans. The Pakistani fans felt offended with the tweet and thought that Aakash Chopra was trying to demean the efforts of the Men in Green. They lashed out at the former cricketer with their tweets.
In other news, Aakash has not been very critical about the performances of the Pakistani team. After the fourth ODI of the series, he had taken to Twitter to laud the efforts of Fakhar Zaman. Fakhar Zaman had hit a brilliant double ton in the game. In that game, Zaman's unbeaten 210 had helped Pakistan register their highest ever ODI score.
Here is how the fans have reacted to the Aakash Chopra tweet:
you're not getting the point…. and even then, Pakistan are the best ODI team in the world. Please remember the last ICC tournament. We beat England in the semis and India in the final👍

— HA (@hazharoon) July 22, 2018
F any one have a problem with PAK performance against ZIM then tell them to bring there own team on against PAK , that's it mic 🎤 down.

— N.R.P (@Salatorian) July 22, 2018
Sir you are discrediting Sachin's 100th Hundred vs Bangladesh and His 200th Test vs WIndies !!

— Su Mee🇵🇰 (@ItzzzzzMee) July 22, 2018
Pakistan has won 9 consecutive series boy!
Don't be jealous
When someone deserve to be praised, Praise!

— Zain Ali Khan Magsi (@zain_magsi) July 22, 2018
💯 percent true we cant do this it is cricket 🏏 not a currency exchange system ..btw pakistan is playing wonderful .Love from 🇮🇳

— No One (@satya_speaker) July 22, 2018
So u want tendulakar centuries to be counted as:
11 against zim, Kenya n namabiya (shouldn't be counted)
5 vs Westindies during their down time shouldn't be given much credit too
5 against Pakistan out of which 4 matches lost by India r useless too 😂😂

— بلھا کی جاناں میں کون،،، (@Saeed_Minhas122) July 22, 2018
Then we should also devise a system where runs scored on grounds having flat pitches and very short boundaries should also be given less weightage…. But sorry than all rohit sharma's double tons will be counted as 50's……

— Satti (@ssatti150) July 22, 2018
With due respect, no need to get jealous #pakvzim #zimvpak @DennisCricket_ pic.twitter.com/7kyoUFZ03N

— Misbah ul haq FC (@misbahulhaqFC) July 22, 2018
Bhai jalnay ki boo aa rahi hai…bardasht kro..

— Fakhar ahmad (@Fakharsips) July 22, 2018
@DennisCricket_ after considering such evaluations new rules would be if:
a fielder drops a dolly—> it's OUT

batsman gets boundary
on an edge—> No Run

bowler gets wicket on lose
delivery—> Not Out

Cricket would be ruined

— Aamir Younus ❤ (@aamiryounus) July 22, 2018
Seriously? Runs & wickets against anyone is the same, it's international cricket & ull get weak & strong teams, u can't categorise that

— Nithesh Sagar (@nithesh_sagar) July 22, 2018
Lol now u will raise this topic becoz Pak is scoring against them .I think u were sleeping when India play srilanka after every 4 months and rohit sharma continue to make centuries.

— Naeem Aslam (@nae3m89) July 22, 2018
Nope. The same way there are no way to distinguish between messi's goal record vs Chettri's goal record. People just know it.

— Umer Azam (@thebanker_12) July 22, 2018
Are you talking about Fakhar zaman ?? The one who scored a century against India in the first match he played ?

— Asfandyar Alizai (@fandy77755) July 22, 2018
Look at the hypocrisy, he only realized when Pak was playing against Zimbabwe. If it was India playing, this man would have celebrated every wicket/run in favor of India.

— Yasir Hussain (@yasirhunzai1) July 22, 2018
For all the latest cricket news and other updates follow CricTracker.
Follow us on Google News