Fans troll South Africa and Pakistan for wearing similar jerseys in the first ODI
This isn't the first time that two teams have come up with identical jerseys.
Updated - Apr 3, 2021 4:46 pm
24.1K Views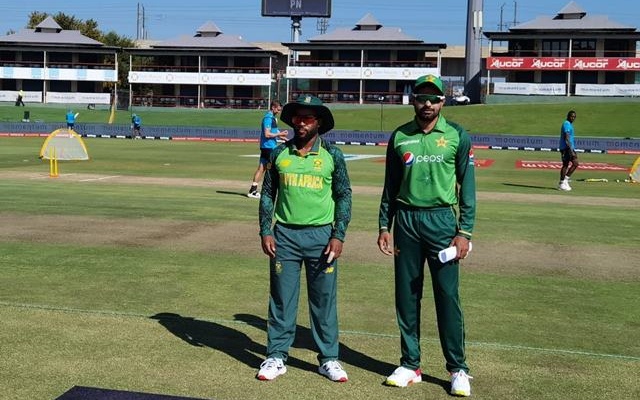 The three-match ODI series between South Africa and Pakistan got underway on Friday in Centurion. It was a thrilling last-ball finish as the visitors got out of the jail to avert a late collapse and register a three-wicket taking a 1-0 lead in the series. However, more than the match, another funny aspect was in the limelight during the whole period and that was the similar jerseys of two teams.
Both Proteas and Pakistan players sported dark green pants and lighter shaded green shirts leaving the fans confused. Rather a new cricket fan would've found it tough to identify the team on the field. Even the commentators on air were heard making fun of it while also stressing the need for one of the sides sporting a different jersey to avoid confusion.
Interestingly, both Pakistan Cricket Board (PCB) and Cricket South Africa (CSA) also didn't seem to care about it. Pakistan had newly launched its ODI and T20I kits last month for the tour to the rainbow nation and the issue could've sorted out then itself.
India had sported an away jersey during World Cup 2019
This isn't the first time that two teams have come up with identical jerseys. Cricket fans have time and again subjected to these clashes with South Africa, Bangladesh, Pakistan and sometimes, even Australia wearing dark green kits. However, the ICC had taken an effort to avoid this clash during the World Cup 2019 in England.
Sri Lanka and India were seen sporting away kits during their matches against England and it was a refreshing look even for the fans as well. Moreover, Sri Lanka even went on to sport the same jersey for the rest of the tournament after their stunning win over England.
With teams regularly coming up with home and away jerseys in Football, Cricket also might have to employ this strategy in the bilateral series to avoid confusion in the future. It will be interesting to see if ICC takes any steps in this regard. Meanwhile, cricket fans enjoyed taking potshots at both South Africa and Pakistan teams during the first ODI.
Here's how Twitter trolled them:
First time ever I've seen two teams playing a cricket match in the same kit. #SAvPAK pic.twitter.com/YosiA592B0

— 𝙎𝙖𝙢 🪙 (@MadSamTV) April 2, 2021
South Africa and Pakistan. Apparently using same wardrobe. #SAvPAK pic.twitter.com/IhBr9JZbjt

— Adam Hawse (@AdamHawse) April 2, 2021
What the hell … Both teams have same color kit.#PAKvSA #SAvPAK

— Taimoor 😷 (@Thashns) April 2, 2021
Cricket should really introduce Home & Away jerseys… like other Sports.

Pak & SA playing in the same kit.#SAvPAK #SAvsPAK

— Abhi Jeet (@abhi_nufc) April 2, 2021
The kits for both the teams are quite similar. Looks almost the same..

As a football fan, I think there should be an away kit in cricket as well. #SAvPAK #PAKvSA pic.twitter.com/dMrUQiIgdd

— Abdullah Zahid (@abdullah_zahid) April 2, 2021
Same kit #SAvPAK pic.twitter.com/G7gNOtBq1O

— urban paindu. (@theBaeBold) April 2, 2021
Blkl same kits … Esa lag raha he k pak A or pak B khel rahi he🤦#PAKvSA #SAvPAK pic.twitter.com/TIJG8oOXn1

— Abbaharmonium69 (@msaadkhan67) April 2, 2021
South Africa: Don't copy our jersey. We will look the same when we play against each other
Pakistan: Okay, we will just take a little inspiration.
South Africa: Sure brother!#SAvPAK #SAvsPAK pic.twitter.com/VoGJsAfBYW

— Akash Ghosh (@Akash_Ghosh_) April 2, 2021