For cricket, you would take the flight 1000 times, but not for me and the girls, says Ravi Ashwin's wife Prithi
Prithi also revealed how Ashwin made the first move, expressing his love and admiration for her.
Updated - Mar 4, 2020 12:16 pm
1.2K Views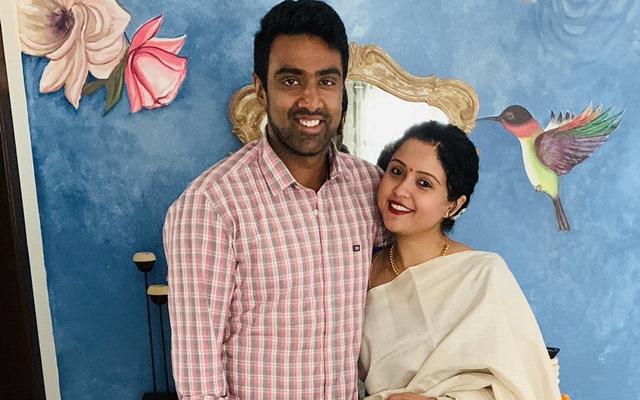 Follow us on Google News
Ravi Ashwin, the veteran Indian spinner, tied the knots with his childhood friend Prithi Narayan on November 13, 2011. It was the same year when India won the 50-overs World Cup, beating Sri Lanka in the Final, after 28 years under the leadership of MS Dhoni. Even as Ashwin's international career took off ever since, his relationship with Prithi also passed the test of times.
On July 2015, the couple welcomed their first baby girl and named her Akhira. In the very next year, the duo became parents to their second girl child, named Aadhya. However, pretty alike to most couples, even Ashwin and Prithi had their fair share of complaints. Recently, Ashwin became the first guest on Cricbuzz's original series, Spicy Pitch where his wife was also present.
Prithi, wittily, told how Ashwin took time out for travelling to play, but not for his own wife and daughters. "For cricket, you would travel, you would take 1000 flights, you will pack and unpack 20,000 times, but you won't pack for an overnight trip with me or the girls," Prithi was quoted as saying to SpotboyE's Manish Batavia.
It wasn't dramatic it was sincere, Ravi Ashwin's better-half
Since, Ashwin and Prithi were childhood friends, it was assumed that they had affection for each other since childhood. But Ashwin denied the same, mentioning, "It was a well-known secret to everybody else, but both of us. Adding to it, his better-half said, "And then when we got married, people who hadn't spoken to in years, they started pinging us and said, See?"
Prithi also had the chance of going down the memory lane and remembering how things panned out, and how they came close to each other. "So, it wasn't dramatic it was sincere. We're not like typical childhood sweethearts," she said
"We met in school and then we knew there was something happening but we again started meeting each other only when we were adults and he was playing professional cricket. So, there wasn't really much time to do the whole dating thing because he was off for the World Cup squad."
Prithi revealed how Ashwin made the first move, expressing his love and admiration for her. "But before that we had a conversation, he said I really wanna spend the rest of my life with you. He took me to Chemplast, a cricket ground, he had a lot of fond memories from his childhood there," Prithi added.
Follow us on Telegram