'For too long he has got away with unacceptable behavior' – Daryll Cullinan slams Virat Kohli after Dean Elgar DRS episode
The Indian skipper walked up to the stump mic to express his displeasure after Elgar's LBW decision was overturned on review on Day 3 of Cape Town Test.
Updated - Jan 14, 2022 11:27 am
24K Views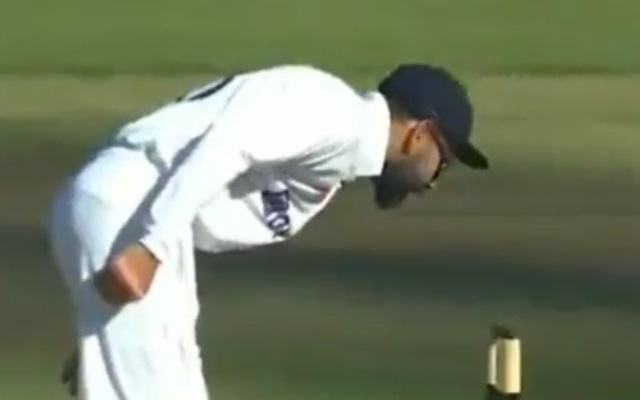 Follow us on Telegram
Daryll Cullinan, the former South Africa batter, has come down hard at Indian skipper Virat Kohli for his conduct and behaviour during the third and final Test against South Africa in Cape Town during the Dean Elgar DRS drama.
During the 21st over of South Africa's second innings, the skipper Elgar survived a close LBW shout on India's review when he was adjudged out by on-field umpire Marais Erasmus against R Ashwin's bowling. Elgar chose to review the decision, which much to the amazement and disliking of the Indians, showed the ball to be going well over the stumps even as the initial impression was that of a plumb dismissal.
Annoyed by the same, Kohli walked up to the stump mic and said: "Focus on your team while they shine the ball. Not just the opposition. Trying to catch people all the time." Moments later, the mic caught KL Rahul saying: "It's the whole country against 11 guys", while Ashwin, who was denied the wicket, alleged the host broadcasters of foul play, saying: "You should find better ways to win, SuperSport."
In an interaction with ESPNcricinfo, Cullinan expressed his displeasure over Kohli's behaviour, while he suggested that the Indian skipper enjoys too much freedom and gets away with such things as India is the sport's "powerhouse".
There has to be a line drawn: Daryll Cullinan
"This is the typical Virat's untouchable, he behaves the way he wants to behave. The rest of the cricket world just bows down to Virat. The powerhouse is India. I hate to say this but it's been going on for years. It's just the big suck-up towards India and anybody who plays for India. They are untouchable, so everyone will laugh it off," Cullinan said.
"I love Virat Kohli, I love his cricket, I love the way he plays. But there has to be a line drawn somewhere to say 'hang on, you must be severely punished'. If anything, it was a mistake. I just cannot believe that they could think along those sort of lines. For too long Virat has got away with behavior which is unacceptable on a cricket field. But he's Kohli and I don't like it, quite frankly," added the 59-year-old.
As it turned out, Elgar was dismissed in what was the last over of the third day's play but not before India leaked a few quick runs following the heated moments. Meanwhile, concurring with Cullinan's view, his co-panellist Sanjay Manjrekar termed India's insinuations as "serious".
"There was an insinuation from the Indian camp that the host broadcasters were up to some mischief to make sure they were putting their own team at an advantage. That is a serious kind of insinuation. I have a problem with that," Manjrekar said.
Follow us on Google News