From A Statistician's Eye – West Indies' tour to India
West Indies will be playing 5 ODIs, a T20I and 3 Tests vs India this October-November. The tour will kick-off with an ODI at Kochi on October 8. There is an ODI every third day after that, ending with the fifth one in Dharamshala on October 20. It will be interesting to see a relatively new West Indies side taking on Indian giants who are certainly far superior when playing in their home grounds and in front of home crowd. Another important aspect of this tour would be that the Indian crowd will be seeing their national team for the first time and only time in 2014.
One Day Internationals:
India and West Indies are evenly poised in ODI matches but the men from Caribbean have a slight upper hand as far as previous records are concerned. But India and West Indies have won equivalent ODI series in India, 4 each.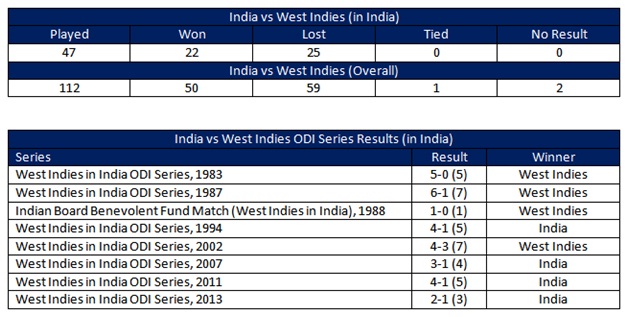 Follow us on Telegram
Most Runs:
Sachin Tendulkar 1573 runs (39 innings)
Desmond Haynes 1357 runs (36 innings)
Rahul Dravid 1348 runs (38 innings)
Shivnarine Chanderpaul 1319 runs (41 innings)
Ramnaresh Sarwan 1296 runs (36 innings)
Most Wickets:
C Walsh 44 wickets (38 innings)
Kapil Dev 43 wickets (44 innings)
Anil Kumble 41 wickets (25 innings)
Carl Hooper 36 wickets (45 innings)
Vivian Richards 36 wickets (22 innings)
T20 Internationals:
India and West Indies have never played each other in a T20 in India but players from both teams have locked horns numerously against each other in IPLs and CLT20s.
India and West Indies have both won 2 T20Is each in 4 matches played between the sides.

Test Matches:
India vs West Indies Test series started on way back in 1948, India's first year after Independence, but it was in 1978 that India finally learnt to overcome the Windies. Overall West Indies have won 5 series in India compared to 4 by India. 2 series resulted in a draw.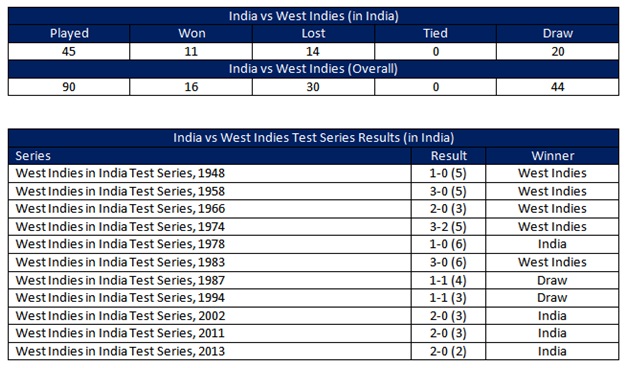 Most Runs:
Sunil Gavaskar 2749 runs (26 matches)
Clive Lloyd 2344 runs (28 matches)
Shivnarine Chanderpaul 2171 runs (25 matches)
Rahul Dravid 1978 runs (23 matches)
Vivian Richards 1927 runs (28 matches)
Most Wickets:
Kapil Dev 89 wickets (25 matches)
Malcolm Marshal 76 wickets (17 matches)
Anil Kumble 74 wickets (17 matches)
S Venkataraghavan 68 wickets (23 matches)
Andy Roberts 67 wickets (14 matches)
Special Facts:
India and West Indies have never played a T20I in India.
West Indies have not WON a test series against India in India since 1983 and haven't drawn one since 1994.
Follow us on Google News