From being rejected by Greg Chappell to leading India's pace attack – The Deepak Chahar story
In the past two seasons, the right-hander has emerged as the spearhead of the CSK bowling attack and a go-to man for Dhoni, claiming 32 wickets, including 22 in the past edition.
Updated - Nov 11, 2019 12:31 pm
66K Views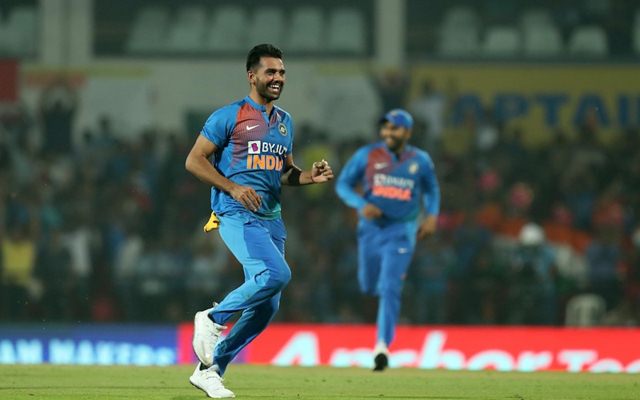 Deepak Chahar is the toast of the town. His best is not only India's best but also the world's best. 6/7 with a wet ball in an inexperienced bowling unit where you know you have to shoulder the bulk of the responsibility. And, you have to bowl in periods which haven't perennially been your strength.
You are a perennially a new-ball bowler. A swing bowler, to be precisely clear. Prior to the third T20I against Bangladesh, you have bowled almost 76% (96 out of 126) deliveries in the powerplay. At your IPL franchise, Chennai Super Kings, it is almost 80% (493 off the 616 balls). Multiply all these facts with the amount of dew that there was in Nagpur and the form that Mohammad Naim was displaying, and you'd realize the magnanimity of what Deepak Chahar achieved on Sunday night.
But for Chahar, himself, even though it was a herculean achievement, it wouldn't have come as a real shock or surprise, as he has been bigger adversities in his 11-year cricket year; none bigger than when he was written off by the then Director of Rajasthan Cricket Academy and former Indian coach Greg Chappell. Chappell had basically written off Chahar before not selecting him in the final 50 for the state, something that the right-hander feels, in hindsight, contributed towards the making of the bowler that he is today.
Speaking to Cricbuzz in an interview back in 2015, Chahar opened up on the ordeal he went through in 2008 when Chappell was at the helm. "He didn't select me in the final 50 for the state, so I went and asked him the reason. I was the fittest among all, and he put a lot of emphasis on fitness. Several unfit guys were sent home and since I was the fittest I wanted to know why I wasn't selected, and then he told me that he didn't think I could play cricket at a higher level. I felt very bad. That was the only day in my whole career when I felt like crying. I held my tears back but I felt very bad."
"With the benefit of hindsight, I think it was good that I was sent back home because thereafter I worked really hard and within two years I was playing the Ranji Trophy for Rajasthan. You can say that Greg Chappell's comments brought out the best in me. I changed my fitness regime, worked on my bowling action, increased my pace and now my fastest ball is around 140 kph."
But, Deepak Chahar did not give up! It's not in his DNA
Two years later, he made his Ranji Trophy debut for Rajasthan and instantly made an impact when his incisive seam and swing bowling led to figures of 8/10 as he skittled Hyderabad out for 21; still the lowest total in FC cricket. But post his memorable debut season, a spat of injuries in the next three seasons which ranged from getting diagnosed with jaundice to tearing his muscle to injuring his shoulder on the eve of squad selection, threatened to put his career on the backburner again.
But, the Agra-born fast bowler did not relent. Chahar had been a part of the Rajasthan Royals set-up back in 2012 but could not get a game and it was in the year 2018 when he was racked by the Chennai Super Kings that the right-hander's hard work started to come to fruition. And, it helped that there was MS Dhoni to look after him.
In the past two seasons, the right-hander has emerged as the spearhead of the CSK bowling attack and a go-to man for Dhoni, claiming 32 wickets, including 22 in the past edition. And, the manner in which he took over the responsibility of leading a bowling unit under such conditions just vindicated as to why Dhoni was so impressed with Chahar during his time in the now-defunct RPS that he himself hand-picked the Rajasthan bowler when CSK returned to the IPL in 2018.
[interaction id="5dbd8c112b2176ccbd62ff67″]