Great News! Get your first licensed cricket NFT for free on Rario: Read steps
Rario is the first licensed cricket NFT platform.
Updated - May 30, 2022 12:50 pm
9.4K Views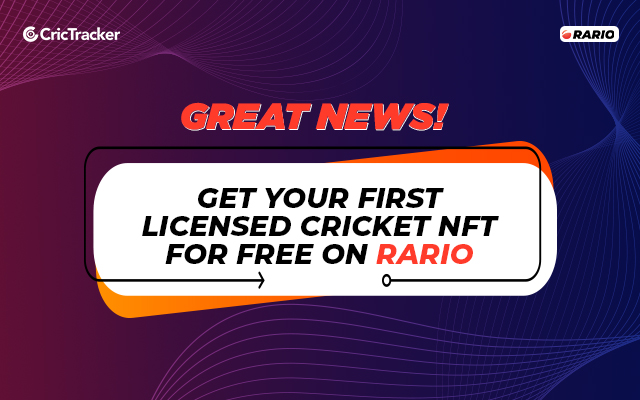 Are you ready to be a part of the world's first licensed Cricket NFT platform for 'FREE"? Yes, you heard that right. Rario, the first cricket NFT platform is offering you a free NFT, just for signing up to their platform. To note, the Cricket NFT platform allows fans to purchase, sell, or trade memorable moments of their favorite players.
Cricket fans around the world can select from among a variety of exciting and historic cricket moments available on the Rario Marketplace. Rario NFTs are split into four different categories based on their rarity. These four categories are available in the marketplace, starting from silver, gold, black, and finally the unique cards. After purchase, these cards can then be re-listed in the marketplace for traders to sell or purchase.
Here are these six easy steps that will connect you to the exciting cricket NFT platform for a FREE NFT pack:
1. Visit Rario.com
2. Click on the "Sign up".
3. Enter details including, your e-mail address, and username, create a password, and enter the captcha code, before agreeing to Rario's terms and conditions.
4. Click on the confirmation link received in your registered email.
5. Enter your contact number, select country and enter the OTP sent on your registered number.
6. BOOM! Free NFT is added to your vault.
After getting your free NFT (non-fungible tokens), you can either save it in your vault or try to sell it to other cricket enthusiast fans joining Rario. Apart from that, you can also have a look at the top Gold or Black cards available in the online market. To note, the purchase can be made through Debit/Credit cards.
Getting global recognition, Rario recently signed an official licensing deal with Cricket Australia and the Australian Cricketers' Association that will see digital collectible NFTs from Australian cricket, and play-to-earn virtual gaming made accessible to over one billion cricket fans globally.
Traditionally, collectibles have only featured as still images, but NFTs will allow you to show the full video of the sporting moment by featuring an officially licensed broadcast vision. After the agreement with CA, fans can now collect some of the famous moments of Australian cricketing history.
The shot and reaction when Ellyse Perry registered her Ashes double hundred, pacer Scott Boland's excellent MCG spell, or back-in-time veteran Steve Waugh's last ball boundary at the SCG in 2003, can now be captured in full action for digital trading cards and memorabilia that fans can own and trade exclusively.
Apart from trades, the free joiners will have the gaming experience that allows the collectors to play games against each other around the world (of which over 100 million cricket fans already do), to trading card sets that act as visual coaching tools for children starting in the game.
Follow us on Google News