Had Virat Kohli played Rugby, Baseball, Football and Hockey, world records would've looked like
Virat Kohli completed 10000 runs in ODI cricket in 54 innings fewer than the previous best Sachin Tendulkar.
Updated - Oct 26, 2018 5:51 pm
411 Views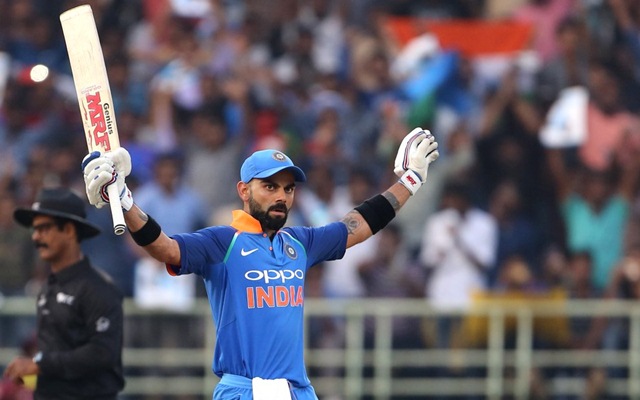 Every time Virat Kohli had a dry spell even for a brief span, he bounced back scoring like there was no tomorrow. This hunger it the reason for Kohli's unprecedented success which made him the fastest player to breach the 10,000-run barrier. He got to the milestone in only 205 innings while the previous fastest player, Sachin Tendulkar took 259 innings. Any cricketer who scores 10k runs is usually accorded with a legendary status but Kohli earned it well before getting there.
The current Indian skipper comes to the crease almost after the end of the first powerplay given the dominance of the opening pair, Rohit Sharma and Shikhar Dhawan. This duo batted an average of 8 overs in the 76 ODI innings since 2013 in the matches that Kohli has played. Sachin, on the other hand, opened the innings in 174 innings by the time he got to this milestone. Even considering the 10,000 runs Sachin registered while opening the batting, the master-blaster falls nine innings short of Kohli's achievement.
The difference of 54 innings meant Kohli required just 79% of the innings that his predecessor took to get 10,000 runs in ODI cricket. Using only 79% of the outings in comparison with the previous best is largely unthinkable. The way Kohli has performed recently, one actually fails to realize the magnitude and impact of this record as the run-machine is currently scoring hundreds for breakfast, lunch and dinner.
Based on the above information, let's create a hypothesis – assume Kohli was playing a different team sport. How would have the fastest records in those sports looked like after he eclipsed the previous record-holders?
Rugby-
The record for fewest Tests to complete 1000 points in International Rugby is jointly held by Jonny Wilkinson and Dan Carter. The duo needed 67 Test matches to get there having scored 15 points at an average in every Test. Had Kohli broke their record, he would've got there in 53 Tests which is possible if he scored over 18 points in each game.
Interestingly, Wilkinson scored more than 18 points in a Test on 22 occasions out of the 97 Tests he played while Carter did that in 25 out of 112 appearances.
Football-
In International football, as many as 61 players have scored over 50 goals. Among those, Denmark's Poul Nielsen holds the record for completing this feat in fewest games (36). The estimated record with a margin of 79% would be 28-29 matches. For that to happen, the footballer has to score two goals in every game to break Nielsen's record like Kohli eclipsed Tendulkar's feat.
Baseball and ice hockey-
Similarly, someone like Kohli would have taken only 541 games to break Baseball great Chuck Klein's record of 1000 hits in the National League from 683 games history by a margin of 142 games. Wayne Gretzky's fastest record of scoring 500 goals in the National Hockey League (ice hockey) in 575 games would have been surpassed in 120 fewer games(455 games).
Here is how the records would've looked like had Virat Kohli played those sports: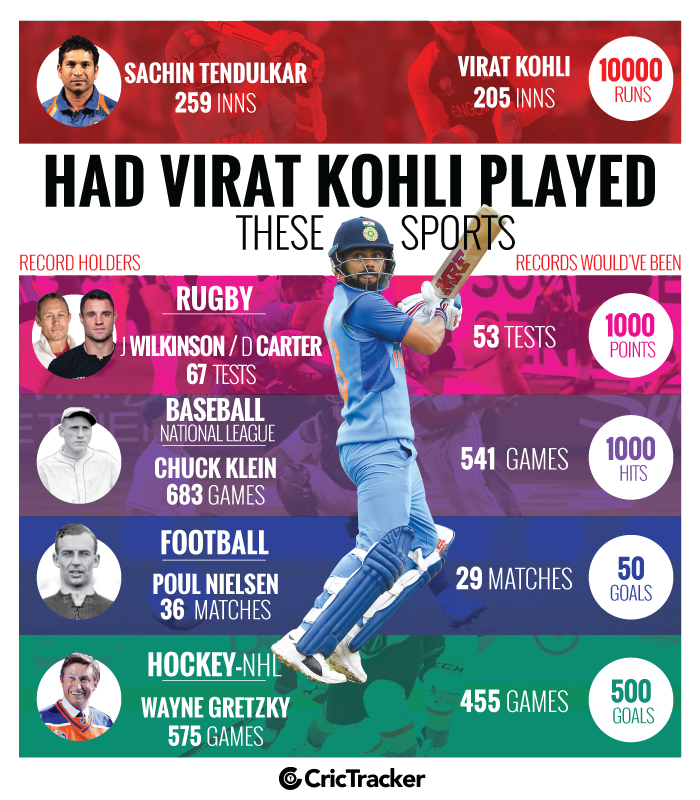 (Stats as on October 25, 2018)