Happy Birthday Suresh Raina – The guy who played two of the most important innings in Indian Cricket
As Suresh Raina celebrates his 33rd birthday, one can't help but wonder, what would have happened had Raina not been there on those two marquee occasions?
Updated - Nov 27, 2019 3:36 pm
855 Views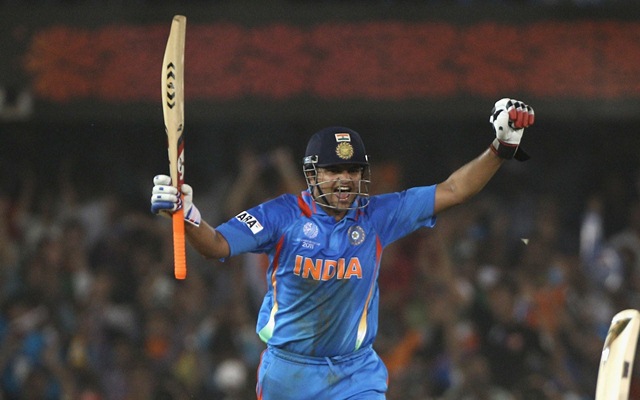 Follow us on Telegram
Suresh Raina. Tell me exactly what is the first thing that comes to your mind when you hear his name. I know it will be a plethora of his fielding efforts, his dives, his run-outs, or his smile whenever he or any of his teammates achieve any feat. You might also remember all the runs that Raina scored while clad in the yellow colours of the Chennai Super Kings. And, it isn't your fault! Whenever there is something like the Indian Premier League- Hall of Fame, Suresh Raina's name will be the first one to get impinged into the annals of batsmanship.
But, I'm not here to talk about the thousands of runs that Raina scored for both India and the Chennai Super Kings. Neither I'm here to tell you about his records like he is the first Indian to score a hundred in each of the three formats of the game, nor I'm here to tell you how he is the only Indian to score a hundred in both the fifty-over World Cup (vs Zimbabwe in 2015) or the T20 World Cup (vs South Africa, 2010) or the fact that he is one of the 12 Indians who has a hundred on Test match debut (vs Sri Lanka in 2010).
How many of you remember Suresh Raina's knocks in the 2011 World Cup?
Naah! None of that. Because some players are above the traditional numbers. They are measured by how many hundreds or the number of wickets they have taken. They are remembered for the sheer value they bring to the team, and Suresh Raina has brought an abundance of value to whichever side he's played for.
As the champion left-handed batsman celebrates his birthday, the mind goes back to the knockout stage of the 2011 World Cup, and I can't help but wonder, whether India would have won the quarter-final and the semi-final against Pakistan, had we not had Suresh Raina walking out to bat at No.7.
Editorials, memoirs, have been written about how Yuvraj Singh, MS Dhoni, and Gautam Gambhir played a pivotal role in India winning the knockout games of the World Cup. But unfortunately, one name that frequently goes missing from every discussion or editorials is Suresh Raina.
It shouldn't! But as they say, we, in India, are obsessed with numbers, with hundreds and with Brobdingnagian scores. And, if that is the mindset, it is easy to forget about the unbeaten 28-ball 34 and a 39-ball 36 that Raina scored against Australia and Pakistan in the quarters and semis of the 2011 World Cup respectively. I mean, just imagine! What would have happened had Raina not held the fort when Yuvraj was going berserk in the quarter-finals? What if wickets had tumbled from the other end even if Yuvraj was going great guns.
Raina's moment in the sun, where he finally was in the spotlight came in the next game against Pakistan where he played arguably the most-important innings, not only for himself but for his country. Imagine! Walking out at 6-205 after the dismissal of MS Dhoni. All the top-batters are back in the hut, the Pakistanis have their tail-up, the ball is reversing, you need to get at least a fighting total considering it was a flat Mohali wicket and dew would play a major role in the second half.
So, what does Suresh Raina do? He counterattacks opposition's best bowler- Umar Gul. He breaks the shackles and considering there was non-existent support from the other end, scores a calculative 39-ball 36 to take the Men in Blue to an eventual match-winning total of 9-260.
As Suresh Raina celebrates his 33rd birthday, one can't help but wonder, what would have happened had Raina not been there on those two marquee occasions? Ohh! The sheer visualization sends down shivers in my spine. So, where do these knocks rank in the annals of Indian cricket? In my view, right at the top! Have they got their due? Unfortunately, Not! And, that's disappointing to say the very least!
Follow us on Google News