Hardik Pandya trolled for sporting national kit with Byju's logo
Hardik is all set to make a comeback after being rested for the West Indies
Updated - Sep 14, 2019 12:02 pm
35.2K Views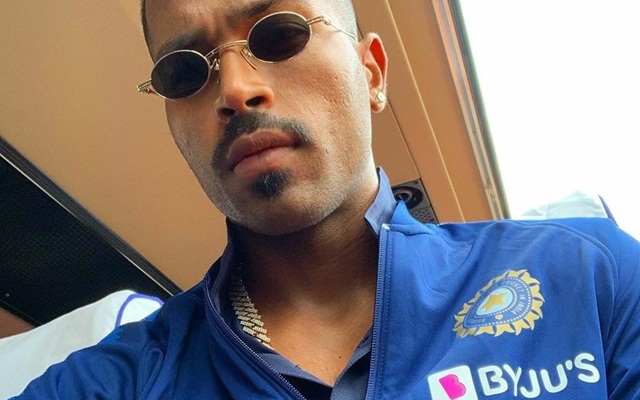 Explosive India all-rounder Hardik Pandya is set to return to international cricket on Sunday when the Men in Blue take on South Africa in the first T20I in Dharamsala. The two sides will play three T20Is followed by as many Tests that will be part of the ICC World Test Championship. Hardik was rested for the West Indies tour after the ICC World Cup in which India crashed out in the semi-finals.
The 25-year-old was recently seen sweating it out in full flow at the nets. He was seen hitting some adventurous shots against the bowlers, including his left-arm spinner brother Krunal Pandya who is also in the squad for the upcoming series. However, a couple of days before resuming his international career, Hardik was trolled on the social media after he shared a selfie.
The cricketer took to his Instagram account and posted the picture showing himself sporting a pair of stylish sunglasses and the team kit showing the logo of Byju's – India's latest sponsor. He captioned it: "On the go! When you travel, a selfie is a must ???? ????."
The Twitterati found it an opportunity to roast Hardik Pandya brutally. Since Byju's is a popular education website and app, social media users even started targeting Hardik over his educational qualifications. One tweet even read, "so an educational site made a proudly uneducated man its ambassador."
Hardik earned a bad name on Karan Johar TV show earlier this year
Hardik Pandya made the headlines for the wrong reasons earlier this year when he was accused of making loose talks on a reality TV show hosted by Karan Johar. KL Rahul was also with him on the show. Hardik was accused of making sexist remarks and the critics even questioned his level of education. The duo was temporarily suspended from international cricket following the furore. Seeing him wearing the Byju's-sponsored national kit, those critics perhaps could not hold themselves back.
On the field, however, Hardik has been a champion cricketer. He played out the role as India's third seamer in the World Cup very well and also proved his mettle with the bat when needed. He has had his share of bad luck because of injury and controversy but like a man hungry for his game, he has come back strong.
Here's how he was trolled:
Byju's branding on Hardik Pandya who is actually proud of failing 10th class is another level ironic https://t.co/DoSSAC9A5x

— Swati (@swatigarg20) September 13, 2019
Yeh sikhega ya sikhayega? https://t.co/FfJdTYXfs9

— Tabrez (@its_tabrez__) September 13, 2019
When Hardik Pandya said "Aaj mai karke Aaya", BYJU's thought he completed his math homework.
😛

— Aniket Deshpande (@aniket0608) September 13, 2019
For those who don't know, Byju's is a learning/coaching/education app. One of the largest edutech companies.

Hardik Pandya flaunts being an educational failure… https://t.co/2SFm4qv9AG

— Anurakti Sharma (@anuraktisharma) September 13, 2019
Wow so an educational site made a proudly uneducated man it's ambassador. 😂😂 https://t.co/UE2vCi0URA

— ANISH MAINALI (@itsanishm) September 13, 2019
Hardik Pandya heading towards Allen institute https://t.co/pCgJdtRhbS

— Maheshmello (@cheeku_243) September 13, 2019
Pandya's GF threw a pan at him or what… https://t.co/8oazI2Tg2F

— Elite Banker💰 (@coolhandsree) September 13, 2019
Byju's logo on chest made him look more sincere. https://t.co/PNniaaFzwl

— Manish Chavda (@IManish311) September 13, 2019
Logo se lag raha IIT JEE ka coaching karke wapis aa raha. https://t.co/EVaGVkV8jr

— Silly Point (@FarziCricketer) September 13, 2019
Backbenchers aise hi dikhte hai😝😀 https://t.co/M4pGPhkO45

— عابدہ Abida (@Abida07) September 13, 2019
Watch – 5 Players who should've retired after 2019 World Cup but didn't