Harmanpreet Kaur believes Deepika Padukone would ably portray her on screen
Also reveals Varun Dhawan and Ranveer Singh as her favourite actors
Updated - Aug 9, 2017 5:09 pm
898 Views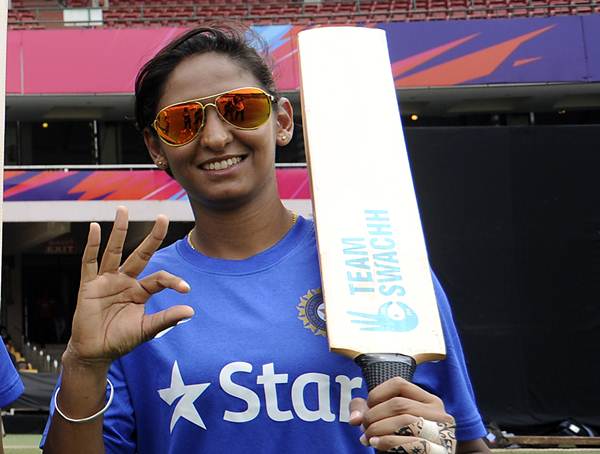 Indian Women's Team World cup sensation, Harmanpreet Kaur, in a recent interview stated that she would want Deepika Padukone to portray her on-screen if a movie is made depicting her life. Kaur also suggested that out of all the male actors, Varun Dhawan and Ranveer Singh are her two favourites Bollywood leads.
Harmanpreet Kaur, who played one of the most memorable World Cup Knocks in cricketing history (both men and women), knocked out the defending champions and top contenders to win the ICC Women's World Cup, Southern Stars, out of the competition with her swashbuckling knock of 171*.
India was heartbreakingly close to winning their first World Cup as they fell just 9 runs short of the total set by the home side and the current World Champions England. However, the country showered a lot of love to the Indian Women's team in their homecoming.
"The appreciation took time to arrive. But the love we're getting now is overwhelming. Imagine what the reaction would've been had we won the World Cup! People now come up to me all the time. They want to meet me in person to congratulate [me] and take selfies. There are constant enquiries about our next series," stated Harmanpreet Kaur according to an interview with Hindustan Times.
On Deepika Padukone
When asked about the ideal actor who could play her role on screen for her biopic, Kaur had no hesitation in naming Deepika Padukone. "Deepika is a good actor. She'd be the right choice [for the biopic], she'd able portray me well on-screen," quoted Kaur. She then mentioned that there a long way to go in her cricket career, with the ambition being winning the World Cup."Right now, we're focused on winning the next World Cup. There's so much more that I need to achieve," continued Kaur.
On Captaincy endeavours
There have been murmurs about her leading the Indian Team after Mithali Raj's retirement. "I enjoyed leading the team. But everything depends on the selectors' faith in my capability," said Kaur when asked about her endeavours for captaincy. She concluded by saying that she wishes to inaugurate an academy in her hometown, Moga.
"The best part is that in Moga, parents of young girls are encouraging them to take up [cricket]. Not just here, but all over India, there are girls who're thinking of taking up professional cricket. I guess that's a huge achievement for us," conclude Harmanpreer Kaur