Harsha Bhogle questions Babar Azam's effectiveness in the early part of his T20I career
Earlier even Shahid Afridi had admitted of thinking that Babar Azam won't survive in T20Is.
Updated - Jul 17, 2020 10:59 am
1K Views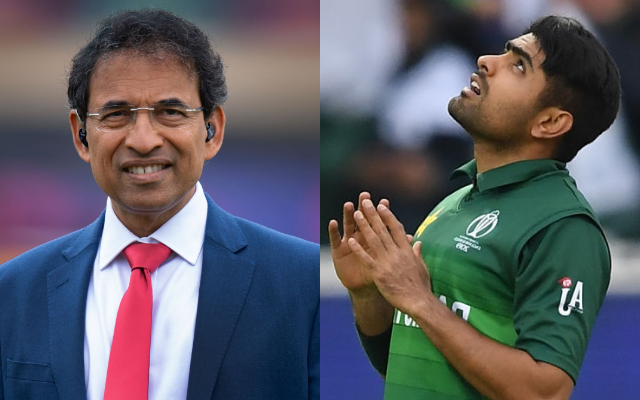 Follow us on Telegram
Babar Azam is Pakistan's best batsman across formats at the moment. He is one of the only few players who is in the top five of the ICC Rankings for batsmen in all three forms of the game. But when it comes to T20I cricket, his strike-rate is always questioned despite averaging more than 50. He opens the innings for Pakistan in the T20 format and averages 50.7 in 38 innings while his strike-rate is around 128.
Well, these are improved numbers in terms of strike-rate and one of India's renowned cricket analyst and commentator Harsha Bhogle also believes the same. He admits to have questioned Babar's ability in the shortest format due to his strike-rate in the early part of his career.
Bhogle pointed out that his strike-rate was around 115 in the initial days of his T20I career. He also went on to lament the fact that how the change in format shifts the focus from average to strike-rate. "For the major part of his first two or three years, Babar Azam had a batting average of 50 or 55 but a strike rate of 120. If you are playing with a strike rate of 110 or 115 in T20 cricket, the longer you bat, the more you are ensuring your team's defeat.
"Suddenly the batting average is running contrary to what batting average does in any other form of cricket," he said while speaking on the podcast 'Red Inker with Jarrod Kimber'.
Shahid Afridi also felt earlier that Babar Azam won't survive in T20Is
Earlier this month, even former Pakistan captain Shahid Afridi had admitted that he didn't think Babar Azam would be successful in the T20 format. However, he praised the latter for moulding his game according to the needs of the format. "I thought Babar Azam would survive in Tests and ODIs but not in T20Is. This was my opinion. But the way that guy has polished and groomed himself.
"The shots he plays. It depends on the goals you set yourself. It is always hard work. I can't just keep thinking that I want to be like AB de Villiers or Virat Kohli. If you don't work hard enough it can never be possible. In order to achieve any goal you always have to work hard," Afridi had said.
Follow us on Google News