'He is never content, always looking to improve' – David Wiese reckons 'just being a legend is not enough' for Virat Kohli
Wiese shared dressing room with Virat Kohli during his IPL stint at RCB.
Updated - Oct 5, 2021 5:59 pm
2.1K Views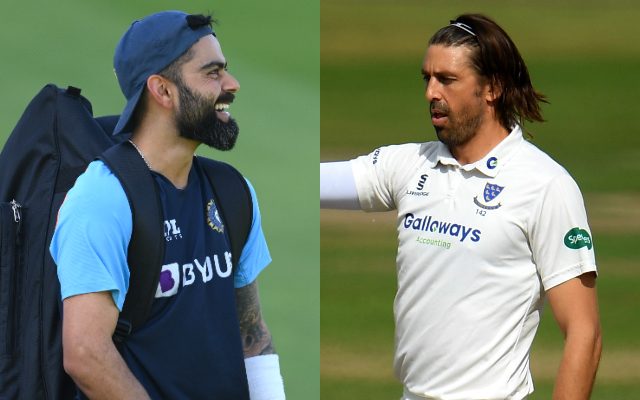 Follow us on Google News
Former South Africa all-rounder David Wiese feels that just being a legend is not enough for Indian skipper Virat Kohli. Wiese, who shared dressing room with Kohli during his Indian Premier League stint at the Royal Challengers Bangalore, stated that the 32-year-old Kohli is obsessive, never settles and continues to strive for more.
"Virat is just obsessive, he wants to be the best and he would not stop until he is the best and that for me, is his biggest quality. He is probably one of the best in the world but he still wants to improve. He is already a legend of the game but that is not good enough for him," Wiese was quoted as saying by Hindustan Times.
"He wants to become better; he has got a passion for the game. In training, he would spend hours and hours, working on different things. He is never content; he is always looking to improve," he added.
Wiese also opened about his former South Africa and RCB teammate AB de Villiers and appreciated his habit to not shy away from working hard. "AB is successful because he is probably the most talented cricketer that ever has been there. He is hardworking, his success does not come by luck. He puts in hours; his fitness is always good. His success is because of all the hard work he does. That is a recipe for success in most sports and that is something Namibia actually has already."
"I have spent a short time with them and I see guys putting in the hard yards, they are not shy of putting in the extra effort. Physically and mentally, they are strong. They have the talent and the recipe is there, and it is now about trusting the ability. Definitely, what I can say is that one can learn from the hard work and dedication of AB de Villiers and not leaving any stone unturned."
David Wiese to represent Namibia in T20 World Cup 2021
Wiese, who has represented South Africa in 6 ODIs and 21 T20Is, is set to represent Namibia in the upcoming edition of the T20 World Cup, after having qualified by descent as his father was a Namibia born.
"Namibia approached me when I had signed Kolpak deal in 2017. My international career was over and I expected to never play international cricket and I had come to terms with that. Namibia approached me, Albie Morkel and Pierre de Bruyn (head coach) asked me will playing for Namibia be something I'll be interested in? I never thought I'll ever play international cricket again, so when the opportunity comes around, you would be stupid to not take it. I am thankful to them that they saw value in me," Wiese said.
Namibia, who will be making their first appearance in the tournament, are placed Group A of the Qualifying stages alongside Sri Lanka, Netherlands and Ireland. They will kickstart their campaign against Sri Lanka on October 18 at the Sheikh Zayed Stadium.
Follow us on Telegram