'He is off the mark' – Twitter lauds Nitin Menon after his impressive umpiring continues in IPL 2021 opener
Nitin Menon has been earning praise from quite some time now for his brilliant performance as an umpire.
Updated - Apr 9, 2021 9:50 pm
24.1K Views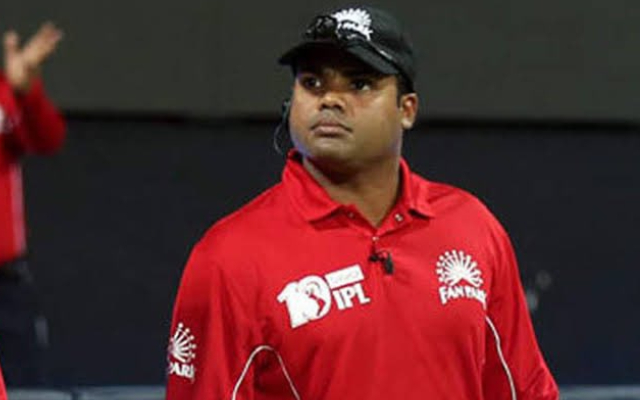 Follow us on Google News
In the last few years of the Indian Premier League (IPL), the umpires have faced flak for their poor umpiring. But it looks like the trend will change this year thanks to Nitin Menon who has been turning heads with his brilliant performances on the field. Menon recently earned praise from all around for his brilliant umpiring during the series between India and England.
In a series that was filled by some of the biggest names in the game, Menon managed to hog the limelight with his performance. The youngest Indian umpire in the ICC Elite Panel hardly gave away any bad decision. And as he kept impressing on the field, the likes of Gavaskar and Aakash Chopra heaped praise on him while commentating.
And Menon has started his campaign in IPL 2021 on a similar note. In the tournament-opener between Mumbai Indians and Royal Challengers Bangalore on Friday, another brilliant decision from the umpire saw the end of Hardik Pandya's innings. The incident happened on the final ball of the 16th over when Hardik missed a full toss from Harshal Patel.
The ball was at his pads and he went for a flick shot. However, the hard-hitting batsman completely failed to make contact with the ball and was hit on his pad. Patel appealed for an lbw straightaway and Menon had no hesitation in raising his finger. At that time, it looked like the ball might have missed the leg stump and perhaps that is why Hardik went upstairs.
Fans praise Nitin Menon:
But Nitin Menon hardly gives any wrong decisions and the replays proved it once again. The tracker showed that the ball was hitting leg stump as Hardik departed after scoring 13. And as the young umpire gave another impressive decision, the cricket fraternity was quick to praise him. RCB's head of Sports Content and Digital Partnerships Ajith Ramamurthy revealed that Menon was practicing umpiring at the team's net session.
Another user advised the players to not review Menon's decision and just walk away when he raises his fingers. One user also called him unbeatable as the fans lavished praise on the official.
Here are some of the reactions:
Nitin Menon was practising umpiring at our net session yesterday. Haven't seen an umpire do that before. And he's so good, 9 out 10 times you lose a review! 🙌🏻🙏🏼 #RCBvMI #RCB

— Ajith Ramamurthy (@Ajith_tweets) April 9, 2021
When Nitin Menon raises his finger, you should just turn and walk. #IPL2021

— Sreshth Shah (@sreshthx) April 9, 2021
Nitin Menon off the mark.

— Saurabh Malhotra (@MalhotraSaurabh) April 9, 2021
Nitin Menon seems to be undefeatable.

— Mufaddal Vohra (@mufaddal_vohra) April 9, 2021
Why did Pandya review? That was given out by Nitin Menon!!#IPL2021 #MIvRCB #MIvsRCB pic.twitter.com/PhjK5kww2K

— LayEggBeforeWicket (@LayEgg_B4_Wkt) April 9, 2021
-Hardik Pandya might have forget that the umpire is Nitin Menon.#RCBvsMI

— Deep Point (@ComeonPant) April 9, 2021
When Nitin Menon is umpiring

DRS: Whatever Nitin Menon says pic.twitter.com/jbyxFDcBmJ

— Author (@how_humans) April 9, 2021
Nitin Menon whenever a review is taken against his decision pic.twitter.com/rBKMeZntRh

— Sujit K (@sewjit) April 9, 2021
My prediction for this year:
Purple cap – Nitin Menon. Man gets it right almost every single time! #IPL2021

— Abishek kumar (@theabishekkumar) April 9, 2021
Don't review against Nitin Menon. #IPL2021 #MIvRCB pic.twitter.com/7zKTXQXdOF

— Iconic Stats (@IconicStats) April 9, 2021
Nitin menon what an umpire take a bow 🙏

— Rajshekhar🇮🇳 (@b4butterchicken) April 9, 2021
Hardik Pandya really thought that he can get a Nitin Menon decision overturned 😭#RCBvsMI

— Armchair Critic (@nikunj0902) April 9, 2021
nitin menon after someone takes DRS against his decision pic.twitter.com/gl1DYjArz5

— Neeche Se Topper (@NeecheSeTopper) April 9, 2021
If Nitin Menon raises his finger, we sit back! 🙌

Absolutely loving how accurate he is most of the times.💯

A few errors may have happened here and there but let's not forget he is a human too 😊#MIvRCB #NitinMenon

— Urvi Shah (@unikurvi) April 9, 2021
Follow us on Telegram