'He prevailed in all conditions, against all bowling attacks' – Brian Lara praises ICC Hall of Fame inductee Kumar Sangakkara
With 28016 runs under the belt, Kumar Sangakkara is the second-highest run-scorer in international cricket.
Updated - Jun 22, 2021 1:31 pm
305 Views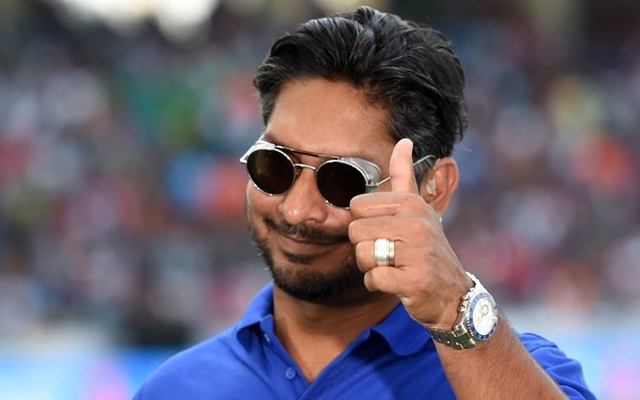 Follow us on Google News
Former Sri Lanka captain Kumar Sangakkara was officially inducted into the ICC Hall of Fame on June 20. The legendary wicketkeeper-batsman received the honour during the Day 3 of the ICC World Test Championship final between India and New Zealand at the Ageas Bowl in Southampton. Former Indian skipper Sunil Gavaskar bestowed him with the special cap and welcomed him into the illustrious club of elite cricketers.
Sangakkara is indeed one of the best wicketkeeper-batsmen to have ever stepped onto the cricket, and his contribution to Sri Lankan cricket is nothing but priceless. Making his international debut in July 2000, the southpaw didn't take long in cementing his place in the side. He delivered consistently with the bat, and his precision behind the stumps was second to none.
The left-handed batsmen had a rock-solid defence, and his obsession with long knocks gave nightmares to prominent bowlers. Regardless of the condition or situation, Sangakkara scored runs and took the Lankan Lions to numerous memorable victories. In the process, the batting juggernaut also managed to shatter many records.
Sangakkara's brilliance with the willow earned him the national team's captaincy, and he didn't disappoint in that department either. Under his leadership, Sri Lanka advanced to the 2011 World Cup, where they lost to eventual champions India. Notably, when MS Dhoni smashed the winning six in the summit clash, Sangakkara famously had a smile on his face, which speaks volumes of his character.
He eventually bid farewell to international cricket in 2015 but not before mustering 28016 runs at the highest level. Owing to his brilliance, Sangakkara earned a place in the ICC hall of fame and is receiving greetings from cricket lovers worldwide. His contemporaries Brian Lara, Brett Lee, Matthew Hayden and Kevin Pietersen also paid tribute to Sri Lankan legend.
He is a hero around the world: Kevin Pietersen
Congratulating Kumar Sangakkara on being inducted into the ICC Hall of Fame, Brian Lara, a Star Sports Select Dugout expert, said "Kumar Sangakkara, unlike many batsmen, prevailed in all conditions, against all bowling attacks around the world. And most importantly, he did it in their backyard, not just his. Kumar Sangakkara on many occasions have amazed me, but the one that stands out the most was his four consecutive centuries in the 2015 ICC World Cup in Australia. That was something to behold. Just out of the world. Congratulations to you Kumar Sangakkara on being inducted into the ICC Hall of Fame. Welcome."
Congratulating Kumar Sangakkara on being inducted into the ICC Hall of Fame, Brett Lee, a Star Sports Select Dugout expert, said, "I want to say a big congratulations to Kumar Sangakkara for being inducted to the ICC Hall of Fame. What a legend of a guy, what a legend of a cricketer, geez, we had our battles in the field, but a terrific guy on and off the field. Played with absolute heart and passion. That's what Test cricket is all about – And even different formats of the game as well. We were also teammates, playing for the Kings XI Punjab in the first IPL, back in 2008. A terrific guy. Congratulations, Mate! I'm looking forward to celebrating and catch up next."
Congratulating Kumar Sangakkara on being inducted into the ICC Hall of Fame, Mathew Hayden, a Star Sports Select Dugout expert, said, "True testimony to your skill, your mindset, your leadership, your overall ability to be able to control, play in a balanced statesmanlike manner; makes you absolutely hands down. I think one of the finest recipients of this fantastic award."
Congratulating Kumar Sangakkara on being inducted into the ICC Hall of Fame, Kevin Pietersen, a Star Sports Select Dugout expert, said, "Kumar Sangakkara inducted into the Hall of Fame, it just makes me smile. Great person, a great player, wonderful for the game. And he just does so much. He is a hero in Sri Lanka. He is a hero around the world. Buddy congratulations, amazing. Quite outstanding. What an achievement. You and your family must be so proud of you and I know how much it means to you."
Follow us on Telegram