Highest Partnership for each wicket in Test Cricket
India has been at the receiving end twice.
Updated - Jul 7, 2020 1:09 pm
7.8K Views
2. 2nd wicket- 576 runs between Sanath Jayasuriya and Roshan Mahanama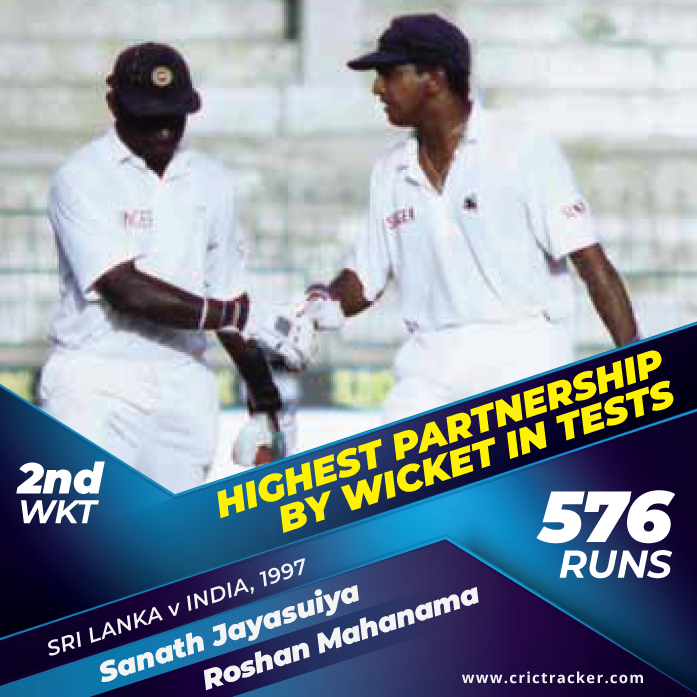 Date: 2nd August 1997
Partners: Sanath Jayasuriya (340); Roshan Mahanama (225)
Opponent: India
Venue: Colombo, Sri Lanka
It was a dead subcontinental belter in the suffocating humid weather of Sri Lanka. If you win the toss here, choose to bat without thinking and that's what India did. Dare I say, any team would be unhappy after three of its batsmen slam centuries and help the team reach a gigantic total of 537/8!
Sri Lanka lost its first wicket on 39. Little did anyone know that the next would fall only after a record-shattering partnership of 576 runs! The Sri-Lankan pair batted for two complete days playing 1110 balls. Jayasuriya batted for a mind-boggling 799 minutes as he slammed 340 runs off 578, while Mahanama lasted 753 minutes for his 225 off 561. 
The 576-run stand eclipsed the 63-year-old record of 451 between William Ponsford and Donald Bradman and also became the first-ever 500 run partnership in Test cricket. The 753-minute partnership is the longest in terms of duration in Tests to this day.
The two-day batting carnival left barely any scope of a result, however, the record-breaking did not stop even after the partnership ended. Sri Lanka's hunger stayed alive until it posted an astronomical 952/6. Just when a four-digit-score looked probable, Lankans finally declared after batting for 271 overs. No marks for guessing the result (draw).