Hope MS Dhoni plays for another 10 years: Michael Hussey
Dhoni hasn't played any competitive cricket since the 2019 World Cup in England and Wales.
Updated - Jul 1, 2020 5:48 pm
469 Views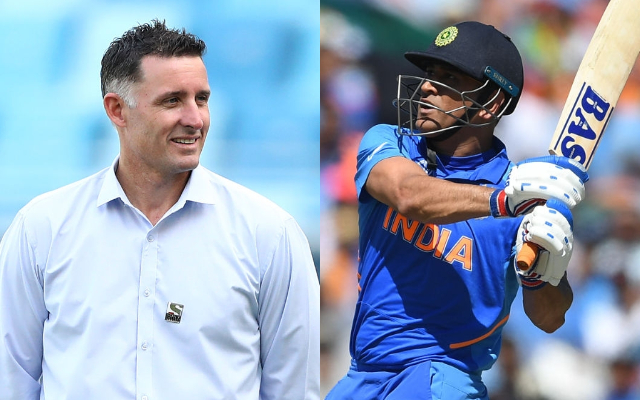 Michael Hussey, the former Australian cricketer, feels that MS Dhoni has the potential to play for another 10 years. Dhoni last played in the 2019 World Cup and it's nearly a year since he played competitive cricket. Approaching the age of 39, the Jharkhand-born is said to be at the twilight of his career and talks about his retirement have been doing the rounds for quite a while.
He was set to make a comeback in the 2020 Indian Premier League (IPL), which had to be postponed indefinitely due to the ungodly COVID-19 virus. Hussey, who has worked with Dhoni in the Chennai Super Kings (CSK), lauded the veteran for being a great character, both on and off the field.
"He's been an incredible person and player for CSK for so long, and India for that matter, and we hope he keeps playing for another 10 years. I'm not sure we're going to be able to see that, so hopefully he can play for as long as he can," Hussey told on Sony Ten's Pit Stop.
MS Dhoni is arguably India's most successful captain, says Hussey
Hussey also lauded Virat Kohli, the current Indian skipper, for wanting to have a personality like Dhoni around him. Hussey, who's popularly known as Mr Cricket, praised Virat for his desire to learn from Dhoni and form a strong Indian unit.
"I think you got to give a lot of kudos to Virat Kohli, having someone like MS Dhoni still in the team who's been, arguably, India's most successful captain. Sometimes some people would find that threatening to still have that person in the team," he stated.
"But that's where you need to tip your hat to Virat and so you know he's obviously got the personality to say 'no, no I would like this guy around. I can learn from this guy, and he's going to help me get down the better skipper and obviously have a better team'," he added.
Hussey played for the CSK in a few seasons before being appointed as their head-coach back in 2018. In the same year, the Super Kings were making a comeback after their two-year suspension period. Hussey tasted immediate success as CSK went on to win their third IPL title, beating the Sunrisers Hyderabad (SRH) in the final.