'I admire the god of cricket, he is an inspiration': Yashasvi Jaiswal hails Sachin Tendulkar
Jaiswal rose to fame courtesy his whirlwind performances in the recently-held Vijay Hazare Trophy.
Updated - Dec 23, 2019 7:43 pm
491 Views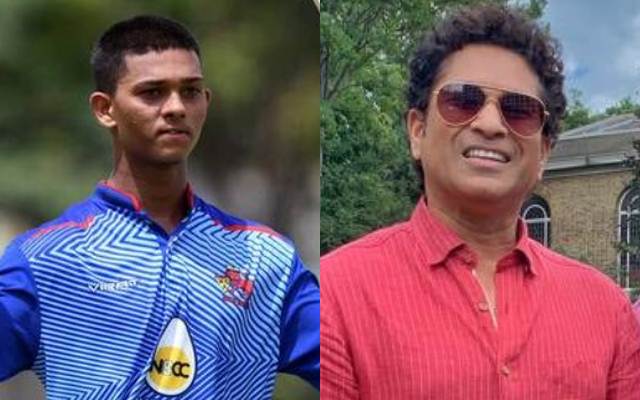 Yashasvi Jaiswal's rise to stardom is a perfect 'rags-to-riches' story; one that is an epitome of what can be achieved if you that unrelenting desire burning in your heart every single day. Jaiswal lived that desire, that dream of playing cricket and making it as a career amidst all the struggles, and here he is now, a young and upcoming sensation from the batting factory of Indian cricket who bagged an Indian Premier League contract of Rs 2.4 Crore by the Rajasthan Royals in the recently-concluded auction in Kolkata.
Jaiswal rose to fame courtesy his whirlwind performances in the recently-held Vijay Hazare Trophy, one that was headlined by a record-breaking 203 off 154 balls- an innings which included 17 fours and 12 Brobdingnagian sixes. In six games, the youngest List-A double-centurion churned out 564 runs at an average of 112.80. Jaiswal, like all upcoming Indian batsmen, is a huge fan of 'Master-Blaster' Sachin Tendulkar.
Speaking to the media, the youngster recalled how watching old videos of Sachin's batting has helped him make those subtle changes in batting while also recalling Tendulkar's response when he had asked the Little Maestro as to how he used to prepare for a big game.
"I admire the god of cricket (Tendulkar). I have met him a number of times. His presence is enough to motivate you. He is an inspiration for me. I have learnt a lot from him," Yashasvi told the Times of India.
Jaiswal added, "I asked him once – 'sir… how should I prepare myself ahead of a big game?'. He said 'you should live in the present. Whatever happened in the last match, just leave it behind. Whether you have scored a ton or a duck, just forget and move on. The more you live in the present, your game will improve'. These words will always be etched in my mind. This thing always motivates me a lot."
Yashasvi Jaiswal admitted he seeks inspiration from Sachin Tendulkar
Sachin Tendulkar played a lot of innings in his 24-year career that left his fans as well as his critics gobsmacked but if there is one knock that epitomized the genius that was Sachin, was his epic 241 at the Sydney Cricket Ground in 2004, where he showed great restraint didn't play a single cover-drive. It was an innings that should be taught to the youngsters as a case study, and Jaiswal is certainly one of those who is learning from it every day.
"I watch his batting videos, his balance and his shot selections. I watch very closely. This also helps me a lot. After practice, I take out time to watch his batting videos. He has played on every type of wicket. Be it Australia, West Indies, South Africa, Sri Lanka, Pakistan or New Zealand, he has dominated every opposition. I try to learn how he batted in different conditions and tracks," said Yashasvi Jaiswal.
I generally watch his knock against Australia in the Sydney Test in 2004, when he scored a double century without playing a single cover drive. If I have to learn something from Sachin sir, I would love to learn the art of playing cover and straight drives from him," the 17-year-old concluded.
Watch: Dane Vilas' stunning scoop in MSL 2019